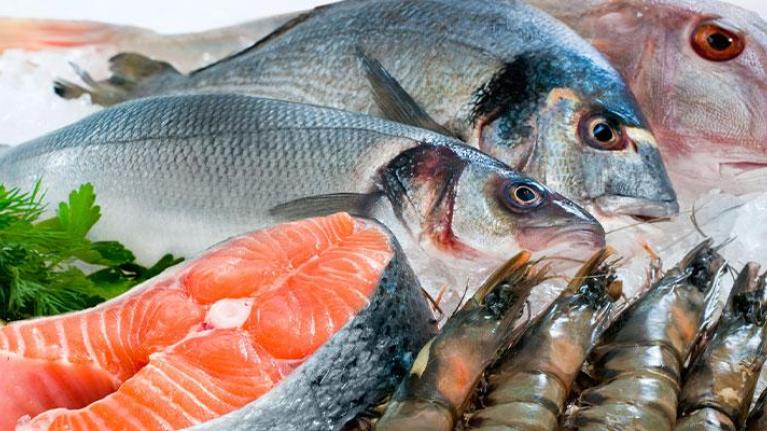 Seafood Success Strategies
June 30, 2015
Seafood is surging in popularity because guests see it as a healthier alternative to beef, pork, and chicken. Learn new recipes that will expand your seafood repertoire.
Seafood has been getting a lot of attention lately, for a lot of different reasons. Health is one of them. According to Technomic, many consumers consider fish and shellfish, along with vegetarian/vegan entrées, to be more healthful than beef, pork, and poultry options (some self-identified vegetarians are actually pescatarians, who also eat fish—not only because it's delicious but because it's also a healthy source of high-quality protein). In fact, 72% of consumers who increased their seafood purchases over the past two years say they did so because they are trying to eat better.
Seafood isn't like tomatoes and chicken, with their relatively low price and almost infinite availability, but food service operators are finding workarounds to dispel seafood's reputation for high prices, seasonality, and availability issues.
Get Started: Minor's® seafood bases bring added flavor to all kinds of fish and shellfish dishes, from seafood pasta to clam chowder and more. All are available in gluten free and NAMSG (no added MSG) versions.
At the University of California, Berkeley, Cal Dining has made a commitment to menuing more seafood, in keeping with the Culinary Institute of America's Menus of Change initiative. In the school's four residential dining facilities, a different fish or shellfish dish is served at lunch and dinner, every day, from fried catfish to Shrimp & Scallop Pesto Pasta to Fish with Olive Tapenade. In addition, items like fish tacos and shrimp on the Mongolian Bar fill out the seafood offerings. According to executive chef Jose Martinez, seafood is the second most popular protein after chicken. Cal Dining uses frozen seafood to keep pricing and quality consistent, and the menu is kept flexible for what's available (note that description of "fish" with olive tapenade). The most popular varieties include salmon, tilapia, cod, basa, mussels, and shrimp.
Did You Know? Thai flavors enliven steamed mussels and clams as well as fish specialties; try using Maggi® Thai Style Red Curry Paste and Thai Style Green Curry Paste for a quick start.
Menu variety is another reason for considering fish and shellfish. Limited-service restaurants, including fast casuals in particular, are driving growth in the category, with new additions like grilled fish tacos at Smoothie Café, and Larkburger with its ahi tuna burger made with a grilled tuna steak. Seafood-centric concepts are also catching on, such as Motomaki in Denver, which specializes in seafood-based maki rolls and bowls. Concepts like these help keep costs in line by using a small portion of fish and shellfish augmented by rice, vegetables, bread, and other ingredients.
Seafood specialty restaurants are also rounding out the portfolios of multiconcept operations like Cohn Restaurant Group in San Diego (Blue Point Coastal Cuisine) and Phoenix's Fox Restaurant Concepts (Little Cleo's Seafood Legend), where group purchasing helps with sourcing, access, and costs. Even beer companies are getting into the act. Craft brewing company Dogfish Head just opened Chesapeake & Maine in Rehoboth Beach, DE, adding to its portfolio of ale houses, a brewpub, and other casual, beer-focused restaurants.
Try This: Pasta dishes and soups represent a very cost-effective way to offer more seafood choices. Here's a recipe for San Francisco Style Cioppino that includes small portions of several different kinds of shellfish.
The biggest talk around seafood lately, however, is sustainability. Many wild fisheries are being depleted faster than Mother Nature can restore them. A 2014 United Nations report (PDF) found that almost 30% of the world's wild fisheries are overfished, and more than 57% are "at or very close" to the limit; this includes such popular species as Atlantic cod, Chilean sea bass, and bluefin tuna.
Once heralded as the answer to growing world demand for seafood, aquaculture has also proven to be problematic, because of escapement, pollution, environmental damage, and questions about the feed used in fish farming. For instance, it takes nearly three pounds of wild-caught feed, in the form of fishmeal and fish oil from such species as anchovies and mackerel, to produce one pound of marketable farmed salmon—one of the most popular aquacultured species.
Chefs and restaurateurs, for their part, have been very proactive about educating consumers—and themselves—about the issues. High-profile chefs like Rick Moonen and Michael Cimarusti have led the way as activists and educators. The Chefs Collaborative has published "Seafood Solutions: Chef's Guide to Sourcing Sustainable Seafood," while programs like The American Seafood Coast Guard routinely raise awareness. And food service organizations like Bon Appétit Management and Aramark have made major commitments to sustainability in all areas, including seafood.
Tip: Looking for more information on sustainable seafood? Check out Seafood Watch, NOAA's FishWatch, SeaWeb, and the Sustainable Seafood portal for National Geographic.
At a time when many consumers still clamor for familiar salmon, swordfish, and cod, food service can lead the foray into such underutilized species as whiting, mackerel, sardines, and bluefish, and by purchasing bycatch (non-target species which would be otherwise be thrown away), like the Louisiana flounder often caught in shrimpers' nets. Not only are these species sustainable, but they are also less expensive.
More Trends in Seafood
Oysters, raw and baked

Whole fish preparations

Pub-style fish-and-chips, often made with a specific type of beer in the batter

Regional seafood specialties like gumbo, lobster bisque, and cioppino

Sushi variations using cooked fish

Mussel specialties

Fish sandwiches, including crab cake burgers, oyster po' boys, and lobster rolls

Seafood-based dips, such as crab dip or potted salmon