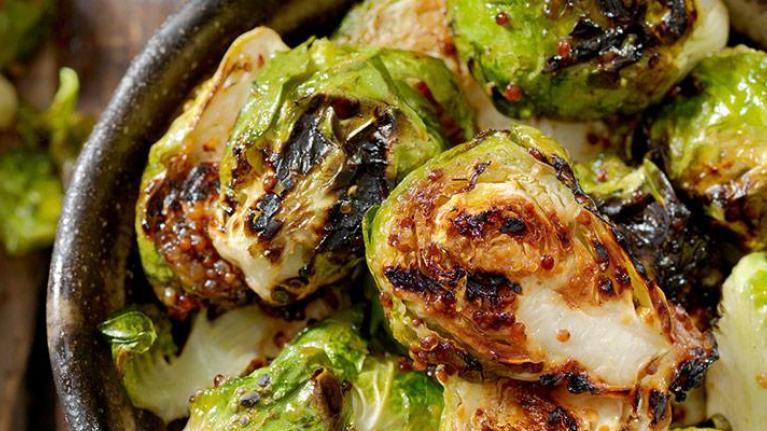 Sides and Small Plates Appeal to Everyone
August 1, 2019
There are five top side dishes, but there is unlimited potential for creativity and added customer engagement. Learn the techniques, flavors, and presentations that sell best.
Salad, fries, rice, spinach, broccoli. According to Datassential, those are the Top 5 side dishes. But you can do better.
Creative side dishes boost add-on sales, do double and triple duty as small plates and vegetarian items, and can help upgrade standard menu "must-haves" like steak and chicken. They can also merchandise seasonality and serve as vehicles for new ingredients and flavor profiles in a way that more expensive main dishes can't. Whether they're merchandised à la carte or curated into signature entrées, sides can be a win-win for customer and operator alike.
Emphasize Technique: Play up the culinary aspect of sides with sophisticated technique descriptors'
Blistered green beans
Flash-Fried Carrots
Pan-seared shishito peppers
Wokked Asian greens
Charred edamame and chickpeas
Serve Them Family Style: Offering an assortment of multiportion platters and bowls of specialty side dishes leverages the large-format trend and creates a shareable add-on.
Crispy Brussels sprouts tossed with bacon, parmesan, citrus vinaigrette
Sesame miso cauliflower (roasted cauliflower with white miso, pickled Fresno chile, green onions, toasted sesame seeds)
Reggiano hash browns (hash brown potatoes baked in a creamy parmesan sauce, finished golden brown and crispy)
Garlic buttered broccolini (fresh broccolini sautéed in garlic butter)
Curried mac & cheese (elbow macaroni tossed in an ultra-decadent creamy cheese sauce with just a touch of curry)
Treat Specialty Breads Like Sides: In addition to offering à la carte breads among the appetizers, offer some appeal breads as go-withs for entrées.
Warm garlic bread with thyme and rosemary
Biscuits and herbed honey butter
Parker House rolls or monkey bread
Cheddar cheese cornbread
Consider Fritters, Pancakes, and Croquettes: Besides being different from the usual steamed or baked vegetables, these items are great for using up trim and overproduction.
Corn and green chile fritters, queso fresco, lime, and pickled Fresno chiles
Potato pancakes with shredded scallions and sour cream
Cauliflower croquettes
Go a Little Over the Top: Fries and broccoli are fine, but signature preps speak to craveability and premium prices.
Crispy potato tots topped with tender sliced beef brisket in BBQ sauce, smoky gouda cheese sauce, sliced scallions, Santa Fe crema, and crispy onion strings
Roasted broccolini 'n' cheese with Mornay sauce, parmesan, and gremolata  
Sautéed wild mushrooms with green goddess dressing, mint, sesame togarashi
Slaw Variations: Trade on the popularity of this classic with distinctive, high-impact versions.
Pickled daikon radish and carrot slaw with fresh jalapeño, cilantro, and Sriracha
Celery slaw remoulade
Shaved apple and fennel slaw
Broccoli slaw with raisins and pineapple
Little Salads: Upgrade from the predictable lettuce-tomato-and-cucumber side salad with something worthy of an upcharge.
Curly kale and green cabbage, topped with salted almonds, tossed in an apple Dijon dressing
Antipasto salad
Escarole salad with anchovies and garlic croutons
Asian seaweed salad
Roasted beets, goat cheese, candied pecans, and balsamic vinaigrette
Switch Up the Shape: Shredding, microplaning, cubing, and other cuts create an attractive appearance and fun textures.
Beet and carrot zoodles in garlic butter
Julienned zucchini marinara
Diced roasted root vegetables
Shredded Brussels sprouts with kimchi and shallots
Cauliflower rice
Throw It on the Grill: Cooking vegetables on the grill gives them a crispy sear and smoky caramelized flavor, as well as an upscale profile.
Esquites (grilled corn, shaved off the cob) with chiles and feta
Grilled romaine or escarole with Caesar dressing
Grilled asparagus with sesame oil and toasted sesame seed
Grilled halved tomatoes with basil pesto
Make a Substitution: Take a popular standard and make it signature by swapping in a different vegetable.
Patty pan squash instead of zucchini
Crispy scallions instead of onion rings, with horseradish dip
Roasted sweet potatoes with rosemary and olive oil, instead of new potatoes
Zucchini, parsnip, avocado, or chickpea fries, instead of French fries
Rice Is Nice: Especially when it's a little different, either a specialty version or as part of a more elaborate recipe.
Citrus or coconut rice
Mexican green rice with cilantro pesto
Basmati pilaf with cashews and dried apricots
Louisiana dirty rice dressing
Some Like It Hot: Develop recipes for side dishes that take advantage of customer taste for bolder, spicier foods.
Harissa and maple roasted carrots
Sweet and spicy green beans
Collard greens with quinoa, pickled cranberries, sherry vinaigrette, Calabrian chile, and lemon
Shredded cabbage with jalapeño vinaigrette and Fresno peppers
Source: Datassential, Most Popularly Menued Sides (2019)
The information provided is based on a general industry overview, and is not specific to your business operation. Each business is unique and decisions related to your business should be made after consultation with appropriate experts.