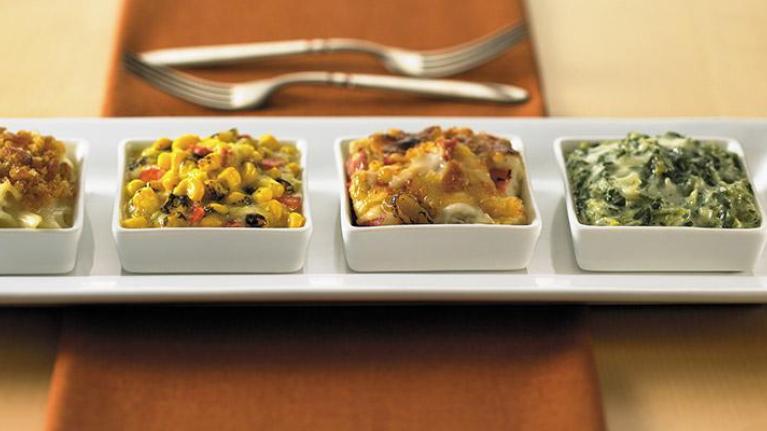 12 Ways to Sell More Side Dishes
October 18, 2016
Side dishes have huge potential to sell the center of the plate, boost add-on sales, and appeal to vegetarians and vegans. Learn 12 ways that side dishes can spark sales.
Side dishes have emerged as a menu category with both proven customer appeal and the ability to support premium pricing, both as an à la carte selection or by adding value and interest to composed plates.
Include Sides in Menu Descriptions. If you're proud of your side dishes include details of them in your entrée descriptions; often an appealing side dish will tip a customer's decision between two different choices and give the impression of more variety.

Use Sides to Sell the Center of the Plate. By the same token, put your best side dishes to work selling the items you want to sell more of, such as high-profit proteins or signature recipes. Potatoes au gratin may sound more appealing as an accompaniment to steak than a plain-old baked potato.
Get Started: Try one of these sides to help sell your "centers:" Vegetable Casserole; Creamed Spinach with Mushrooms, Bacon, and Green Onions; Green Beans with Sun Dried Tomatoes.
Create a Separate Side Dish Menu Section. Draw attention to your sides by giving them their own menu section. These needn't be different items, just some favorites that can be ordered in addition.

Take Advantage of Seasonality. Seasonal produce represents an excellent way to make the entire menu more seasonally focused. If you always have salmon on the menu, for instance, it can be wintry, with a side of sweet potatoes and roasted cauliflower, or summery with the addition of fresh corn and tomatoes.

Offer Mix-and-Match Sides. Take a page from Southern-style "meat-and-three" menus by offering the customer's choice of any three side dishes from a longer list of vegetables, starches, relishes, and more.

Leverage the Appeal of Grains. Grains such as couscous, quinoa, polenta and more are growing in popularity, in part because of their healthy profile but also because they bring distinctive flavors and textures to food. Add a few grain-based side dishes to your repertoire.
Get Started: Stouffer's® Macaroni and Cheese Made with Whole Grains taps the healthful image of whole grains in a popular comfort food, and can be customized with the addition of vegetables, herbs and spices, and other ingredients.
Experiment with Root Vegetables. The potato may get all the glory but there are plenty of other delicious root vegetables, especially during cooler months. Beets are available in all sorts of colors and varieties, such as the beautifully striped Chioggia. Other possibilities include carrots, parsnips, turnips, onions, and even radishes—delicious roasted with their own greens or sautéed.

Keep Vegetarians and Vegans in Mind. Side dishes represent an easy means for satisfying the needs of guests who are eschewing meat and animal products. Just keep the bacon out of the Brussels sprouts and the butter, cream, and cheese out of the potatoes to make these popular sides more inclusive.
Consider This: Bold flavors make vegetarian and vegan food more appealing—bold flavors like those provided by the full complement of Minor's® sauces and flavor concentrates.
Let Side Dishes = Small Plates. Side dishes can do double duty as snacks and small plates, effectively populating this high-value, much-in-demand new menu category.

Go for the Beans (and Legumes). Fresh and dried beans like chickpeas, limas, lentils, white beans, and more, add substance and protein to side dishes, especially when considering plant-based diets. They also absorb flavor like nobody's business.

Think of Salads as Sides. Lots of people like a salad instead of a side dish, especially during warmer weather or if they're dieting. Make it easy to sub a salad for fries and, even better, offer signature side dish salads such as Broccoli Pineapple Slaw, marinated roasted vegetables, or a petite Caesar or Greek salad.
Tip: This Arugula, Baby Spinach, and Prosciutto Salad with Honey-Mango Dressing can be menued as a side salad or a starter/small plate.
Serve it Family Style. Side dishes served in large-format bowls, platters, and serving pans for several diners to share add a homey, convivial touch to meals, and allow guests to sample several different side dishes. They also tend to attract the attention of other diners, helping to merchandise this fun option.
For more information, have a look at these resources: Take advantage of seasonality with the Seasonal Produce Guide and Leverage the Appeal of Grains with this Ancient Grains Cooking Guide.