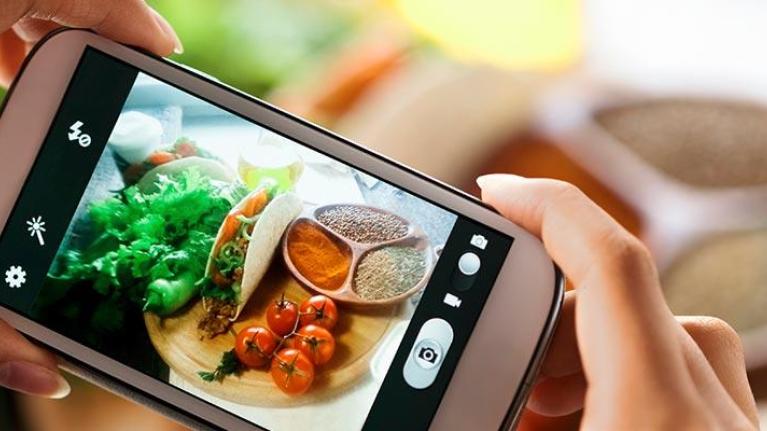 Top 10 Food Trends to Watch in 2016
January 5, 2016
There are food and menu trends that come and go, and then there are trends that fundamentally change the way operators do business and customers enjoy away-from-home dining experiences. Here are 10 that look like real game-changers.
The Instagram Effect
The eyes have always had it when it comes to food and appetite, but new visual media platforms have made this truer than ever, completely turning the tables on how consumers and operators alike get information about food. Instagram, in particular, has increased the importance of plating and presentation, in the process ensuring that food and menu trends move with lightning speed across the country. Be aware that anything you serve may end up on social media, and that means the challenge of making your food look good is offset by the opportunity for free advertising.
Get Started: Sauces like Minor's® Honey Citrus Pepper RTU, Stouffer's® Alfredo Parmigiana, Trio® White Sauce, and Chef-mate® ¡Que Bueno!® cheese sauces can be loaded into plastic squeeze bottles and used for attractive—and tasty—platescaping.
Seasonality Is Here to Stay

Gone are the days when one single menu could last any food service operation an entire year. Not only are seasonal items like fresh produce key season indicators—asparagus in the spring and root vegetables in cooler weather—as well as less expensive and more delicious, but they also showcase the operation's commitment to freshness and quality. And this is true at all price points and in all segments of the food service industry, not just operations like chef-driven restaurants, executive dining, catering, and hotels. For instance, Saint Joseph Mercy Ann Arbor (MI) operates its own farm, The Farm at St. Joe's, to provide farm-fresh seasonal greens and produce to its patients and visitors.
Get Started: Pumpkin may be associated with the harvest season, but it's available and delicious year-round thanks to Libby's® 100% Pure Pumpkin, and appropriate for all kinds of baked goods (not just pie), smoothies, and even hummus.
Customization Is King

From display kitchens to action stations, operators are letting their patrons see and design their own meals, featuring fresh, made-to-order foods like build-your-own bowls, sandwiches, pizza, salads, and more. Custom concepts—like the Build Your Own Bowl options at H.A. Café in the Storrs Center at the University of Connecticut or the do-it-yourself pho noodle soups at Fuh in Chicago—address specific tastes and demands for flavor, ingredients, portion size, and nutrition, health and wellness concerns, including food allergies and lifestyle choices. This flexibility is particularly appealing to Millennials, and it's important in on-premise locations like employee dining rooms and college and university food service, where customers tend to visit more regularly.
Get Started: Nestlé Professional Action Stations make it easy to offer patrons customizable, made-to-order menu items, including Breakfast, Wellness, Street Food, Ancient Grain and Seasonal Salads. International Soup and Noodles, and Dessert. And if your patrons are concerned about gluten, as many are, Minor's and Stouffer's have many products that are gluten free.
Alternative Protein Rules
Beef, pork, chicken, seafood . . . yes, but there are other forms of protein that are becoming more popular. Rising food prices, more adventurous consumer tastes, and the preferences of vegetarian and vegan diners have seen to that.

Underutilized seafood varieties, such as octopus and whiting, as well as invasive species like Asian carp, are more sustainable, and having them on the menu helps educate consumers to the issues

Plant-based proteins—not just the well-known ones like tofu and seitan but also beans, quinoa, seeds, and nuts—are bringing variety, flavor, and texture to meatless menus as well as mainstream ones

Meanwhile, the push for new kinds of plant-based faux meat is making plenty of news

Turkey and duck are poultry options that are finding more places on menus

Though lamb still lags behind other red meats in terms of consumption, cuts like lamb shank, shoulder, and lamb burgers are worthy comfort food options
Tip: Want a fun perspective on trendy foods for the last 100 years? Check out this list from FWx.com.
Veggie Forward vs Vegetarian/Vegan

Demand for vegetarian and vegan options is growing, no question. But don't be surprised if those two terms cease to be as important on menus: That's how important the vegetable-forward trend has become. Thanks to growing interest in local, seasonal, and farm-to-table cooking, more kitchens have been developing menu signatures around fresh fruits and vegetables first, meat and other proteins second (if at all). That's made it easier for nonmeat eaters to dine away from home, but it's also helped balance food costs and is changing the way Americans think about their meals. In addition to affecting main dishes, the vegetable-centric trend is also having an impact on snacks and appetizers, soups, sandwiches, and more.
Try This: These delicious Nestlé Professional vegetable-based soup recipes are also vegetarian.
Cleaning Up Eating

Antibiotic-free meat, fewer processed foods, organic, and natural ingredients—it all falls under the clean eating trend. According to a new report from Mintel, more consumers are seeking out free-from foods, eschewing GMOs (genetically modified organisms), trans fats, preservatives, and more. Many brands are complying with various menu transparency initiatives: Chipotle is getting rid of genetically modified ingredients; Taco Bell is shedding artificial flavors; Panera is reformulating or jettisoning more than a dozen ingredients deemed unacceptable. These and other bellwether quick-service chains are helping to drive demand for "real food."
Did You Know? Nestlé Professional was ahead of the curve in removing trans fats from all of its branded products. In addition, the company is continuing to renovate its product line, adding gluten free solutions, reducing sodium and added sugars, and using natural ingredients in key formulations.
New Global Frontiers
Now that Chinese, Italian, and Mexican food is so commonplace, and the appetite for ethnic food is still on the rise, what's next on the global cuisine frontier?
The following worldly foods are growing in acceptance, both as standalone concepts and as specialties on mainstream menus.
Mediterranean: From the popularity of hummus to the success of Cava Mezze Grill, the healthy, accessible profile of foods from Southern Europe and North Africa has become widely appealing.
Indian: While trendinistas have been predicting the coming of this spicy, exotic food for some time now, foods and ingredients like the pancakes known as dosa, spice mixes such as vadouvan and garam masala, dal (a lentil dish), and chutneys, are finally gaining traction.
Latin and South American: Bright, healthy, and fresh with citrus, chilis, seafood, and vegetables, the food of Peru, the Caribbean, the Yucatan, and other Latin cultures is coming on strong. Chains like Nando's, which specializes in spicy PERi-PERi grilled chicken, are helping to spread the word.
Japanese: Now that sushi and ramen have become commonplace, next-gen Japanese specialties like okonomiyaki (a kind of pancake), yakitori and other skewered grilled meats and vegetables, and izakaya (pub) snacks are the next wave.
Southeast Asian: The American appetite for the vivid, flavorful, and fresh foods of Malaysia, the Philippines, Thailand, and Vietnam—including an endless variety of noodle specialties—continues to grow and diversify.
Get Started: The secret of many global signature dishes is the sauces, and Nestlé Professional has plenty, including Maggi® Thai Style Red Curry Paste and Thai Style Green Curry Paste; Minor's Teriyaki and Caribbean Style Sauces; Stouffer's Alfredo and Alfredo Parmigiana; Chef-mate ¡Que Bueno! White Queso Sauce; and Minor's Latin Flavor concentrates.
Superfoods and Other Magic Ingredients

Nutrient-rich superfoods ranging from the familiar—salmon, pomegranates, almonds—to the new and far out have moved out of the fringe and onto mainstream menus. This is especially true in the kinds of operations that serve health-conscious younger diners, including trendy, Millennial-focused fast-casual concepts and college dining operations (for example the Superfood Wrap served at Grins Vegetarian Restaurant on the campus of Vanderbilt University). But foods like blueberries, sweet potatoes, avocado, turkey breast, sardines, and even seaweed have been appearing on more menus lately, not just because they add flavor and variety to food, but also because consumers are becoming more aware of their health benefits. Now Cheesecake Factory has launched a "Super" Foods menu section that includes such specialties as a Super Antioxidant Salad (greens, spinach, kale, avocado, broccoli, grapes, roasted pear, blueberries, onion, sunflower seeds, and almonds with lemon-blueberry vinaigrette) and an Almond Crusted Salmon Salad.
Get Started: Let Stouffer's Whipped Sweet Potatoes be the start of your superfoods menu, including side dishes, soups, and more.
Increasing Waste Reduction

Americans waste $162 billion worth of food each year, according to the USDA's Economic Research Service. At about 33 million tons annually, this represents the largest contribution to the municipal solid waste stream, at 21% of the total. In addition to increasing food costs significantly, waste—not just of food, but also packaging, paper goods, plastics, and more—is also becoming a problem of public perception. Many Americans are beginning to realize the environmental cost of waste as well as its contribution to hunger, and rallying for change through events like The Woodstock of Food Waste. The National Restaurant Association's What's Hot in 2016 culinary forecast listed concern about food waste among the Top 10 trends, and recently a group of well-known chefs organized a food waste pop-up in which every recipe was based on waste, such as a gratin of broccoli stalks. College food service has been particularly proactive in greening their systems, through ugly food (such as imperfect fruits and vegetables), composting, and other initiatives.
Check This Out: The restaurant of the future will be all about maximizing tech and minimizing waste.
New Flavor and Ingredient Profiles
It happens every year, when every food service industry trend tracker proclaims that "____________ is the new ___________" (fill in the blanks).
Look at overarching profiles instead, many of which reflect the growing sophistication of American consumers.
Tart/Sour flavors like citrus bring refreshing balance and acidity to foods:
Flavored and specialty vinegars

Sauerkraut and pickles

Greek yogurt and kefir

Goat cheese
Bitter ingredients like dark chocolate and Brussels sprouts have met with increasing acceptance:
Asian and Italian greens

Campari and other amaro

Tea

Grapefruit
Funky doesn't sound like a good thing until you realize how many flavor-forward foods, like miso, have that underlying weirdness:
Kombucha, kimchi, and other fermented products

Blue-veined cheeses

Korean condiments like gochujang

Uni (sea urchin)
Umami is that flavor that no one can quite put their finger on, but this savory taste really pumps up the volume:
Anchovies, fish sauce, Worcestershire, Maggi Seasoning

Aged meats and cheeses

Tomato products

Mushrooms
Did You Know? Maggi Seasoning packs an umami bomb of flavor that can be used to enhance all kinds of foods; there's also a new Spicy Seasoning and a tabletop format so customers can add flavor as they please.