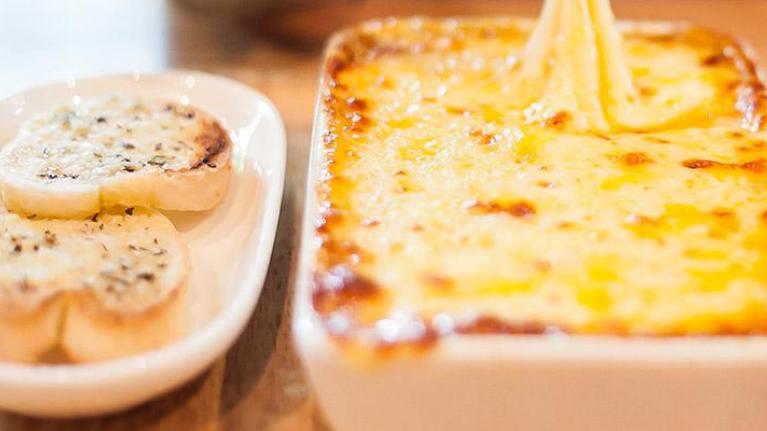 Try These New Takes on Classic Lasagna
February 1, 2019
Lasagna is simple—pasta, sauce, and cheese—but the variations are endless. Learn how easy it is to change up this comfort classic.
Lasagna 101
Lasagna can mean a lot of different things, from the meat sauce and mozzarella classic to vegetarian builds that don't even include pasta. Widely popular, it's also a prep-ahead, multiportion staple that works overtime to cross-utilize ingredients like tomato, sauce, cheese, and other basics. That's what makes this comforting layered and baked specialty so useful on menus.
 
Classic Lasagna
Lasagna may have originated in Bologna, Italy, which is famous for its delicate, long-simmered meat sauce. This ragu Bolognese is layered with thin sheets of handmade pasta and creamy white béchamel sauce, then topped with grated Parmesan cheese and baked until bubbling and browned on top.
For many fans, however, the standard bearer is an American adaptation that substitutes dried noodles for fresh, and mozzarella and ricotta for the béchamel. Heartier and denser, it may also include sausage along with or instead of ground meat. Other versions rely upon a meatless marinara sauce and may be accompanied by meatballs or sausage depending on the customer's preference.
 
Vegetable Variations
Vegetarian lasagnas often incorporate spinach or fresh tomatoes, but the idea can work with eggplant, butternut squash, pumpkin, artichokes, mushrooms, or simply more cheese, such as a four-cheese lasagna. Speaking of cheese, provolone, burrata, or Romano works, or even a non-Italian product such as cheddar or feta.
Lasagna can also be made without pasta altogether, with slices of eggplant, zucchini, roasted peppers, or even layers of chopped cauliflower subbing for the noodles, creating a gluten free option.

 
Shape and Size Matter
Nontraditional versions include lasagna rollata or rolls, in which individual recooked noodles are spiraled around the filling, and individual lasagnas that can be cooked to order. There are even lasagna cupcakes, baked in muffin tins, which work as lunch specialties or for catering.
Thinner ribbons of ruffled pasta, called lasagnette, can be used like pappardelle noodles, either with a traditional meat sauce or almost any other kind of sauce and topping.
Upscale Inspirations
Thanks to its popularity and versatility, lasagna also invites innovation. Fillings can range from lamb ragu to lobster to sweetbreads—basically, anything that works with pasta can be turned into lasagna. 
There are fusion and mashup versions such as Tikka Masala Lasagna and Pierogi Lasagna. Sliced polenta, enchiladas, or crepes can be used instead of noodles to create a unique spin.
Sauces such as Alfredo or Marsala can be subbed in. Pesto, either the traditional basil recipe or a more unusual variation such as arugula or cilantro, can be used instead of tomato sauce.
Source: Datassential SNAP! Lasagna (2018)
The information provided is based on a general industry overview, and is not specific to your business operation. Each business is unique and decisions related to your business should be made after consultation with appropriate experts.
GET STARTED
Nestlé Professional has a variety of ready-to-menu lasagnas under the Stouffer's® and Lean Cuisine® brands, including vegetable, meat, cheese, and chicken.
TRY THIS
Offer trays of lasagna as part of a family-style feast or a self-service catering menu, for easy pickup by customers (either frozen and ready to bake, or fully cooked).