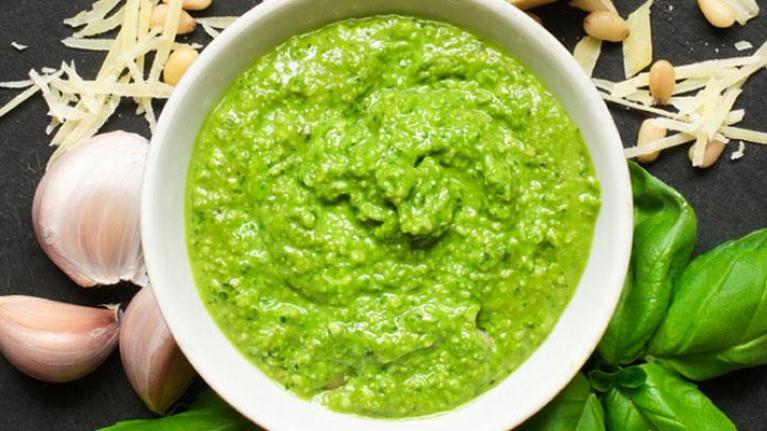 Vegetarians Deserve Good Sauces, Serve These
December 1, 2020
Sauces enhance almost any dish, but what about vegetarian/vegan cuisine? We have sauces for you that are meat and dairy free, delicious on plant-based and other dishes.
All kinds of menu items are improved by the addition of a sauce, but plant-based specialties—especially vegan ones—pose a special challenge.
Fortunately, there are many kinds of sauce that don't depend upon a meat stock, or dairy products like butter and cream, to make a delicious finish for food. Many are uncooked, making them not only easy but also fresh-tasting, and their versatility values both seasonal ingredients and creativity. And the best news is that these plant-based sauces are flavorful enough to work for all kinds of recipes, including ones that include chicken, beef or pork, or fish.
Vinaigrette – While vinaigrettes are most frequently associated with salads, they also work beautifully with items like grilled or roasted vegetables, specialties such as cauliflower steak, plant proteins such as tofu or seitan, and of course simply prepared lean meats, including fish or chicken. They can also be used as a marinade. In fact, the bright balance of acid in a properly prepared vinaigrette can lift the flavor profile of a variety of foods. Adding a sweet or spicy element—such as balsamic vinegar, agave, honey (for vegetarian rather than vegan items), Sichuan peppercorns or chiles, or a branded hot sauce—will build complexity. And the temperature contrast between an item like hot seared Brussels sprouts and a finishing splash of cool vinaigrette adds further interest.
Salsa – One of the most versatile foils for plant-based cooking ever invented is the broad category of salsas, the cold sauces of Mexico and countless flavor-focused chefs' creativity. Useful as a dip or accompaniment for appetizers, as a condiment in sandwiches, in traditional recipes such as enchiladas and burritos, or as the finishing touch for a variety of entrées. The classic tomato-based salsa standard broadens out quickly to include tomatillos, corn, avocado, black beans, fruits such as mango or pineapple, citrus, roasted sweet peppers or other vegetables, and exotica like cactus paddles (nopales) and olives. And of course these fresh-tasting sauces are a showcase for chiles of all kinds, from familiar jalapeños and chipotles to interesting anchos and serranos to incendiary Scotch bonnets and ghost peppers.
Pesto – The classic Italian basil and garlic sauce for pasta is just the beginning. Pesto can be made from any number of ingredients: arugula, cilantro, spinach, sun-dried tomato, chard or kale, artichokes, even carrot tops. Swap out traditional pine nuts for almonds, walnuts, pistachios, cashews, pepitas, or macadamias, or omit nuts altogether for an allergy-friendly pesto. Mint, ginger, fish sauce, brown sugar, garlic, and lime with a grapeseed oil makes an exciting Vietnamese pesto. And apart from pasta, any pesto will enhance egg dishes, dips and spreads, salads or sandwiches, vegetables and grains, pizza, and meat and seafood dishes such as chicken and shrimp.
Green sauce – Apart from pesto, there is an entire globe's worth of herb-based green sauces to experiment with. Most are used as condiments, but these versatile sauces can be used in a variety of ways in recipes, such as dips, vegetables (try them with roasted potatoes) and grain specialties, as well as protein-based entrées.
Argentina has parsley- and oregano-based chimichurri, traditional with grilled meat
Morocco's garlicky, cumin-laced chermoula is used as a marinade as well as a relish
Italy's salsa verde, which features capers and sometimes anchovies, enlivens bollito misto (mixed boiled meats), as well as meat and vegetable dishes
Thailand's chile-herb dipping sauce, based on cilantro, scallions, and mint, works with skewers, dumplings, and summer roll
Zhoug, from Yemen, is spicy with chiles and piquant with garlic and lemon, and it's perfect with falafel
The green chutney of India uses both mint and cilantro plus ginger and jalapeños for a condiment with a subtle kick
Aji verde is a smooth Peruvian green sauce
Coulis – More refined than a salsa, the French coulis is a savory or sweet sauce made from puréed and strained vegetables and/or fruits, which can be used to nap other foods. Vegetable coulis, such as tomato, carrot, or red pepper, are usually lightly cooked and may be flavored with garlic, herbs, and other ingredients. Their vivid color and fresh flavor makes them ideal for adding impact to vegetable, grain, egg, and lean protein dishes, and they can also be drizzled on a plate or the surface of soups. Fruit coulis, including raspberry, strawberry, and mango, are usually sweetened with sugar and brightened with a little lemon, and add color and flavor to desserts; adding savory herbs makes a fruit coulis appropriate for roasted meats.
Nut sauce – Nuts add texture, heft, and a bit of protein to vegetarian sauces. Crunchy and complex nut salsas are popular in Mexico, but unusual and distinctive here. Salsa de semillas, for instance, is basically a oregano- and garlic-based green sauce with the addition of raw pumpkin seeds, cashews, and sesame seeds. Nut butters such as chile-lime peanut sauce and soy-ginger cashew butter work as dips, salad dressings, and on cold noodles. Romesco and muhammara are both classic Mediterranean tomato- and pepper-based sauces (Spanish and Middle Eastern respectively) that are thickened with nuts; they can be used as dips, condiments, and finishing sauces for salads, grilled vegetables, and a finishing sauce for seafood and other proteins.
The information provided is based on a general industry overview, and is not specific to your business operation. Each business is unique and decisions related to your business should be made after consultation with appropriate experts.