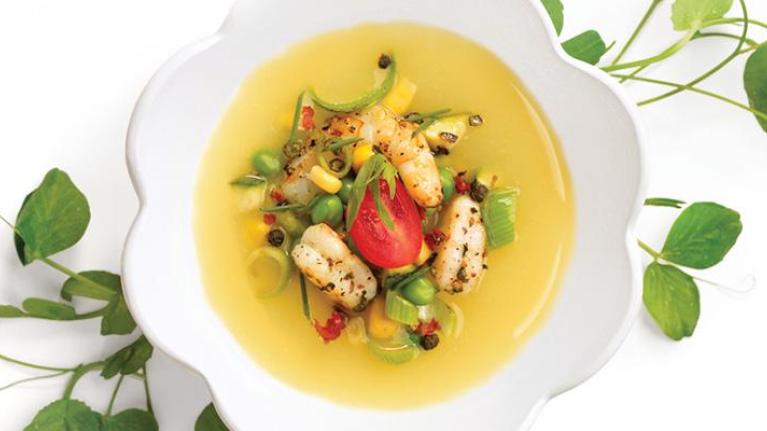 Nutrition, Health & Wellness
10 Easy, Healthy Menu Hacks
October 19, 2015
There's no doubt that health and wellness trends are here to stay in food service. Tweak your menu to make it lighter and healthier. It's easy with these 10 tips.
ays to revamp offerings and make existing recipes more wellness oriented.
Use reductions, broths, and other light alternatives to heavy sauces – Sauces represent a key opportunity to add flavor, moisture, and signature value to foods, but they can't all be cream sauces. Serving protein or another food in a broth or vinaigrette–or topped with a flavorful, fat-free salsa or relish–performs the same function. If you need something thicker that will "nap" your specialty, reduce the liquid's, such as broth or braising juices, until it's thick enough to coat a spoon, being careful not to oversalt.
Get Started: Maggi® Seasoning, bases, and pastes and Minor's® bases and flavor concentrates are perfect for creating lightly sauced signature items.
Offer fruit, vegetables, salads, or baked fries instead of French fries with sandwiches and other menu items – Lots of people will choose a healthier alternative to the fries if you make it easier for them. Change your policy, and your menu language, to offer a choice of fresh fruit, coleslaw, a side salad, steamed broccoli, or baked sweet potato wedges in addition to fries.
Give These a Try: Distinctive sides like Apple Chutney and Green Beans with Sun Dried Tomatoes can actually help you sell target menu items.
Lower the sodium content – More consumers are worried about sodium as concern about high blood pressure and heart health increases. There are other ways to flavor food besides picking up the salt shaker, including using herbs and spices, vinegar or lemon juice, chiles, mustard and other condiments, garlic, onions, and more.
Did You Know? Nestlé Professional offers a number of low-sodium products and is working on reducing sodium throughout its product line.
Concentrate on lean proteins – Even carnivores are eating less red meat. Swap in leaner proteins such as chicken and turkey, seafood or plant-based proteins such as tofu, quinoa, or meaty portobello mushrooms and eggplant. When menuing beef and pork, experiment with leaner cuts such as eye round and tenderloin, as well as ground meats with less fat.

Go gluten free – Whether they're actually allergic or intolerant to wheat and other gluten rich foods, many consumers are avoiding gluten for reasons of health and weight reduction. Identify existing gluten free items on your menu, such as roast chicken, and/or develop gluten free versions of popular specialties, so all your customers can enjoy them.
Get Started: The Nestlé Professional portfolio is continually being updated to include more gluten free products.
Incorporate fruits, vegetables, and grains wherever possible – Build veg-centric specialty items around seasonal produce as well as protein, rather than the other way around. Add fruits and vegetables to macaroni and cheese, pizza, baked goods, breakfast foods, and other items that can easily include them. Offer whole grain bread and rolls, as well as side dishes based on satisfying grains like brown rice and quinoa. Use chopped sautéed vegetables such as celery and mushrooms and/or grains in meatloaf and meatball mixtures. When menuing for kids, focus on naturally sweet fruits and vegetables, like peaches, berries, and sweet potatoes.

Add more meatless options – Although it isn't always true, vegetarian and vegan recipes can be lower in fat, cholesterol, calories, and other things that many customers are trying to avoid. In addition, many Americans are embracing the benefits of eating less meat. They're becoming more interested in vegetarian and even vegan options, even if they don't practice a meat-free lifestyle; they're also becoming savvier about plant-based sources of nutrition.
Tip: The Meatless Mondays site is a great source of information for anyone who is considering eating less meat.
Use the low-fat version of dairy products – Although the flavor of low-fat items such as milk, cheese, and sour cream may be different on its own, these foods hide very well in recipes that include other ingredients and sources of flavor. There's less of a difference in taste and texture between whole milk and low-fat milk than you might think, even in items like cakes and muffins; using low-fat evaporated milk is also a possibility. Experiment with lower-fat versions of particularly flavorful cheeses like blue and feta. Use low-fat yogurt or Greek yogurt instead of mayonnaise, sour cream, or cream in salads, coleslaw, dressings, and sauces.

Offer more soups and salads – Build out the starters section of your menu with interesting soups and salads, which can be significantly lower in calories than many traditional appetizers and finger foods. Offer a soup-and-salad option at lunch. Add main course salads based on greens, vegetables, and lean proteins to lunch and dinner menus.
Did You Know? Nestlé Professional has lots of delicious soup recipes.
Experiment with other techniques besides frying – Sure, frying adds great texture and flavor, but so do other cooking methods. Sear proteins in a very hot pan or on the grill to create crispy fish, meat, and chicken. Roast sturdy vegetables in a fast oven to caramelize them. Bread foods in crunchy panko crumbs, or in nuts or seeds, before roasting them. Add crunchy elements with croutons, undercooked celery, raw vegetables, and other naturally crisp foods.
For more information on Nutrition, Health and Wellness, take a look at Nutripro.