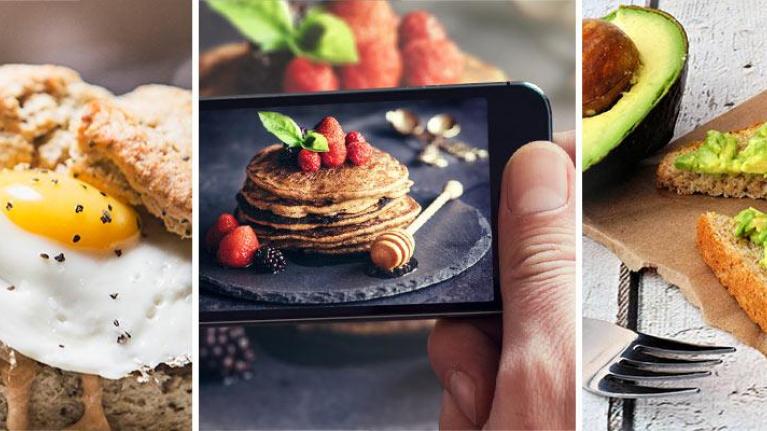 10 Trends Going Mainstream in 2017
October 19, 2017
Discover 10 of the hottest trends that will dominate the year in food service. From proteins and grains to social media, we have it all for you. 
Every year we offer a glimpse of the marketing, menu, and operations-shaping trends we're tracking for the months ahead. Here's the list for 2017.
Chicken Rules the Roost – After years of being the "also-ran" protein on menus (the lone chicken sandwich, the perfunctory grilled chicken breast entrée), chicken is coming into its own as a menu specialty. There are even new concepts, like San Francisco's The Bird and the Kentucky-based Joella's Hot Chicken mini-chain, that only serve chicken, whether in just a few guises or multiple menu items.
And why not? Compared to other traditional proteins, chicken is affordable for both food service operators and guests. It's also a neutral platform for a variety of different flavor profiles and cooking preps, and it has a relatively healthy nutritional rep. And the versatility of chicken is unparalleled among animal proteins: It can be menued by the whole bird; in a sandwich, salad, or soup; and as a snack or appetizer (especially in the case of tenders and wings)—great for utilization and food costs.
Get Started: Chicken stars in these Nestlé Professional recipes, which range from fun snacks to elegant entrées.
Upgraded Breakfast – As operators scout new avenues for revenues and customers continue to seek both value and a more interesting dining experience, breakfast is emerging as a winner in many food service venues. Not just any breakfast, though, but something signature and elevated, such as:  
Avocado and other specialty toast

Benedict variations

Coffee and tea specialties

Fresh juice and smoothies

Porridge, oatmeal, and grain bowls

Global breakfast inspirations (such as huevos Rancheros and frittatas)

Better breakfast baked goods

Regional breakfast favorites (biscuits and gravy, johnnycakes, green chile omelets)

Breakfast meats with a twist (housemade sausage, thick-cut bacon)
Try This: Tap the breakfast trend with the help of Nestlé Professional and breakfast-ready products including Minor's® Hollandaise sauce; Chef-mate® Corned Beef Hash, Creamed Sliced Beef, and Country Sausage Gravy; and Hot Pockets® Sausage, Egg & Cheese.
Ancient Grains Go Modern – Healthy, delicious, satisfying … grains hit all the right buttons. As a side dish, as a base for whole-meal bowls, in salads, in breads and other baked goods, and/or as a meatless protein alternative, the world of familiar grains is expanding beyond brown rice and quinoa to include such grains as spelt, millet, amaranth, and more. In addition to their many other attributes, a number of ancient grains offer the additional advantage of being gluten free.
Get Started: Many heirloom and specialty grains can take longer to cook and may be confusing to first-time users. This handy chart (PDF) from Nestlé Professional provides guidelines.
World Tour Sandwiches – Ham-and-cheese, chicken salad, banh mi: Sandwiches have gone global with craveable specialties from around the world. The list of popular sandwiches includes both traditional ethnic favorites like Cubans, and creative inspirations (hello, Korean tacos). These sandwiches, and more, bring distinctive ingredients as well as distinctive cooking methods, such as the toasted pressing that makes the Cuban sandwich both crisp and melty.  
Here are some options to explore:
Chinese bao and buns

Vietnamese banh mi

Latin medianoche and other pressed sandwiches

Mexican tortas and cemitas

American regional specialties (Louisiana po' boys, Philly cheesesteaks, Chicago-style hot dogs)

Falafel

Open-face tartines

Danish smørrebrød
Make It Easy: Not only are Hot Pockets fun for customers and remarkably easy to serve, but now these stuffed sandwiches have a cleaner label.
Social Media on the Menu – People eat with their eyes, and never has this been more true than in today's social media age. With an estimated 223 million Americans on smartphones—devices that are increasingly used not as telephones but as cameras and for communicating by Facebook, Instagram, Twitter, and more—food has become much more than just sustenance. Social media is a way of exerting influence, and that's great news for food service operators.
The implications are many, from the way plates are presented to the fact that customers have an unprecedented opportunity to learn about nutrition, sourcing, and more. There are lots of ways to leverage this trend:
Post photos and descriptions of daily specials on social media accounts

Highlight staff and behind-the-scenes activities to build engagement

Double down on attractive presentation, so customers snap and share, and encourage guests to post photos to your accounts

Use social media in marketing activities (such as giveaways and contests)
Consider This: According to a recent survey by Zagat, 60% of avid diners across the US say they browse food photos on social media, and among them, 75% say they have picked a place to eat based on these photos alone.
Don't Forget Texture – Craveable food is more than just flavorful and distinctive: It offers an interplay of textures that elevates the whole experience of eating it. This is particularly true with popular items like salads, sandwiches, and bowls: Texture helps make each bite interesting.
Here are some ways to add texture to recipes:
Nuts and seeds

Cooking techniques such as searing or toasting

Raw vegetables

Creamy elements like avocado or a poached egg

Chewy grains

Crisp elements like chips

Crumbly cheeses

Smooth purées like hummus

Rich buttery sauces

"Pops" like pomegranate seeds or chickpeas

Juicy fresh fruit
Get Started: Use any of these recipes for hummus or Hint of Honey Pumpkin Spread to create a rich, smooth textural element in sandwiches, or as a dip with crisp veggies and crackers.
Condiments for All – One of the easiest ways to bring flavor and distinction to recipes is with condiments. And it's been a long, long time since the word condiment meant ketchup, mustard, or mayo. From all-American favorites like barbecue sauce to spicy Sriracha, condiments can be used to elevate and customize a wide variety of foods.
In fact, many fast-casual restaurants, hotel dining rooms, and college dining halls are adding or upgrading condiment bars where guests can help themselves to sauces, dressings, pickles, relishes, flavored mayo and mustards, cheese, and so on to enhance burger and sandwich builds, augment the salad bar, and switch things up a bit with a regular order or cycle menu.
Did You Know? Nestlé Professional has lots of products that can be used as is or combined with other ingredients to create unique condiments and sauces, including Stouffer's® Alfredo sauces and Queso Cheese Dip; Trio® sauces and gravies; Chef-mate cheese sauces; and Minor's sauces.
The Rise of the Grocerant – As if there weren't enough competition to worry about, here comes the grocerant, a hybrid retail-food service concept that touts restaurant-quality prepared foods for takeout (and sometimes on-premise consumption). Supermarkets, c-stores, and other retail venues have long sought to crack the code of food service in order to capitalize on sales, and now players like Whole Foods and Sheetz are offering not only grab-and-go convenience but also quality, healthfulness, value, and variety. Walmart's new State Fair Treats concept is designed not only to capture more sales dollars but also to keep customers in the store longer.
With grocerants expected to grow in dominance, food service operators need to concentrate an offering an overall experience that retailers can't provide, including intangibles like hospitality, ambiance, and social awareness, as well as freshness, menu variety, customization, value, and craveable food. Take the new Eatsa: With a vibe that combines space-age technology with a retro Automat format, and a menu of healthy and affordable lunch and dinner bowls, the new fast-casual mini-chain should entice customers away from the supermarket salad bar.
DIY Cuisine – The game-changing customization trend has been gathering steam for several years now, but it's become more important than ever. There's a reason for this. Offering a concept that lets patrons customize their own dining experience—whether it's an all-day, mix-and-match menu or a platform like a Build Your Own Pizza—provides many benefits, including:
Portion sizing

Vegan/vegetarian options

Endless variety

An invitation to repeat business

Elimination of unwanted ingredients (including allergen triggers)

Value and flexible pricing

Made-for-me freshness
Get Started: Nestlé Professional Action Stations offer seven different options for self-serve or attended custom meals: Breakfast, Snacking, Street Food, Wellness, Salad, Dessert, and International Soup & Noodles.
Sustaining Social Consciousness – From sustainable design to conscious sourcing to community involvement, it's hip—and good for your brand—to be socially conscious in the food service industry. Consumers want it, and so do many idealistic operators. In fact, according to Yankelovich, nearly two-thirds of today's consumers think they can make a difference by doing business with more socially responsible companies, in numerous ways ranging from supporting employee quality of life to serving hormone-free meat, and encouraging recycling and other green practices. And while sustainability may represent a somewhat amorphous group of values, companies like LYFE Kitchen and Sweetgreen have built their empires on it.
Did You Know? Nestlé Professional is committed to Creating Shared Value through its sustainability efforts, which encompass sourcing, environmental sustainability, water stewardship, environmental change leadership, and more.