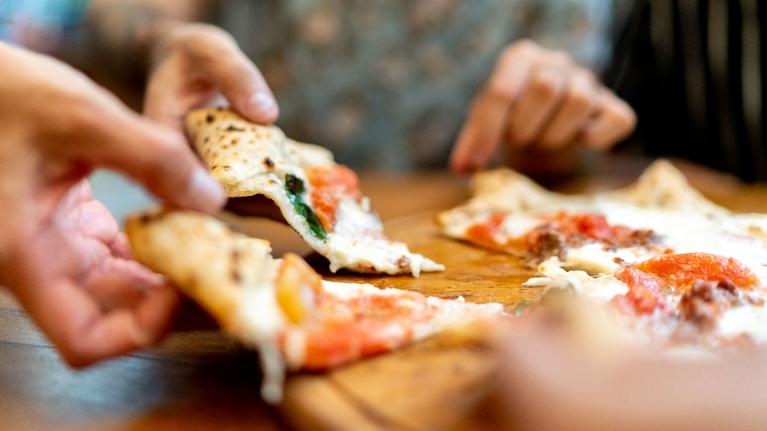 21 Best-Selling Snack Ideas
October 19, 2017
American consumers are evolving into a nation of snackers. And that means more opportunities for you to sell appetizers, finger foods, and mini-desserts. Get 21 great snacking ideas right now!
No doubt about it: Snacking occasions are growing, and that creates room for all kinds of food service opportunities that dovetail with the popularity of things like small plates, bar menus, hand-held takeout foods, mini-desserts, and more.
According to Technomic's 2016 Snacking Occasions Consumer Trend Report, 29% of all respondents report that they are snacking more frequently than they were two years ago, including a whopping 45% of those in the 25- to 34-year-old group and 48% among 18- to 24-year-olds. Half of all respondents in the survey said they snacked twice a day. Reasons are many, including busier lifestyles, budgetary concerns, the rise of eating as a social time, and the perception that more frequent, smaller meals are healthier than three squares, making this trend a real game-changer.
Did You Know? Nestlé Professional has added a new Snacking Action Station that captures the trends in smaller portion sizes and flexible meal times, while reducing operator prep time and cleanup constraints.
In fact, if you're not taking advantage of the accelerating consumption of snacks, you're missing out on both sales and an opportunity to gain customer loyalty. Full-menu restaurants that are already selling appetizers can reposition some of these items as snacks, while quick-service and takeout facilities in both commercial and noncommercial settings can create smaller-portion specialties like snack-size wraps, all-day breakfast sandwiches, flatbreads (PDF), gourmet pretzels, baked goods, and more.
Even the definition of what's a snack is changing, and now includes more types of foods, more retail packaged items, and more beverages. No matter what the category or segment served, the most successful snacks are items that can be delivered to the customer quickly, as well as being affordable and approachable. Bonus points for hand-held selections or products that are good for takeout.
Arepas, hand pies, samosas, tacos, egg rolls, and other savory finger foods
Get Started: The line of Hot Pockets® Sandwiches includes many craveable options, including Philly Steak & Cheese, Chicken Quesadilla, and Pizza Stix.
Bread-based items, including crostini, bruschetta, garlic bread, and flatbreads
Satays and other skewered foods
Try This: Flatbreads can be made in any size and topped with a variety of tasty ingredients to create a snack or shareable with selling power.
Chicken fingers, tater tots, French fries and variations (such as zucchini or eggplant fries), mac-and-cheese bites, and popcorn shrimp or fish
Sliders and other small-format sandwiches
Smoothies and juices, with or without energy boosts and other add-ins
Shareables such as dips, fondue, samplers, and more
Did You Know? Nestlé Professional has a number of products that can be used as dips, either as-is or in a signature recipe, such as Stouffer's® Spinach Artichoke Dip.
Cheese, meat, and crudité plates
Savory waffles and blini
Cookies, bars, brownies, and other individual baked goods
Get Started: Delicious cookies are easy when you start with Nestlé® Toll House® products.
Fresh fruit
Stuffed mushrooms, onion rings, broccoli bites, edamame, and other vegetable-based items
Meatballs
Hot dogs and sausages
Try This: Add value to hot dogs and sausages with toppings like chili and cheese sauce.
Ice cream specialties, including cones, shakes, and pops
Glazed bacon strips, barbecued ribs, or housemade jerky
Pickles, olives, nuts, and other nibbles
Housemade potato chips, seasoned pita triangles, and so on
Did You Know? Many snacks taste better with a flavorful dip or dunking sauce, which are easy to create with sauces, pastes, flavor concentrates, and seasoning products from Minor's® and Maggi®. In addition, Minor's concentrates and sauces are now Ready to Flavor™, for use in hot and cold applications without the added step of cooking.
Oysters, clams, shrimp by the piece, and other raw bar standards
Deviled eggs with almost any type of filling
Tacos, tostadas, and other Mexican-style antojitos