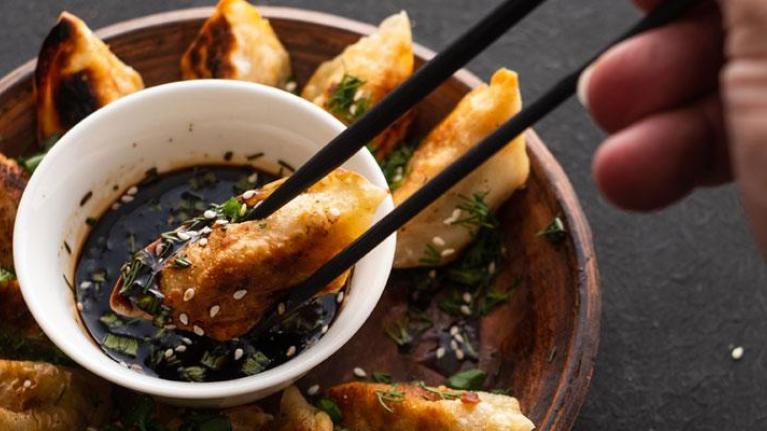 Asian Flavors, Traditional or Fusion, Get Rave Reviews
November 1, 2020
Asian sauces and condiments are at home in all kinds of kitchens. Ranging from sweet to spicy, and not forgetting umami, they infuse instant flavor in your dishes. 
Soy sauce and sriracha have become pantry staples—versatile, flavorful kitchen and tabletop staples that can be used in both Asian and mainstream applications.
But there are plenty of other Asian sauces and condiments that can be used in signature recipes of all kinds. Get ready for flavor.
Chili Oil – Infinitely versatile for adding heat to recipes, chili oil is made from neutral peanut or vegetable oil that has been infused with dried hot peppers. Though typically made with Thai or other Asian peppers, the condiment can also be made with smoky ancho chiles or even red chile flakes. It's commonly used for stir-fried and sautéed dishes, but it also works as a finishing oil for risottos, pastas, and seafood.
Fish Sauce – Like umami in a bottle, this fermented sauce made from small fish, like anchovies, adds depth, saltiness, and savory flavor to dishes—without making food taste or smell like seafood. It's widely used in Thai cuisine (including pad Thai) but also in Vietnamese, Chinese, Filipino, and other Southeast Asian cooking cultures. It can be mixed with lime juice, sugar, garlic, and/or chile peppers to make a dipping sauce for spring rolls and other foods.
Gochujang – Korea's culinary backbone is this pungent, concentrated red chile paste that also contains glutinous rice, fermented soybeans, salt, and sometimes sweeteners. It's sweet/salty/funky flavor is widely appreciated in Korean-style barbecue meats such as bulgogi and chicken wings; noodle dishes; in dipping sauces, marinades, soups, and stews; and in mashups like Korean tacos and burgers.
Hoisin Sauce – This slightly sweet, slightly salty, thick reddish-brown sauce is made with fermented soybeans, sugar, garlic, and vinegar. In some cases, red chilis are also added. Hoisin is commonly used in Vietnamese and Chinese cooking as a glaze for meat dishes, a dipping sauce for dumplings, stir-fries, and spareribs, and it is added to vinaigrettes. It's also the perfect base for any type of full-bodied sauce or marinade.
Miso – This ancient Japanese fermented soybean paste (which also includes a grain like rice or barley, salt, and the mold known as kogi) has hit the modern mainstream as a baste for salmon, in salad dressings, and even in ice cream and other surprising applications. It's pleasingly salty, slightly funky flavor, and thick texture make it very versatile. Although there is said to be over 1,000 varieties, the most common are light or white miso and the heartier dark or red miso.
Oyster Sauce – Made from thickened caramelized oyster broth mixed with salt and sugar, this thick, savory sauce doesn't taste like fish but it adds umami richness to simple stir-fries and sautéed vegetable dishes. Vegetarian versions are made with mushrooms instead of oyster extract.
Ponzu Sauce – Japanese ponzu sauce is a versatile condiment and ingredient based on soy sauce that provides the coveted elements of sweet, salt, sour, and umami flavors. Typically, ponzu combines yuzu or another citrus juice, soy sauce, mirin (a sweet wine), rice vinegar, and sometimes bonito flakes. Use it in marinades, as a dipping sauce for dumplings, in cold noodle salads and dressings, or in steamed fish dishes.
Rice Vinegar – Less acidic and slightly sweeter than Western distilled vinegars, unseasoned white rice vinegar is milder and more delicate, making it perfect with raw vegetables, in a dipping sauce or marinade, as a pickling liquid, or in vinaigrettes. Other, more distinctive Asian vinegar varieties include black, red, seasoned, Chinese, and Japanese.
Roasted Red Chili Paste – Thai roasted chili paste is a blend of flavorful ingredients including red chiles and tamarind. Some chili mixtures will also include fish or soy sauce, shrimp, garlic, peanut, lime juice, and/or sugar to enhance the flavors. Use as a stir-fry seasoning, a soup base, or as a condiment for noodles or chicken. It also works to spice up marinades and barbecue sauce.
Sambal Oelek – This piquant Indonesian condiment is made by grinding fresh red chiles, salt, and vinegar into a paste; some may also contain vinegar, lime juice, garlic, or other flavoring agents. It's great for adding a spicy kick without other unwanted flavors in complex dishes like spicy peanut chicken, Asian noodle salads and soups, and marinated grilled meats, as well as in dips and even margaritas.
Sesame Oil – For finishing, flavoring, and other low-temperature applications—rather than cooking—this aromatic, richly flavored oil pressed from sesame seeds adds complex flavor to noodle dishes, fried rice, dumpling fillings, soups, and other Chinese, Japanese, and Korean specialties. It can also quickly add an Asian twist to any recipe, from scrambled eggs to a smashed cucumber salad. Sesame oil comes in non-toasted and toasted varieties, the latter of which is richer and darker in color.
Sweet Chili Sauce – From Thailand, where it is called nam chim kai, this sweet-and-sour, crimson-colored condiment is made of red chile peppers, vinegar, and garlic sweetened with sugar or fruit. It can be used as a dip for crispy egg rolls, shrimp toasts, lettuce wraps, and spring rolls, or brushed on grilled ribs, chicken, or shrimp for an easy glaze. Closer to home, mix it with mayo, yogurt, or sour cream to drizzle on roasted potato wedges, tuck into a sandwich, or use as a crudité dip.
Yuzu Kosho – Japan's spicy fermented sauce is made from the zest of the citrus fruit yuzu, chile peppers, and salt. It is commonly used to flavor Japanese hot pot dishes, miso soup, and sashimi, but it's also good drizzled on fried chicken, shrimp, or fish. Yuzu kosho can also be used as a glaze for roasted carrots, parsnips, mushrooms, and grilled or broiled lamb chops.
The information provided is based on a general industry overview, and is not specific to your business operation. Each business is unique and decisions related to your business should be made after consultation with appropriate experts.
DID YOU KNOW?
Asian flavors are on the upswing with such condiments as gochujang (up 162.1%), sambal (up 59.5% on U.S. menus over the past four years), yuzu koshu (up 22.2%), and ponzu (up 21.2%).
Source: Datassential SNAP! (2020)