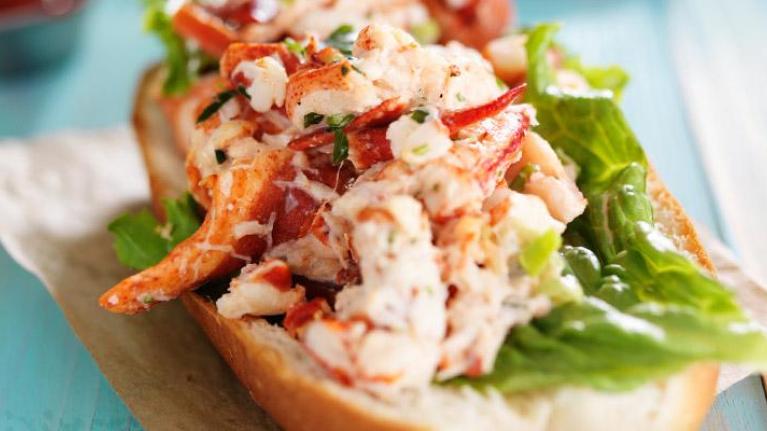 Beyond Burgers—New Sandwich Trends
October 20, 2016
Sandwiches can be a canvas for your culinary creativity. Bread, protein, and condiments go together in infinite ways. Discover some of the latest trends and show off your sandwich skills.
Sandwiches are a staple of many menus, to be sure, but that doesn't mean the category isn't dynamic, inspired, and on-trend. In fact, many operators—not to mention consumers—love sandwiches as a vehicle for creativity and new flavors.
Why Sandwiches Are Hot
Sandwiches are so familiar to customers that they represent an excellent opportunity for experimentation that's still relatively risk-free and affordably priced

They're versatile enough for lunch, breakfast, dinner, snacks, bar food, and more, for dine-in traffic or takeout

Sandwiches are beloved by adults and children, carnivores and vegetarians, big spenders and the budget-conscious alike

Sandwiches are great for utilization—braised meats or roasted chicken, for instance, can be repurposed as a sandwich filling, and prep like sliced tomatoes and other garnishes are often items that are used throughout the menu
Did You Know? There's a huge lexicon of worldly sandwiches, from regional American favorites to global versions of this universally favored handheld meal.
No wonder the sandwich sections of so many menus are getting more and more interesting, with multiple selections based on a variety of proteins and other ingredients and offering lots of different experiences.
Here are a few of the many types of sandwiches that are trending now:
Tartines, bruschetta, and other European-style, open-face sandwiches

Comfort food sandwiches (pot roast, braised beef, grilled cheese, eggplant parmesan, patty melts)

Fried chicken sandwiches, spicy and otherwise

Upgraded egg sandwiches at all hours

High-class veggie burgers

Other veggie-centric options, especially if they're Mediterranean-style

Pastrami, smoked meat, and other deli classics

Seafood sandwiches: salmon BLTs, crab cake sandwiches, grilled tuna, fish tacos

Panini and other toasted and grilled sandwiches

Nutella, PB&J variations, and other sweet specialties
Get Started: These Pot Roast Sliders can be served for lunch or dinner or as a shareable appetizer or bar snack.
Explore Regional Sandwiches
If the sandwich is a uniquely American favorite, then there's a lot of ground to be covered in the regional sandwich specialties of the United States, from Buffalo-style beef-on-weck (roast beef on the caraway-studded roll known as kummelweck) and Chicago dogs to Oregon hot crab melts.
One interesting way to explore regional sandwiches would be to create a special regional sandwich of the week or month. These can be served traditionally, or upgraded with cheffy tweaks or better-quality ingredients.
Philly Cheese Steak (thinly sliced steak on a hoagie roll, topped with caramelized onions and provolone cheese)

New York Reuben (corned beef, Swiss cheese, sauerkraut, and Russian dressing on grilled rye)

Maine Lobster Roll (add value with this elegant Lemon Tarragon Lobster Salad as a filling)

Kentucky Hot Brown (open-faced turkey, tomato, and bacon with creamy Mornay sauce)
Try This: Substitute Stouffer's® Alfredo Sauce or Alfredo Parmigiana for the Mornay sauce, for an easy and more flavorful version.
New Orleans Muffaletta (mixed Italian meats on a round roll with garlicky olive salad)

Louisiana po' boys (crispy baguette filled with everything from roast beef to fried shrimp or oysters)

Carolina Pulled Pork (slow-cooked marinated pork shoulder, hand-shredded and topped with barbecue sauce and cole slaw on a bun)

Miami Cuban Sandwiches (roast pork, ham, Swiss, sliced pickles, and mustard on Cuban bread, grilled)

California French Dip (thinly sliced rare beef on a French roll served with au jus, typically with a bowl for extra dipping)

Indiana-Style Breaded Tenderloin (oversize breaded and pounded pork loin on a hamburger bun)

Texas Chicken Fried Steak Sandwich (seasoned, thinly sliced steak, breaded and deep-fried, served with mayo and bread-and-butter pickles on a Kaiser roll)

Chicago-Style Italian Beef (thinly sliced roast beef topped with pickled giardiniera and/or sautéed peppers and mushrooms, dipped in meat juices)
Get Started: Nestlé Professional offers many great products that are a perfect fit with the regional sandwich trend, including Trio®, Chef-mate®, and Stouffer's cheese sauce products for cheese steak sandwiches and more; Trio gravies and sauces (Hot Browns, Chicken Fried Steak, and so on); and au jus from Minor's® and Trio (the "dip" in the French Dip).