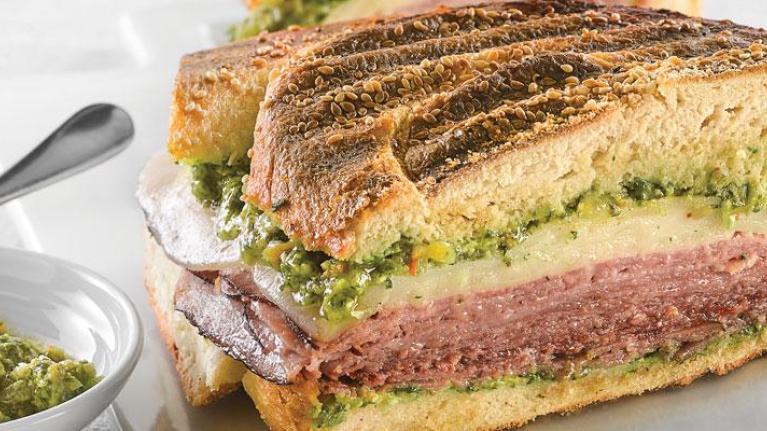 Create Upscale Sandwiches, Increase Sales
July 1, 2021
Sandwiches have been a pandemic takeout mainstay. Now learn to up your sandwich game as consumers hunger for creative, signature sandwiches. We have great ideas for you.
Is there anything more perfect for takeout than a sandwich? A well-built sandwich is a movable feast, offering an experience that eats like a carefully composed plate of food in every handheld bite. In addition to being portable, sandwiches are also:
Versatile—not just for lunch but also breakfast, dinner, snacks, or after hours
Affordable, especially compared with other kinds of complete meals
Adaptable to food and flavor trends
Operationally easy, with great potential for ingredient cross-utilization
Almost universally popular with customers
Small wonder that so many canny operators upped their sandwich game as they pivoted to takeout or optimized their menus for off-premise dining during the pandemic. In the process, they created new signatures and brought wider awareness of specialty sandwiches to their fans.
Newly attention-getting sandwiches beckon, including:
Nashville Hot Chicken – One of a group of trendsetting fried chicken sandwiches, this one consists of spicy marinated and fried chicken on a bun or plain white bread, cooled off with coleslaw and/or lettuce and pickle chips.
Katsu Sando – A staple at Japanese convenience stores, katsu sando is essentially a fried pork or chicken cutlet sandwich, assembled with Japanese milk bread and slightly sweet katsu sauce, but upscale and premium versions are proliferating.
Premium Breakfast Sandwich – Thanks to demand for convenience and the growing trend to better sandwich experiences, this morning mainstay is becoming both more popular and more creative, from the breads to the proteins.
Muffaletta – New Orleans gave birth to this powerhouse combination of Italian cold cuts (such as capicola, mortadella, and provolone) and garlicky olive salad on round, seeded Sicilian-style bread.
Lobster Roll – Interest in regional cuisine has spurred the popularity of this upscale specialty that fills a split-top hot dog roll with sweet lobster meat, mayo, and the much debated bit of chopped celery; "ultimate" versions featuring other ingredients are also common.
Tartine – A natural extension of the avocado toast trend, these open-faced French-style sandwiches can be topped with anything from fig, bacon, and Brie to smoked salmon with ricotta cheese and capers.
Piadina – Think of this griddled Italian flatbread sandwich as a quesadilla from another country, spotlighting cheese plus a wide variety of other delicious ingredients, from spinach-artichoke dip to grilled shrimp.
Shawarma – Traditionally filled with thinly shaved lamb, beef, or chicken with a dressing of tahini or hummus, the pita platform can also host vegan versions based on vegetables or tofu.
Upgraded BLTs – The tomato might be the only constant in builds that add ingredients like fried eggs, avocado, buttermilk ranch dressing, arugula, roasted vegetables, and more.
Bao and Jianbing – Borrowed from traditional Chinese street foods, steamed buns and crepes respectively can be filled with an inspired selection of flavorful ingredients, from barbecued pork to pastrami to sweet potatoes to chopped mustard greens.
The information provided is based on a general industry overview, and is not specific to your business operation. Each business is unique and decisions related to your business should be made after consultation with appropriate experts.
TRY THIS
Create a signature sandwich condiment by mixing mayonnaise, sour cream, softened butter, or mustard with a Minor's® flavor concentrate.
Showcase a distinctive bread such as Montreal-style bagels or artisanal multigrain bread by creating a selection of sandwiches around it.
Offer a premium sandwich special of the day to promote on Instagram, Twitter, Facebook, or TikTok.