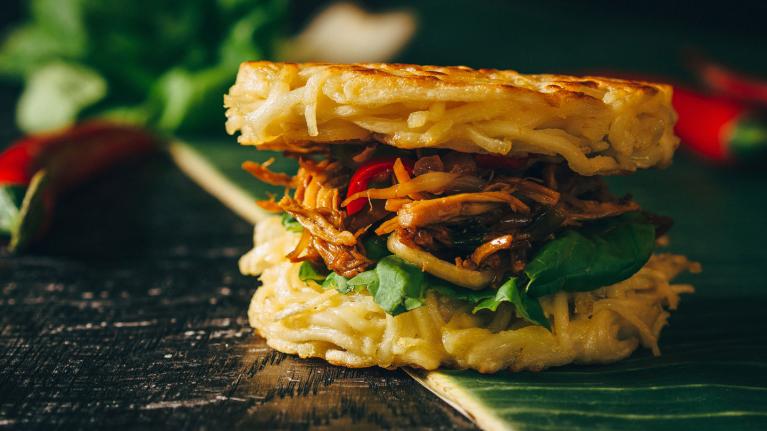 Get Creative With Global Flavors
February 1, 2022
Keeping your menu edgy and interesting means offering the unexpected. Try mixing global cuisine flavor inspirations with American creativity. Get innovative!
The United States is a gathering ground of world populations and its menus are wonderfully complex microcosms of the diversity that defines the nation. In the best melting pot tradition, ingredients and techniques don't always stay authentic or 100% true to origins, cultures, and customs but instead are adapted and contemporized by different influences, ingredients, and culinary prompts.
Just as American cuisine is a work in progress, so too are mixed-and-matched-up menus that keep offerings fresh, exciting, and in touch with a full array of diners. And while it's that kind of creativity that stirs menu innovation, a practical approach plus an eye toward ingredients already counted among on-hand inventory help make global do-able. Many familiar items—from stews, tacos, and rice, to salads, sandwiches, and beverages—can easily go from now to wow. Different spicing, the swap out of a handful of ingredients for a few others, and changing techniques often are enough to bring foreign intrigue and a sense of fun to the familiar.
Here are some easy East meets West culinary mashups that, authentic or not, make delicious sense:
Lamb curry burrito with rice, cucumbers, tomatoes, cabbage, and mint chutney
Soul roll eggroll of fried puff pastry filled with chicken, black-eyed peas, collards, and rice
Maine lobster and mango topped with melted lardo and hoja santo leaves
Quinoa porridge with goat cheese, egg whites, pistachios, and vegetable succotash
Alabama corn pudding with tomatoes, cucumber, onions, sumac, pickled corn, and North African herbed jam
Porchetta sandwich with green curry, asparagus, and Asian tong ho greens
Cuban-style pork bowl with coconut milk-braised callaloo, chipotle sweet potatoes, and curry-miso sauce
Slow-cooked octopus with Italian eggplant baba ghanouj and curried tetsukabuto squash
French onion soup with poblano peppers, Gruyère cheese, and crostini
Sea bass with corn grits, pole beans, and smoked tomato mole sauce
Pierogi-style dumplings filled with coconut, urad dal, and chilies de arbol
Steak tartare with pickled jalapeño chilies, cilantro, capers, guacamole, chipotle aioli, poached egg, and baguette
Beef pho with costillas de res (pork ribs), corn, potatoes, yucca, plantains, rice noodles, herbs, bean sprouts, and jalapeño chilies
Meat-filled empanadas with potatoes, lemongrass, and Peruvian chili aji
Frittata with squash, Argentinian locro stew, wakame seaweed, and miso
Making Mix-and-Match Right
Spice trades are an easy way to transform a classic dish into something more exotic. Curry blends, za'atar, berbere, garam masala, and jerk seasoning are just for starters
Acidic ingredients also can shift flavor perspectives. Yuzu, calamansi, satsuma, and blood orange are among juices to consider. Likewise, coconut vinegar, palm vinegar, and Chinese black vinegar also add subtly different tang
Curry leaves, kaffir lime, parilla, methi leaves, rau ram, and hoja santa are among options that add fresh herbal distinction
Hot sauces vary not just in heat levels but also flavor profiles. Gochujang, sriracha, Thai sweet chili sauce, sambal, habanero sauce, shatta, and nuoc cham all heat things up a little differently
World Flair
Some operations set their sights on one cuisine and stay laser-focused, introducing diners to new ingredients, flavors, techniques, and excitement. These up-and-coming world cuisines, along with a representative dish culled from restaurant menus, can spark ideas for nearly any menu: 
Afghan Aushak: Leek-filled dumplings topped with ground meat sauce and garlicky yogurt
Egyptian Koshari: A bed of lentils and rice with pasta, chickpeas, tomato sauce, and fried onions
Ethiopian Ater Kik: Yellow split peas in curried sauce with garlic, ginger, and onions 
Indonesian Char Kway Teow: A street-food classic with wok-fried rice noodles, shrimp, ground fish balls, chicken sausage, chili, sprouts, and egg
Senegalese Bissap juice of hibiscus flower with anise, vanilla, and mint
Syrian Muhammara dip of red pepper purée with walnuts, cumin, and pomegranate molasses
The information provided is based on a general industry overview, and is not specific to your business operation. Each business is unique and decisions related to your business should be made after consultation with appropriate experts.