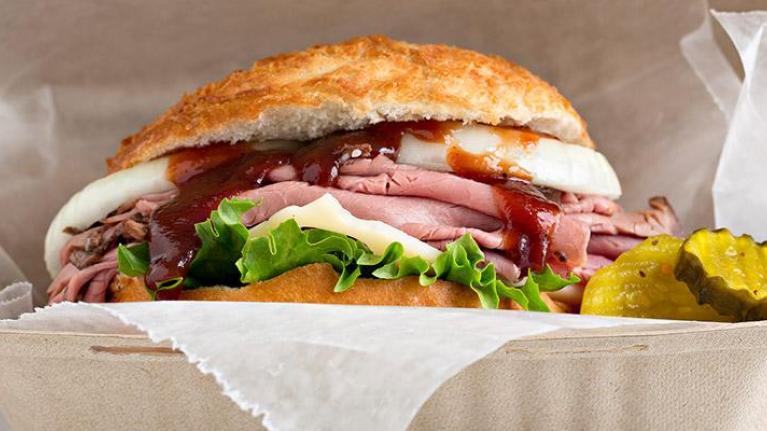 Five Ways to Go All In at Lunch
April 9, 2016
Find out five ways to grow your midday sales. Guests are looking for faster, tastier, healthier lunches. Here's how to serve them what they want.
Like breakfast, offering lunch is not right for every operation. But for those locations where lunch makes sense, there are many reasons to go all in. The daypart was one of the first to reflect the improving economy, with lunch gaining ground in segments like casual dining, according to NPD. This was largely due to the popularity of burgers, but it offers several clues to how food service operators can optimize the performance of the midday meal period.
Create an Express Lunch
Time is the enemy during lunch, so speed and convenience are paramount in order for operators to compete with fast food, takeout, and brown bag lunches. Many have created distinctive express solutions that enable the kitchen to execute speedy service to customers dining out on a limited lunch break:
Macaroni Grill has created a concept-within-a-concept in each of its 130-plus locations, with the fast-casual Romano's Kitchen Counter, which guarantees a scratch-made lunch within seven minutes from a limited menu of specialties
Frontera Grill, a popular destination Mexican restaurant in Chicago, has acknowledged that not everyone can have a three-margarita lunch by inaugurating a simplified Frontera on the Fly menu at the bar
The Setai Miami Beach offers a four-course Express Lunch inspired by the Japanese bento box, in which all four selections are attractively presented on a single plate; this has contributed to a 25% increase in traffic
Try This: Letting people order lunch ahead online offers the ultimate convenience not only for takeout orders, but also customers who want to sit down and dine with you. There are even apps that do this, such as Allset.
Do a Blue Plate Special
Rotating daily blue plate specials work well because they offer variety for the customer as well as a popular item that the kitchen can batch-prep and send out quickly. For example, Del Frisco's Grille (the casual companion to the high-end Del Frisco's steakhouse group) offers a lunchtime Daily Deal on weekdays that includes items like a Wagyu Patty Melt and Fish & Chips.
Traditional specials also work well at lunch. They can be priced lower than other specialties without damaging the brand—by offering smaller portions, cross-utilizing ingredients effectively, and menuing seasonal or less expensive products (for instance, meat loaf instead of steak). And this can help convince customers to come back for dinner.
Did You Know? Stouffer's® has many fully prepared products that can be menued as specials, either as-is or enhanced by signature touches. For example, Spinach Artichoke Dip can be offered as a shareable with crudites and bread for dunking; used as a sauce/topping for hot sandwiches, pasta, or grilled chicken; or substituted for tomato sauce on a pizza or in a calzone.
Up the Burger/Sandwich Game
A selection of tempting sandwiches and a signature burger or two represents the ultimate lunchtime solution—offering something that's handheld (convenient for both eat-in and takeout business), familiar for the customer, and quick for the kitchen to produce.
Sandwich sets and garnishes can be prepped ahead of time and assembled to order promptly. Dinner items like pot roast or roast chicken can be repurposed easily as a sandwich filling. And sandwiches are a perfect platform for creating craveability because so many different flavors and textures can be layered into a single bite.
When crafting sandwich and burger items, don't forget specialty side dishes; go beyond fries with potato or pasta salad, an interesting coleslaw variation, or even giardiniera salad as an upgrade to the usual pickle.
Here's an Idea: Create memorable condiments and toppings for hot and cold sandwiches by starting with Maggi Seasoning; Chef-mate® Sauces; Stouffer's Alfredo and Alfredo Parmigiana sauces; and Trio® Gravies and Sauces. Don't forget that Minor's Flavor Concentrates and Sauces are now Ready to Flavor, meaning they can be used in cold applications without a cooking step.
Soup/Salad/Sandwich Combos
It may sound obvious, but the time-honored combo lunch still has plenty of legs. Union, the signature restaurant in the new Press Hotel in Portland, ME, recently added its Congress Street Lunch special, which includes a cup of soup, a side salad, and a petite sandwich for $15. Customers with a little more time on their hands can begin by sharing a charcuterie and cheese plate. And Green River, one of the hottest new restaurants in Chicago, offers a rotating sandwich and soup special on its lunch menu, in addition to such specialties as a Fried Chicken Sandwich, Steak Frites, and Parisian Gnocchi.
Get Started: Nestlé Professional has lots of resources for operators who serve soup, including not only recipes, but also Maggi and Minor's bases, which make delicious work of scratch-style soups.
Keep It Healthy
Many customers still view lunch as a necessity rather than as an indulgence, and as such may try and keep to their diets—whether that's cutting calories, eating vegan or vegetarian, or avoiding gluten or other trigger foods.
One of the easiest ways to help guests eat the way they want to is with customizable menu components, from build-your-own salads and sandwiches to newer and trendier customized platforms such as grain bowls, smoothie bowls, and Asian noodle soups (PDF).
Get Started: Many concepts included in the Nestlé Professional Action Station program are suitable for lunch, including Wellness, Salad, Street Food, and International Soup and Noodles.