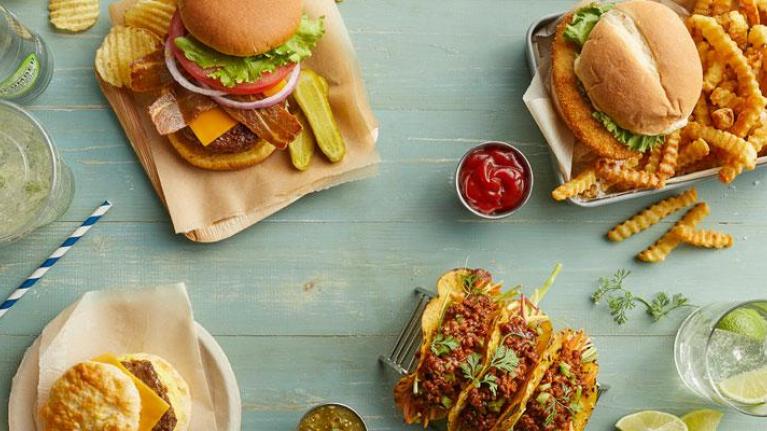 Get Ready for Veganuary 2021
December 19, 2020
This annual pledge to follow a vegan diet for the month of January spotlights growing consumer interest in plant-based eating. Find out more about the trend and learn how to create exciting meatless menu options for January and beyond.
First launched in 2014 in the U.K., Veganuary has inspired more than a million people in 192 countries to "Try Vegan!" for 31 days in January.1
If you've never shared this innovative program with your customers before, 2021 might be the year to start. Not only are many people looking to put a fresh start on a brand-new year, they are also embracing plant-based eating in greater numbers than ever. The trend goes beyond those consumers who have adopted strict vegan or vegetarian diets, to encompass veggie-curious diners who are looking for a more conscientious way to eat. Plant-based eating also skews heavily toward Millennials and Generation Z, as well as more food-conscious patrons in general.
Participating in Veganuary with widely appealing plant-based specials represents a great opportunity to introduce more of these items to an increasingly receptive audience. Some of these ideas may even make it to the permanent menu.
What Is:
Vegan: No meat, fish, eggs, or dairy, as well as such animal-derived products as honey and whey
Vegetarian: No red meat, poultry, or seafood; dairy and eggs allowed
Flexitarian: Mostly plant-based foods while allowing meat and other animal products, such as dairy and eggs, in moderation
Feeding the New Flexitarian
Today's eating patterns are all about more variety and flexibility, and plant-based menu specialties fit right in.
According to Datassential,2 22% of consumers are limiting their meat and/or poultry consumption for a variety of different reasons, including health, environmental impact, sustainability, and animal rights. And while they haven't given up on meat and animal proteins completely, this new generation of "flexitarians" has also increased consumption of fruits, vegetables, nuts, seeds, and grains. In addition, they are looking for plant-based protein alternatives such as plant-based burgers and other meat alternatives (for example sausage and meatballs); plant-based chicken; and nut milk and vegan cheese.
Generational Trends
The popularity of plant-based eating is strongly linked to age and other demographic factors, and it makes sense to tailor menus and messaging to the specific target audience.
Interest in plant-based proteins is especially robust among younger diners. In fact, two-thirds of Gen Z and more than half of Millennials are interested in plant-based proteins, such as legumes, grains, and seeds, compared with smaller fractions of Gen X and Baby Boomers.3
In addition, different generational cohorts report different reasons for favoring plant-based foods. According to Datassential, Gen Z and Millennials often turn to flexitarianism because of environmental concerns, often looking for alternative sources of proteins (such as nuts and seeds, as well as plant-based alt-meats). Boomers, on the other hand, generally limit/avoid animal proteins for health reasons, and are replacing beef and pork with leaner proteins, vegetables, and nuts.3
Plan Your Veganuary Menu
One of the best strategies for featuring or introducing new plant-based menu items is to evaluate the existing menu for popular items that can be adapted to plants in a craveworthy way. Some of the most successful plant-based offerings are driven by offering alternatives to menu staples like salads, soup, sandwiches, burgers, and pizza. The goal is to offer an item that will appeal to the widest possible range of customers—not just vegans—with the kind of staying power that can earn it a place on the permanent menu.
Focus on familiar menu items that already have a following among guests
Consider how animal proteins can be swapped out in favor of a plant protein such as tofu, chickpeas, or a plant-based burger
Look to on-trend items that are "accidentally vegan," such as avocado toast, grain bowls, or pasta
Add heft and satiation with produce like eggplant, mushrooms, jackfruit, sweet potatoes, or winter squash
Spotlight ingredient freshness, quality, and seasonality in item development menu copy, and presentation
Unusual vegetable varieties like Lacinato kale, acorn squash, heirloom carrots, and Romano beans add interest as well as premium appeal
Use all the tools in the box for building appeal, including flavor boosters like herbs, spices, and condiments; principles of flavor layering and umami; and high-impact prep techniques like marinating, roasting, and smoking
Use texture to add interest to vegan cooking, including nuts and seeds (which also contain protein), crispy raw vegetables, breadcrumbs, or cooking techniques like frying and searing, which create crusty surfaces
Take inspiration from global cuisine, which is often heavily dependent on rice, grains, and fruits and vegetables. Ethnic items like curries, tacos, dumplings and spring rolls, flatbreads, sushi, falafel, and international rice dishes are easily adapted to plant-based dining styles  
Sources: 1. https://veganuary.com/. 2. Datassential, Plant-Based Eating SNAP! Keynote Report (2018). 3. Datassential CPP 2019/2020.
The information provided is based on a general industry overview, and is not specific to your business operation. Each business is unique and decisions related to your business should be made after consultation with appropriate experts.