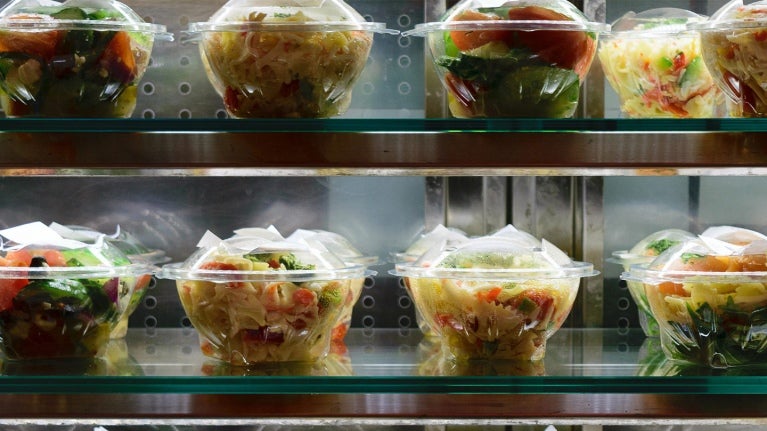 How to Build a Grab-and-Go Restaurant Menu
March 1, 2023
Restaurant grab-and-go pantries are a perfect way to grow customer visits and loyalty while introducing another income stream for a restaurant.
Before building out a grab-and-go menu, take some time to reflect on who will purchase from the pantry, and what you might offer. Taking the time to plan a grab-and-go pantry that makes sense for both your brand and your customers will save money and wasted product.
Consider your target audience: What types of food are your customers most interested in? For example, a grab-and-go menu at a coffee shop might focus on pastries and sandwiches, while a grab-and-go menu at a pizzeria might include calzones and cold cuts.
Offer a variety of savory and sweet options: Include a range of options that will appeal to different tastes. Note items for dietary restrictions that will appeal to vegetarians, vegans, and people with nut or gluten allergies.
Keep it simple: The goal of a grab-and-go menu is to offer convenient, quick meals, so try to keep the menu as simple as possible. Stick to a few key items that can be easily prepared in advance and quickly packaged for takeaway. Include a prepared on/best by date on package to build consumer trust.
Make it visually appealing: The packaging and presentation of grab-and-go items is important, as it can influence a customer's decision to purchase. Use attractive, clear-top packaging and showcase colorful, fresh items.
Price items appropriately: The pricing of grab-and-go items should be competitive with similar items offered by other restaurants or nearby shops. Factor in the cost of ingredients, labor, and packaging when setting your prices.
Make payment easy: The idea is convenience, so have a dedicated cashier or an area to swipe-to-pay quickly.
Promote your offering: Depending on where you've placed your grab-and-go area, not every customer may see it. Place signage on tables and at the counter reminding guests about the grab-and-go option. Post photos of grab-and-go offerings on social media to drum up additional interest.
When thinking about which food and beverage items to include in your grab-and-go area, consider the ideas below, keeping in mind your target audience and individual brand for each.
Sandwiches and wraps: Premade sandwiches and wraps can be a convenient option for customers on the go. Offer a variety of protein options, such as turkey, chicken, roast beef, and vegetarian options like plant-based meat, hummus, or avocado.
Salads: Packaged salads can be a healthy grab-and-go option. Offer a range of greens, such as mixed greens, spinach, and kale, and add a variety of toppings such as nuts, seeds, and dried fruit.
Snacks: Individual-sized bags of chips, crackers, meats, cheeses, and nuts can be convenient for customers looking for a quick, protein-packed snack. Small charcuterie platters are great, too.
Desserts: Packaged cookies, pastries, and other sweet treats are a popular grab-and-go item. Fresh, seasonal, colorful fruit cups are a popular choice, too.
Beverages: Offer a selection of bottled, mixed, or canned beverages, including water, soda, coffee, smoothies, juices, lemonade, and tea.
Soups: Prepackaged soup is a convenient grab-and-go option for customers looking for a quick, warming meal.
Frozen meals: Offer a selection of frozen meals that can be easily reheated at home, such as burritos, pizzas, and family-size pasta and casserole dishes.
Ultimately, choosing to introduce grab-and-go menu items inside a restaurant is a process of trial and error. You may find that customers enjoy a wide range of snacks more than breakfast or dinner options. Monitor your sell-through closely and you can pivot as necessary.
The information provided is based on a general industry overview, and is not specific to your business operation. Each business is unique and decisions related to your business should be made after consultation with appropriate experts.