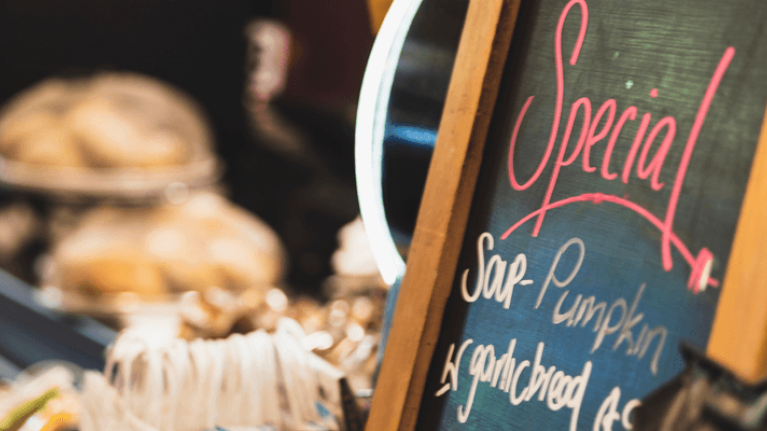 How to Create Menu Promotions That Work
December 1, 2021
Menu promotions and Limited-Time Offers (LTOs) are great ways to keep customers engaged and loyal. Use on-the-menu specials to tout new and different items. It works!
The biggest promotional piece for your restaurant is your menu. Make it work harder with promotions, unique menu items, and limited-time offers that create new fans and bring back longtime customers.
Menu promotions are a proven way to build brand loyalty and inspire new and existing customers to visit a restaurant. The chicken sandwich wars were one of the largest indicators of how fast a menu promotion could spread. What began as a friendly "war" between Popeyes and Chick-fil-A in the summer of 2019, continues to wage on today, with dozens of quick-service restaurants creating upgraded sandwiches with thicker meat, premium sauces, and more add-ons.
The number of LTOs has risen 9% at the nation's top 500 chains over the past year, and grown 25% over the last 5 years.
Today's consumer craves what's new, unique, and different, which is a big reason why limited-time offers (LTOs) have grown over the years. Leading chain restaurants are increasing the number of LTOs they offer, despite the fact that menus, in general, are becoming more simplified in response to the pandemic. According to Technomic, the number of LTOs has risen 9% at the nation's top 500 chains over the past year, and grown 25% over the last 5 years.
Depending on their success, some LTOs are one-and-done, while others return year after year, to bring back fans. Examples include the McDonald's McRib, Taco Bell Nacho Fries, and Zaxby's Fried Pickles.
Before creating an LTO, consider the time, operational requirements, and costs to pull it off. While some restaurants run LTOs every month, others offer them far less frequently. Consider teaming up with other chefs, local artists, or charities to bring more excitement to the promotion. And always reach out to local media and social media to spread the word.
The importance of interesting menu promotions will increase as consumers become savvier in their home kitchens and look toward restaurants to draw them out with unique and exclusive offerings and experiences.
Research existing and upcoming trends to determine which could be a fit for your menu.
Choose a popular menu item and put a new, unique spin on it, such as a slider trio with three types of burgers and three types of fries.
Take a standard sandwich and upgrade its ingredients, like the infinitely popular fried chicken sandwich.
Mention a recognized brand name in an appetizer, entrée, or dessert, and watch sales increase.
Offer a plant-based version of a favorite menu item, such as spaghetti and meatballs or egg and sausage muffin.
Host a monthly food/beverage event that allows customers to engage with the chef, bartender, and/or management.
Make each day of the week special with promotions such as spaghetti Sunday, margarita Monday, taco Tuesday, wine-down Wednesday, three-course Thursday, and farm-fresh Friday.
Pick slower nights of the week to offer family meal bundles that include a salad, family-size entrée, and dessert.
Run a contest that invites customers to submit ideas for a new sandwich, dessert, appetizer, etc.
Offer a BOGO (buy one get one) deal where the customer dines this month and gets a free meal voucher good for next month, helping to ensure their return.
When describing items on the menu and social media, be as descriptive as possible. If customers can envision your rich and creamy bacon and potato soup, or the loaded meat pizza oozing with hand-pulled mozzarella and finished with cupped pepperoni, they are much more likely to place an order.
Offer pre-meal wine samples and desserts to go to increase add-on purchases.
Source: How to Revive Your Menu in 2021, Technomic (2021).
The information provided is based on a general industry overview, and is not specific to your business operation. Each business is unique and decisions related to your business should be made after consultation with appropriate experts.
Making Mouths Water
Here's a quick cheat sheet to reference the next time you're writing menu descriptions.
Call attention to the cooking method (grilled, steamed, fried) and temperature (chilled, warm, steaming).
Describe the textures of the food (smooth, tender, juicy, crispy, crunchy, firm).
Talk about the seasonings, spices, and herbs.
Describe what makes the dish unique (family recipe, popular, chef special).
Example: "A customer favorite for over 30 years, local clams are gathered each day to create our loaded bacon and onion clam chowder soup. This creamy and soul-satisfying soup is ladled piping hot into a chewy housemade sourdough bread bowl and served alongside homemade honey butter. Enough to share, but we won't tell if you keep it all to yourself."
Did You Know?
Seasonality draws in 41% of consumers looking to try new menu items and LTOs.
47% of consumers look forward to ordering menu items associated with Thanksgiving.
54% of Boomers look forward to menu items and flavors geared toward Christmas/Hanukkah/Kwanza.
One in four women associate Valentine's Day with specific foods and flavors, such as chocolate, champagne, and heart-shaped items.
Source: Datassential, Seasonal LTOs (2021)