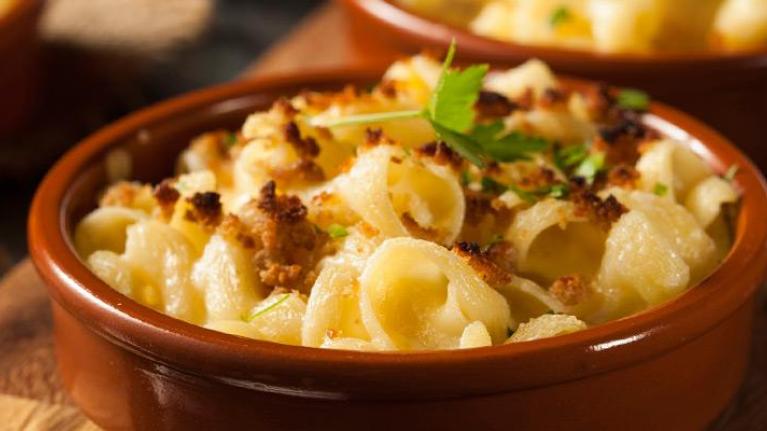 Make Your Sides Spectacular
November 7, 2016
Create more memorable meals with unusual side dishes. Rather than everyday broccoli or string beans, set out a stylish signature side to delight your patrons.
Sure you can plunk a couple spears of fresh steamed broccoli or a handful of fries on the side of a plate, but real success with side dishes is all about creating more value. Signature side dishes set food apart and create a memorable accompaniment that can drive patron cravings and support premium pricing—whether they're part of a meal or available as an à la carte add-on.
Customers will love these:
Savory Bread Pudding – Bread pudding for dessert, sure—but as a side dish? But think of a savory bread pudding like a stuffing or dressing that can be served alongside roasted meats and poultry, fish, gravy-laden foods like pot roast, and more. Savory bread pudding is a great vehicle for repurposing savory baked goods of any kind, from dinner rolls to baguettes, and it's also delicious for soaking up sauce and meat juices.
Start Here: Like stuffing, savory bread pudding needs some richness and moisture in the form of stock or gravy. Look to Minor's®, Maggi®, or Trio® for suitable products to use.
Corn on the Cob Variations – The growing popularity of elotes (a Mexican-style street food consisting of grilled corn on the cob rolled in creamy fresh cheese, chili powder, and lime) suggests many other flavorful finishes for corn, ranging from mellow garlic butter to fiery harissa sauce.
Try This: Minor's flavor concentrates such as Sun Dried Tomato Pesto or Cilantro Lime can be mixed with butter, mayonnaise or oil for dressing grilled or roasted corn. Or drizzle with any one of eight Chef-mate® cheese sauces.
Signature Rice Dishes – Beyond plain white or brown rice, there are many memorable rice specialties, including pilafs, Louisiana-style dirty rice (made with scallions or onions and chopped chicken livers), Mexican arroz rojo (red rice, flavored with tomato, cilantro, and chiles), and even fried rice, which add value to the side dish space and are also handy for cross-utilizing ingredients.
Here's an Idea: Mix Chef-mate Country Sausage Gravy with cooked rice to create a down-home rice side dish. Chef-mate cheese sauces are another great addition to rice dishes of all kinds.
Pull Out the Presentation – Sometimes the best side dish upgrade is the easiest: presentation. Consider sending sides to the table in attractive crocks or gratins, miniature casseroles or skillets, delicate crescent-shaped china plates, lined baskets, metal dishes, or any other distinctive servingware that matches the recipe and the menu concept.

Classic Bean Dishes – With beans and pulses getting so much food-trend love these days, it makes sense to investigate the global lexicon of interesting bean recipes: New England-style baked beans, stewed limas, Indian-style lentils, Spanish-style Moors and Christians (a traditional Spanish dish of black beans and white rice), heirloom bean mixtures, and more.
Try This: Add a little extra flavor to bean dishes with Maggi Beef Base or Chicken Base, or with a vegetable base such as Minor's Sautéed Vegetable Base Mirepoix.
Hasselbacks Are the New Baked – Potatoes, that is. Showing up on menus and showing off against same-old, same-old baked potatoes, hasselbacks provide the crispness of roasted potatoes with the creaminess of baked. Large all-purpose potatoes are sliced only partway, then baked until they fan out into crispy layers, and dressed in a variety of ways.

Root to Shoot – Many high-profile chefs are bringing attention to the problem of food waste with activities like wastED pop-up dinners, nose-to-tail cooking, using the entire vegetable in recipes, and more. Get in on the movement with items like stir-fried broccoli stems, potato peel chips, roasted carrots with carrot-top pesto, vegetable purées, and so on.

Stuff Those Veggies – From stuffed mushroom caps and multicolored stuffed peppers to zucchini boats and baked stuffed potatoes, filled vegetables add drama, value, and interest to side dishes, and also help create items that appeal as small plates and vegan/vegetarian options.
Get Started: Stouffer's prepared dips and sides, such as Spinach Artichoke Dip or Broccoli Cheese Rice Casserole, are ready to stuff into prepared veggies. Use Stouffer's Alfredo Sauce or Alfredo Parmigiana to craft a filling with other ingredients. Or, make it really easy with Stouffer's Stuffed Green Peppers with Beef and Tomato Sauce. 
Add Some Technique – What's next after familiar roasted and grilled vegetables? Use other flavor-boosting cooking techniques—often associated with meat—including searing, charring, and smoking to create signature sides. These high-heat methods promote browning and caramelization, which change both the texture and flavor of standard vegetables.
Did You Know? High-heat cooking demands sturdy vegetables like broccoli, Brussels sprouts and carrots, but it can also take the heat and spice of chiles and other distinctive ingredients. Try using Maggi Spicy Seasoning, Thai Style Red or Green Curry Paste, or a Minor's Latin flavor concentrate.
Vegetable Stews – The world is full of traditional vegetable-stew specialties, like French ratatouille, Indian-style masala vegetables, Greek artichokes with egg lemon sauce, and Italian giambotta. In addition to standing in as vegetarian items (with or without the addition of eggs and/or cheese), most can be made with whatever seasonal vegetables are available.
Get Started: Minor's flavor concentrates, such as Herb de Provence, Sun Dried Tomato Pesto, and Roasted Garlic, can be used to bring added flavor to vegetable mixtures of all kinds.