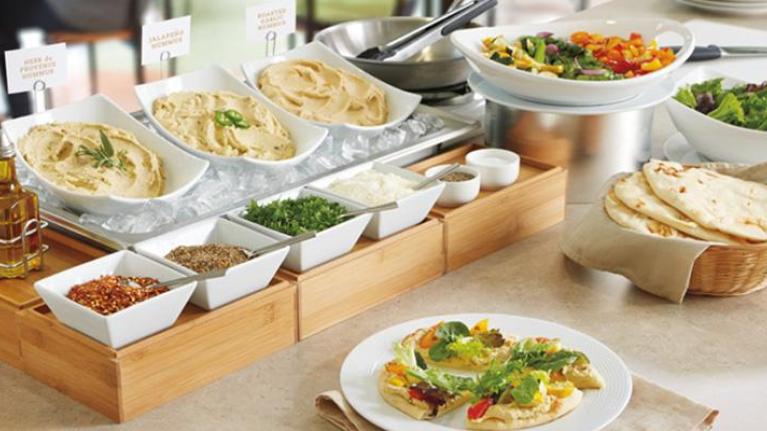 Nutrition, Health & Wellness
NHW Trend Grows. Take Advantage of It.
October 19, 2016
Increasingly, eating well means adopting a NHW (Nutrition, Health, and Wellness) attitude. Discover easy ways to keep taste and healthfulness in balance.
To paraphrase an old saying, the more things stay the same, the more things change. That's certainly the case with nutrition, health, and wellness (NHW) in food service. According to Datassentials, 81% of Americans say that eating well is important. 
Offering a selection of healthy menu options has been an imperative for decades now—older readers may remember the oat bran craze of the early 1980s, to say nothing of the ongoing war on carbohydrates, from Atkins to gluten free and beyond—but today it seems more important than ever to give customers healthier options.
The point now is to give guests choices—and, above all, to make sure that taste good.
Did You Know? Dieting ideology has changed in recent years, according to the Hartman Group, no longer focusing just on calorie counting but also on practices such as meatless and Paleo eating styles. Nowadays, it's all about balancing pleasure with wellness.
Not surprisingly, food service operators are deploying a number of different tactics, from informative labeling aimed at calorie counters to focusing on fresh, natural foods and those that are free from undesirable ingredients like gluten or dairy.
Custom Solutions
Customizable menu platforms and items that patrons can order to their own specifications represent a flexible strategy for meeting the demands of so many different types of eating patterns. By offering a serve-yourself food bar, for example, or a sandwich program that allows a customer to select their preference for bread, filling, condiments, and more, operators can allow guests to determine portion size, avoid animal protein, choose a high-fiber ingredient, and so on. And that's to say nothing of providing patrons with different options for flavor and favorite ingredients. 
Spell It Out
Some customers want to see what they're getting into healthwise when they order off a menu. There are a variety of different ways that operators can provide this:
Including calorie counts and other information for individual items on menus 
Using symbols such as a Hearty Healthy or V (for vegetarian) on the menu
Providing nutritional information on the website, or via an app or table tent
Creating a separate menu section that comprises items meeting certain nutritional criteria, such as under 600 calories or low sodium diet
Many operators have found that creating a separate menu section also allows them to merchandise healthy options in a way that doesn't detract from overall brand positioning. Creating a section identity, such as Better for You, that carries certain messaging (for example, Eating healthy never tasted this good) helps encourage customers to make more health-conscious decisions.
Get Started: For three ways to add NHW to your operation, see below.
Free From
Gluten free, dairy free, nut free. The market for these so-called free from products and menu concepts is huge because so many more consumers are avoiding these foods and others. This is especially true of gluten. In fact, according to the Hartman Group, sales of gluten free grew exponentially in the five years leading up to 2014, when they reached $973 million, and it's anticipated that total sales will reach a whopping $2.34 billion in 2019.
Perhaps no food service sector is more ripe for the Free From promise than colleges and universities, where students are off on their own for the first time, and dealing with a variety of dietary and nutritional issues. In fact, many schools serve menu items prepared without such trigger foods as gluten, wheat, soy, shellfish, dairy products, eggs, peanuts, or tree nuts; all foods are protected against cross-contact with allergens via stringent protocols for storage, preparation, and service. Students are informed about choices and ingredients via point-of-sale labelling, backed up by detailed information on websites and in brochures. Nutrition counseling and access to a staff dietition are often part of the mix as well.
Make It Meatless
Vegetarian, vegan, and plant-driven menu options have been growing by leaps and bounds in the past two years or so, especially in college dining, fast-casual, and market-driven, full-service restaurants. Creating meatless signatures that are every bit as delicious and satisfying as traditional meat-driven options is key.
Here's how:
Bean and lentil specialties including stews, dips, fritters and croquettes
Hearty roasted or grilled vegetables such as eggplant, squash, mushrooms, and sweet potatoes
Tofu and seitan substituing for animal proteins in stir-fries, salads, entrees, and more
Cheffy vegetable preps such as Charred Broccoli with Garlic & Almonds
Vegetarian frittatas, omelets, and other egg dishes
Vegetable-bases hashes and stews
Grain bowls
Avocado toasts and other signature produce-based breadstuffs

Sources: Datassentials, Global NHW, 2015; The Hartman Group, Health & Wellness 2015 report
THREE WAYS TO ADD NHW TO YOUR OPERATION
ACTION STATIONS
Nestlé Professional Action Stations make it easy to offer patrons customizable, made-to-order menu items, including Breakfast, Wellness, Salad, Street Food, International Soup and Noodles, Snacking, and Dessert.
LEARN ABOUT THE PROGRAM
THREE WAYS TO ADD NHW TO YOUR OPERATION
TRY THIS 
Global cuisine is a great source of inspiration for meatless specialties. Help tap in to this wellspring of ideas with these vegetarian Minor's® sauces and flavor concentrates.
GLOBAL PRODUCTS
THREE WAYS TO ADD NHW TO YOUR OPERATION
DID YOU KNOW?
Nestlé Professional has more than six dozen gluten free products, ranging from Minor's® and Maggi® bases and sauces and Stouffer's® fully prepared foods to Coffee-mate® creamers.
GLUTEN FREE PRODUCTS