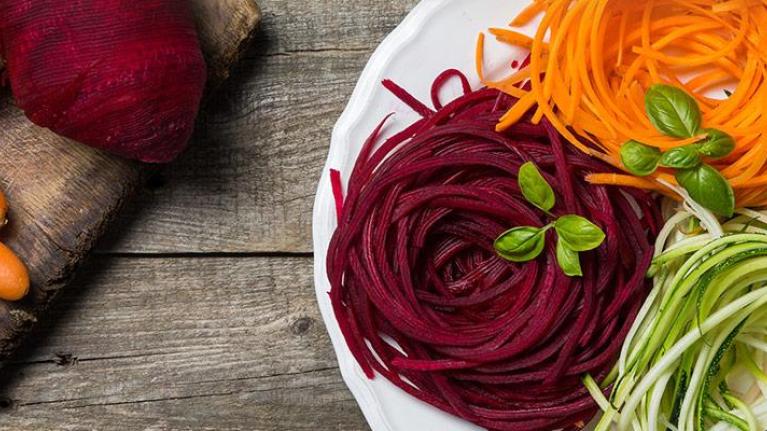 Nutrition, Health & Wellness
Remaking Menus for Nutrition, Health and Wellness
December 19, 2017
Nutrition, Health and Wellness (NHW) is a mega trend. Learn how substituting some ingredients can up the healthful quality of your recipes while maintaining taste.
There are lots of reasons to make NHW substitutions in menu items, besides the financial: to appeal to dieters; to address customers' special dietary needs; and to accommodate patrons with food allergies (such as eggs) or intolerances and preferences (gluten free).
It's easy to help guests make healthier food choices by accentuating "positive nutrition," with better-for-you recipes that are flavorful, satisfying, and still indulgent. 
Here are some ideas from the Nestlé Professional team of chefs:
Substitute another vegetable for traditional potato "tots" in side dishes and snacks, such as riced cauliflower, broccoli, or sweet potatoes.
Poutine and other French fry specialties can be made with vegetable-based tots for a nutritious spin that ups vegetable consumption
Experiment with alternative flours both for flavor and gluten free options.
Nestlé Professional corporate executive chef Christopher Britton likes to "sneak" quinoa flour into various desserts, especially for kids. You can replace up to half the all-purpose flour in a recipe with quinoa flour, but be aware that this imparts a distinct nutty and earthy flavor to your dish. Try a lower ratio in a rich chocolate brownie or spiced cookies first until you—and your customers—are comfortable with the flavor
The chef also points out that many pizza shops are adding an element of health and nutrition to their crusts using riced cauliflower and even garbanzo bean flour
Cook food in parchment paper or foil, which obviates the need for additional oil or cooking fat. Foods such as fish and shellfish, poultry, and vegetables steam-roast, remaining moist, colorful, and appetizing.
This "en papillote" (French for "in paper") method is also good for portion control and all-in-one cooking convenience: Enclose vegetables, potatoes, sauce components, and appropriate garnishes in the same "package"; as long as they're cut and prepped to cook at the same time, you can create a complete plate
Substitute egg whites for whole eggs in frittatas, omelets, stratas, and other baked egg dishes.
Another strategy: Replace just some of the whole eggs with egg whites for more traditional color, texture, and flavor
Make vegetables, grains, and pulses shine in plant-forward recipes, either as meatless options or by using a higher proportion of these ingredients versus animal protein, especially red meat.
Many on-trend global cuisines—Asian, Latin, Mediterranean—emphasize specialties in which meat is used as a garnish or component, rather than the centerpiece, of a recipe
Take a look at spiralized vegetables as a distinctive alternative to noodles. Zucchini-based "zoodles," carrots, sweet potatoes, butternut squash, beets, and other root vegetables . . . some chefs are even using unusual vegetables like celery root and rutabaga. They're all colorful, nutritious, and easy to menu. Precut, value-added vegetable noodles are also becoming available for operational convenience.
Substitute colorful vegetable noodles in pasta dishes, add them to salads, create "nests" for protein items, and use in noodle soups and stir-fries
More Tips
Mashed cauliflower can replace some or all of the spuds in mashed potato dishes
Use hydrated chia seed or flaxseed instead of eggs as a binding in fritters, meatloaf, and other savory mixtures
Lighten meat mixtures such as meatloaf—and sneak in some vegetables—by substituting sautéed chopped mushrooms, celery, onions, carrots, and other vegetables for some or all of the breadcrumbs
Use puréed avocado instead of heavy cream and/or butter in savory as well as certain dessert items (such as ice cream and quick breads)
Instead of red food coloring, use red beet purée
Today's turkey bacon products perform on par with traditional pork bacon
In bread-baking, replace animal fats with olive, vegetable, or canola oil
Chickpea brine (aquafaba) can be used for meringue, instead of egg white
Use xanthan, carrageenan, or agar in place of gelatin
Replace milk or white chocolate with dark chocolate
Spaghetti squash makes a great stand-in for pasta
Nut milks such as almond, cashew, walnut, and hazelnut can be used instead of dairy milk, which also provides an interesting flavor if used in quantity
Greek yogurt makes a great stand-in for sour cream
Use buttermilk in recipes that call for cream
Substitute whole wheat flour and some added hydration in place of white flour
The information provided is based on a general industry overview, and is not specific to your business operation. Each business is unique and decisions related to your business should be made after consultation with appropriate experts.
DID YOU KNOW?
Nestlé Professional offers a wide selection of gluten free products, including Stouffer's® Alfredo Sauce, as well as recipes.
TRY THIS
Flavor is the health-oriented menu-maker's best friend, and Nestlé Professional is all about flavor:
FOR MORE INFORMATION
Check out these handy Nutripro resources: