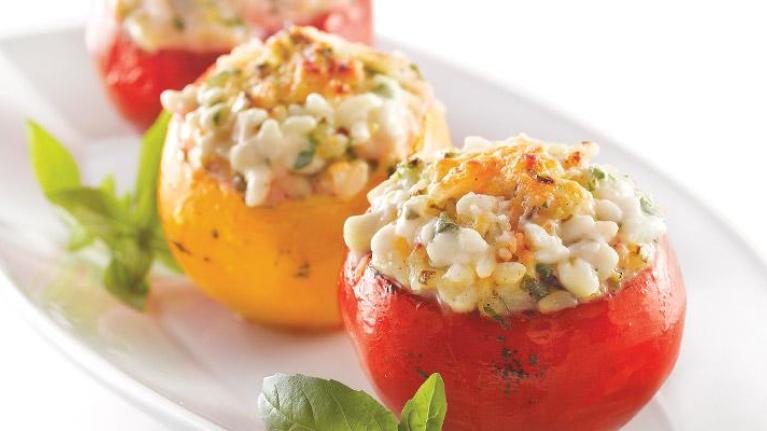 Sides Are the New Center of Attention
May 11, 2014
Side dishes are getting new respect. Not only do innovative and seasonal sides spark appetite appeal, they can provide a complete meal to vegetarian and vegan customers. That versatility makes side dishes huge—both for customer accommodation and profit potential. Learn more and get the recipes here.
A lot's happened since the days of one-size-fits-all side dishes. More consumers are seeking meatless menu selections, and offering an assortment of sides is one strategy for accommodating them. The whole local and farm-raised movement has put a strong focus on vegetables and fruits, increasing their availability. The health benefits of items like grains and legumes have become common knowledge. And menus that are designed to encourage sharing and small plates, which can easily encompass items that are similar to traditional side dishes, have become much more popular.
All this and more means that if you're not treating side dishes seriously, you're missing out on a sales opportunity. This means both à la carte sides and the accompaniments to center-of-plate proteins, and the meat and three have gotten much more interesting.
Veggie Grill, a budding chain with a plant-based menu (PDF), may be vegetarian but it's still got the side dish thing going on, from the Cauli-Mashed Potatoes & Gravy to red cabbage slaw. Seasons 52, the healthy grill headquartered in Orlando, may not have à la carte side dishes, but look at what comes on the side (PDF) of the entrées: roasted asparagus; broccolini; and sun-dried tomato-mushroom pearl pasta. And students at Case Western Reserve in Cleveland, where food service is operated by Bon Appétit Management, are treated to on-the-side options that range from roasted squash to curry rice salad.
New Veggies Are Coming on Strong
Items like Brussels sprouts, which used to be considered too strange for comfort, are now hot, new menu additions, from fast-casual to full-service restaurants and more.
Heirloom tomatoes

Cauliflower

Root vegetables such as parsnips and varietal carrots

Beets

Greens such as mustard and kale

Seasonal specialties like pea sprouts and corn

Butternut squash

Chickpeas, lentils, and edamame (soybeans)
Here's An Idea: Cheese sauces from Chef-Mate® and Trio® elevate a green vegetable like string beans or broccoli into a specialty side dish.
The Potato Rules
Spuds have always been standard side dish fare, but today the offerings have been ramped up with specialty potato varieties, flavor additions, and prep and presentation improvements—or many of the above.
"Smashed" for a more rustic texture

Fries made with sweet instead of white potatoes

Enhanced fries with dusts, dipping sauces, or poutine-style toppings

Fingerling and baby potatoes

Flavored mashes and mixed vegetables mashes (ie, parsnip-potato)

Housemade "tots"

Scalloped and other gratin-style preparations

Smoked potatoes
Get Started: Stouffer's® Scalloped Potatoes can be customized to create a signature side dish, by adding bacon, onions, sourc cream, additional cheese, or other flavorful ingredients.
Grains Get Interesting
Americans have discovered grains—not just for their health benefits but also for their delicious flavor and intriguing textures.
Polenta

Grits, particularly artisanal

Ancient grains: Farro and quinoa

Barley

Grain-based pilafs

Couscous, including Sardinian and Israeli

Specialty rices, such as brown basmati and Forbidden Black

Multi-grain mixtures
Tip: Many grain dishes, including those with quinoa, contain protein, especially when paired with beans or legumes—making them ideal for vegetarians or vegans.
That Little Something Extra With Sandwiches
This is where the special pedal hits the signature metal, offering texture as well as flavor, and a distinctive addition that no one else offers. Many sandwich specialists have discovered the appeal of coleslaw as part of the sandwich itself, which adds not only a refreshing bit of acidity, but also a pleasing crunch and color. Variations such as red cabbage are fair game.
Potato chips or fries in the sandwich

Artisanal or housemade pickles

Sauerkraut or kimchi

Fruit (dates, fruit butter, apple slices)

Avocado

Olive salad

Marinated cucumbers

Hot peppers
MULTIPURPOSE SIDES
Good side dishes can be merchandised in a variety of different ways, so they serve double-duty or more on the menu.

- Offer your most popular main dish accompaniments, such as blue-cheese mashed potatoes served with a steak, as an à la carte side
- Side items such as crispy Brussels sprouts or sweet potato fries can also be used on the bar menu, or as snacks or appetizers
- Menu an assortment of three or four of your best side dishes as an easy vegetarian-friendly entrée
- Create a side dish special of the day to accommodate seasonal produce or overproduction
- Repurpose items like grilled vegetables into a salad, sandwich filling or grilled vegetable "hash" at brunch
- Use grain dishes as a stuffing for poultry or vegetables