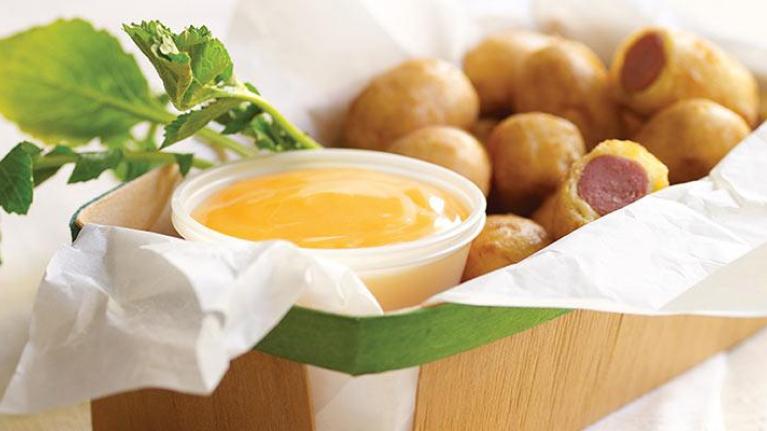 Snacks Are the Anytime Mealtime for Many
February 15, 2015
People don't eat just three meals a day–there's a mid-morning snack, a mid-afternoon snack, small plates at dinner, even late-night snacks. Learn how you can profit from smaller portions.
You've heard the old expression "There's only 24 in hours a day," but now here's the good news: There are more than three meal opportunities in a day.
We're talking snacks. Customers want them, and you want them on your menu. Consider the data:
78% of respondents in Keller Research's Rethink Your Snack survey ate snack foods for lunch, and 55% said they munch in lieu of dinner; this pertains to all meal occasions, including at home, in food service establishments, and on the go

Technomic reveals that 51% of consumers eat snacks at least twice a day, either between meals or as a meal replacement; 60% keep portability in mind

In a separate study, Technomic clocked the rising popularity of small plates such as appetizers and sides, which are ordered as a snack by 14% of respondents

Mintel calls the phenomenon the "Snacking Culture", as consumers increasingly choose to snack anywhere, anytime, and on practically anything

One in five Americans has ditched regular meals in favor of "serial snacking," declares an IRI report on "opportunist eaters"
Most people think of snacks as something to keep you going between meals and late at night, and indeed this offers a unique opportunity for all-day operations or places that offer late-night or continuous service between lunch and dinner. Dunkin' Donuts, which has been gradually remaking its menu beyond breakfast for almost a decade, has now successfully rebranded itself through a series of new menu item introductions, including a selection of sandwiches positioned as snacks.
Even when made available during regular meal hours, menuing snack-size items is smart, appealing to diners' sense of adventure and quest for value-priced offerings or items that can be shared. Many consumers also have healthfulness in mind when they choose a snack, according to Technomic—whether because it's inherently healthy or because it's a smaller portion.
Introducing: Hot Pockets® are perfect for snacking. These flaky, crispy pockets of dough are wrapped around flavorful fillings like Chicken Melt and Philly Steak & Cheese.
A Snack by Any Other Name . . .
…is still a sales opportunity. Snacking is an inherently flexible dining occasion, so the concept can be positioned in a variety of ways. People in all parts of the world have their own versions of snacks that can be mined for ideas, for one thing, and operators are also experimenting with different menu categories.
Menu Sections:
Nibbles
Small plates
Bar menus
Shared plates/shareables
Bites
Tastes for the tables
International Inspirations:
Antojitos (Mexican corn-based snacks)

Tapas and pintxos (tasty Spanish-style bites)

Stuzzicchini, piattini, sfizzi, ciccheti (regional Italian versions of snacks)

Hawker style (Asian street food)

Mezze (Mediterranean-style snacks)
Snack Around the Clock
Food service operators are also handling the opportunity in a variety of different ways. At Acorn, in Denver, the Mid-Day Eats menu section offers a small but interesting selection of sandwiches, salads, and a noodle bowl, plus affordably priced wine, beer, and cocktails for customers who find themselves hungry in the afternoon. Most of the entire menu at Seattle's Brave Horse Tavern, which is open continuously from 11 a.m. to midnight, consists of items that could be described as snacks, allowing customers to decide what and how much they want to order and when. And at Lynchburg College in Lynchburg, VA, students and staff can enjoy a variety of dining occasions at Burton Dining Hall in the student center, the Westover Room, and other locations around campus—no worries about missing a meal because of sleeping late or studying through dinner.
Try These on Your Menu
Small, flavorful portions of sautéed or roasted vegetables

Rice balls (arancini) and meatballs

Chicken wings (Buffalo and beyond)

Savory tarts (individually or by the slice)

Pizza and pizzette

Dips and dunkers

Seafood cakes

Mini-sandwiches

Pretzels with dip

Small skewers

Flavored popcorn

Shrimp or clams by the piece, or seafood shooters

Breadstuffs: Crostini, canapes, flatbreads and bruschetta

Boiled peanuts in the shell

Housemade potato or vegetable chips

Small portions of ribs

Quesadillas
Get Started: New Chef-mate® ¡Que Bueno!® White Queso Sauce makes the perfect dip for all sorts of finger foods.
Cheese and cured meat plates

Stuffed mushrooms

Sweet treats (such as brownies, muffins and cookies)

Jars and crocks (small, individually packed portions of items like pate, pimiento cheese or roasted eggplant salad with crackers/crudite)