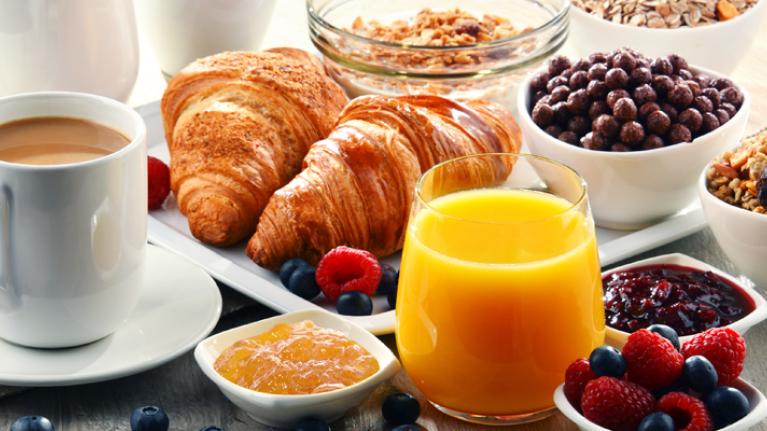 The Breakfast Trends Opportunity Trend Report
October 21, 2021
Winning Foodservice Strategies for A.M. Sales
Breakfast Breaks Out
The breakfast daypart is growing fast—and becoming more sophisticated. For many foodservice operators, breakfast used to be little more than a second thought, a service that had to be provided in the morning to hungry patrons. Not anymore. Thanks to increased competition, a growing cohort of demanding consumers with more divergent schedules, and the emergence of the breakfast specialty segment, the daypart is receiving a lot more love.
Breakfast is on 27.6% of US menus, and has grown 19.5% over the past four years.
Who Is This Information For?
Not all foodservice segments face the same challenges when it comes to providing breakfast, but as channel boundaries continue to blur in the consumer's mind, more ideas and solutions are becoming relevant.
Retail: Convenience Store and Supermarket Prepared Foods
Restaurants: QSR, Fast Casual, Midscale, Casual, Fine Dining
Onsite: B&I, Lodging, Hospitals, Long-Term Care and Senior Living, K–12, C/U
The big challenge facing all operators, however, is the fact that not all consumers eat breakfast, and that when they do, approximately one quarter of them have it at home.
IN THIS REPORT
THE BIG PICTURE
What's Driving Breakfast Trends
All-Day Demand
Healthy Cues
Coffee Leads the Sale
Takeout for Convenience
SIGNATURE SPECIALTIES
Variety: The Spice of A.M. Sales
Eggs Get an Upgrade
Batter Up
Better Baked Goods
BREAKFAST IS BIG BUSINESS
Breakfast Menu Momentum
What's Driving Breakfast Trends
Even the definition of what constitutes breakfast is changing for today's consumers.
Just what is breakfast, anyway? These days, it's a fair question. For some people it's a slice of toast and a cup of coffee or a piece of cold pizza. For others, it's a hearty grain bowl, a fruit-and-yogurt smoothie or blended juice, or a plate of bacon and eggs with hash browns and an English muffin. And for some, it's not even necessarily the first meal of the day.
The majority (62% vs 57% in 2015) now skip breakfast at least once during the week, and 39% (vs 35% in 2015) skip it at least once on weekends.
Breakfast is whatever consumers want it to be, and according to Technomic, their perspective is changing, even as operators continue developing and expanding their breakfast programs. For instance, many Americans are skipping this daypart slightly more often, mostly at the expense of at-home breakfasts.
Variety: The Spice of A.M. Sales
Unique and craveable breakfast items set morning menus up for a win.
As traditional a meal as breakfast is, variety is still top of mind for many consumers when they enjoy it away from home. According to Technomic, 60% of consumers say a wide variety of breakfast items is either important or extremely important, making this attribute top of mind for the daypart.
Increasingly, that variety includes signature dishes and unique specialties that run the gamut from indulgent to global, along with more traditional favorites such as eggs and bacon, pancakes, juices, and hot and cold cereal. And even these familiar items can be made more craveable and distinctive with upgrades and interesting flavors and ingredients.
What's Ahead for Breakfast
Some growth trends are just too hot to ignore.
PREMIUM JUICE
Juice is getting trendy, and exciting things are happening in this once-basic category. According to Technomic, 84.5% of operators menu juice, which has enjoyed 3.5% growth over the past five years. This is driven in part by new premium offerings, like cold-pressed and 100% juice beverages, signature flavors, unique fruit and vegetable juice blends, and juices offering functional and other better-for-you benefits.
GLOBAL/REGIONAL SPECIALTIES
Ham and eggs, step aside—and make way for chorizo, biscuits and gravy, falafel, and breakfast fried rice. The whole world eats breakfast, and American diners want to sample their way around it. Technomic tells us that 24.6% of foodservice operators menu ethnic at breakfast, capping five-year growth of 3.5%. As interest in global and American regional specialties continue to grow throughout the menu, breakfast lovers will also benefit from more authentic a.m. flavors, ingredients, and recipes.
Sources: Datassential SNAP! Breakfast (2018); IFMA/Datassential CPP 2016, Breakfast: Consumer Insights; 2017 Technomic Breakfast Consumer Trend Report; Technomic Ignite, Ethnic Breakfast (2018); Datassential 2016 Pulse Report
Would you like to recieve the full report?