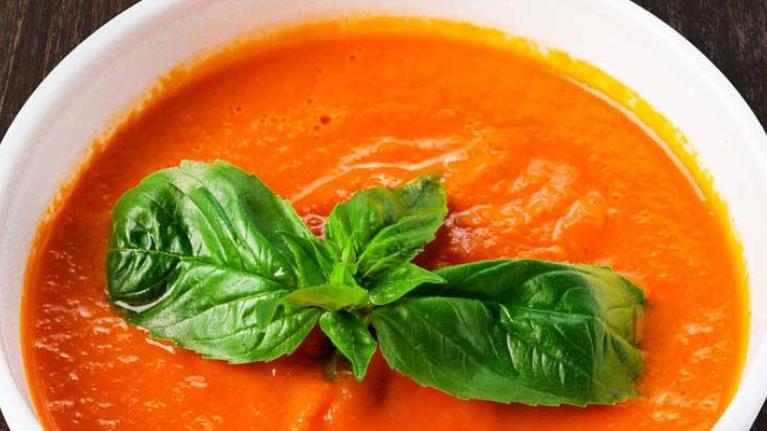 10 Reasons to Make Soup a Takeout Star
February 18, 2016
There are so many reasons that soup works for a carryout menu that we had a hard time limiting our list to 10. Read on for great soul-soothing, delicious soup ideas. 
Soup is a menu mainstay in a lot of different operations, but while it may not seem as portable as a sandwich or a portion of lasagna, it more than earns its place on a carryout menu. In addition to being a strong player among the daily specials—or even the basis of a regular weekly and seasonal rotation—Soup has a lot more going for it.
It's endlessly versatile. Many delicious soups start with a look into the walk-in to see what there's a lot of, or what feels right for the day's weather, or what needs to be used up…
Soup is perfect for repurposing. There will always be "leftovers"—trim, overproduction, assorted odd bits—especially when takeout is a new service and forecasting is still a challenge.
It's a vehicle for leftovers. Extra bread can be used for a crouton garnish or even ground into crumbs for a thickener, as in the Spanish bread and garlic soup called acorda or tomato-rich Italian pappa al pomodoro.
Soup takes many global inspirations. There are enough delicious soup recipes in the world to create a different soup every day, from Chinese hot and sour to Louisiana gumbo to West African peanut soup.
Soup can be light or hearty. Thin brothy soups or satisfying chowders, suave vegetable purees or chunky beef and barley, soup has many moods and many roles in a meal, including appetizers and main courses.
Soup and meatless menus go together. Vegetarians, vegans, and flexitarians love soup. There are plenty of vegetable- and grain-based soups that eschew dairy products and eggs to satisfy even those diners who eat no animal products whatsoever.
It's easy to build a combo around soup. There's nothing revolutionary about pairing soup with a salad or a half sandwich, but there's a reason these combos are ever-popular: They give diners a more complete and interesting meal experience.
Soup is great in a buy-local environment. Supporting local farmers and suppliers is easier when you can take a boatload of zucchini, misshapen carrots, or some fresh pork that's been frozen. Given the right customer base, it makes for a good menu backstory.
Soup can be offered in multiple portions. From a single serving to a quart or even a gallon, soups can be sold for take-home family meals or personal larder-stocking. 
Soup is comforting. And during uncertain times, that's very, very important.
The information provided is based on a general industry overview, and is not specific to your business operation. Each business is unique and decisions related to your business should be made after consultation with appropriate experts.