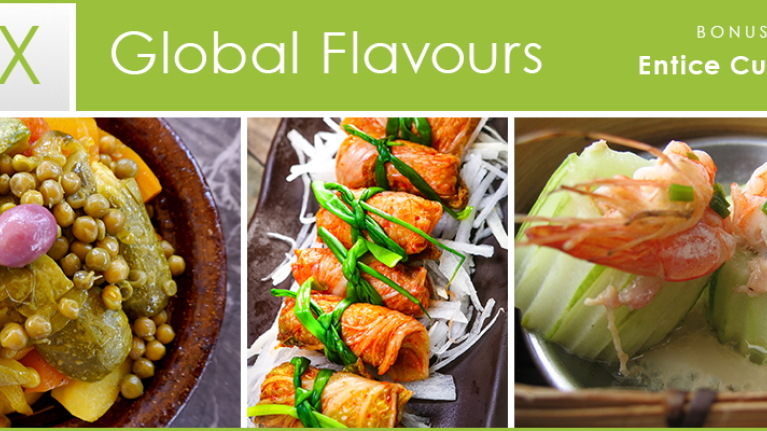 Culinary Fusion Leads Flavour Revolution
October 19, 2016
SECOND IN A SERIES: Mainstream American taste trends have gone multicultural. Learn what flavour fusions and mashups are making news and selling big. It pays to be adventurous.
Who's to say what belongs on menus these days, what's authentic, appropriate, or appealing? Customers, that's who, and increasingly they want bold flavours and new ideas, unrestricted by notions of what's gone before.
Culinary fusion or wacky mashups, many of today's hottest menus have become showcases for cross-cultural creativity, reflecting the adventurous palates and multiculturalism of American diners.
For example:
A hybrid of the Japanese okonomiyaki pancake and the traditional Jewish latke creates the Okonomi-Latke

Beyond the expected flavours, a Crab cake Burger takes on chutney and Thai herbs

Eggs roll can be filled with almost anything, as this Meatball Sub Egg Roll recipe proves

Carne Asada Corned Beef fuses traditional elements of the Irish favorite with Latin ingredients

Eggs and pickled vegetables create the Banh Mi Breakfast Bialy

A Reuben Bao puts traditional sandwich ingredients in a dumpling holder

Two childhood favorites—macaroni and cheese and hot dogs—make a tasty Mac and Cheese Dog
Get Started: Nestlé Professional makes many products that work with fusion menu concepts, including Stouffer's® Macaroni and Cheese, Minor's® Masala Curry Flavor Concentrate, and Minor's family of Latin flavor concentrates.
The trend makes a lot of sense when considered in the context of global cuisine. Some of the world's most interesting culinary traditions are the result of the fusion of different cultures. For instance, Indian food isn't one single concept, but rather an amalgam of 35 different traditions, each shaped by history, geography, and politics. The character of Peruvian cuisine owes a debt to the Japanese, Chinese, Italian, and Spanish immigrants who settled there. Filipino food is a hybrid pot of Spanish, Portuguese, Japanese, and American influences.
America, of course, is the ultimate cultural melting pot. This can still be seen in regional specialties, like the hearty pies, beans, and roasted meats of New England, or the French and African-inflected boucherie (sausages), fish specialties, and gumbo of Creole and Cajun Louisiana.
The newest wrinkle in fusion cooking tips its hat to the assimilation of second- and third-generation Italians, Hispanics, and Asians who have come to America over the past 125 years, translating their ethnic roots and experience working in restaurants into a new kind of global fusion.
It starts with familiar platforms that patrons can understand—sandwiches and burgers, dips and sauces, flatbreads—then makes a segue into global favorites that have become commonplace from other cultures, including tacos and burritos, dumplings, and Asian noodles. Whatever comes next is limited only by imagination.
Did You Know? Customers can stoke their imagination with custom-built specialties from Nestlé Professional Action Stations, including Desserts, International Soups and Noodles, and Street Food.