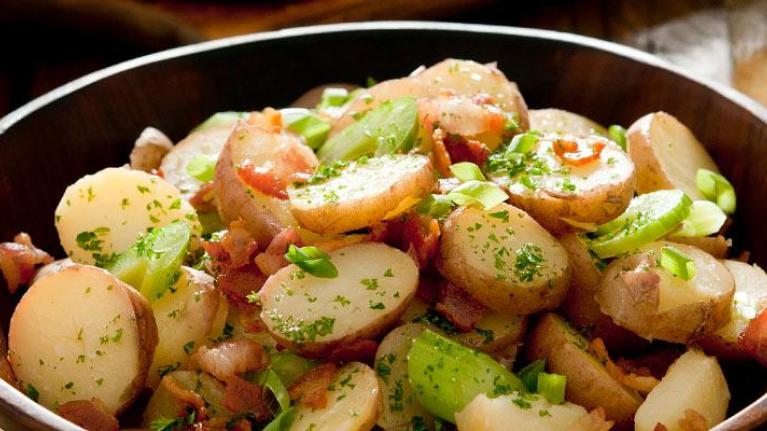 Discover 9 Hot Trends for Sides
October 20, 2017
Make your sides dishes as creative and inventive as your mains. Your customers will love the upgrades! Learn how sides can work harder for you.
Side dishes haven't always gotten as much attention as they do now. And that meant that a lot of food service operators left some things on the table, including brand differentiation, customer satisfaction, and the opportunity for better sales.
But in the age of vegetable-forward menus, it's more important than ever to put some creative effort into side dishes. Use distinctive sides to convey an image of freshness and seasonality; to take advantage of premium pricing opportunities (in the case of sides that are included with main courses) and add-on sales (for à la carte side dishes); and to be able to cross-utilize certain items into other menu categories, including vegetarian and vegan options.
The Nestlé Professional team of corporate chefs shares some ideas:
American Classics – Beyond French fries and peas and carrots, there's an entire lexicon of traditional American side dishes that are begging for a comeback. Steakhouses and contemporary interpretations of Midwestern and Southern-style meat-and-three (as in a protein plus three side dishes) point the way to many exciting possibilities.
Creamed Veggies – From au gratin potatoes and creamed spinach to broccoli casserole, vegetables smothered in cream sauce or cheese sauce are comforting and delicious. They're also easy to make ahead.
Succotash – Corn off the cob mixed with either lima or cranberry beans and lots of butter and pepper makes for a delicious side dish with roots in Native American cookery. Add rice for a dish that's hearty enough to serve as a vegan or vegetarian main course.
Tomato Specialties – Stewed tomatoes, okra and tomatoes, and fried green tomatoes can all be menued on the side.
Savory Pancakes – Pancakes aren't just for breakfast with maple syrup. Savory preparations like potato pancakes, cornmeal-based johnnycakes, and the French Canadian buckwheat cakes, known as ployes, can all fill in for the starchy role traditionally played by rice and potatoes. They can also be used as the base for items like smoked salmon or cheese in appetizers and small plates.
All Kinds of Greens – The huge kale trend has created opportunities for other kinds of heretofore obscure greens to be turned into specialty side dishes, including:
Braised and stewed mustard greens, collards, and other sturdy greens
Grilled radicchio and romaine
Red and green, Savoy, and other cabbages
Asian greens such as bok choy
Italian-style greens, including broccoli raab and escarole (often sautéed in olive oil with garlic and anchovy)
See Below: For more ideas to get you started.
Grain Salads and Pilafs – The growing popularity of grains ranging from amaranth to wild rice have turned this once "earthy-crunchy" category into a real power player in the side dish category. Creating a distinctive grain-based salad or pilaf and merchandising it as a signature side dish is a menuing strategy that really pays off.
Sides for the Table – Communal and family-style dining is really on-trend, and side dishes represent an easy entry point for introducing customers to the concept. Side dishes sized and priced for the table also boost add-on sales and allow patrons to customize their dining experience with different produce-based items. Some options to consider:
Sautéed mixed mushrooms
Onion rings with an assortment of dipping sauces
A vegetable casserole or stew
A selection of housemade pickles and relishes
Pan or skillet of cornbread or biscuits
A whole roasted cauliflower, stuffed butternut squash, or other "large-format" vegetable
Slaw and Potato Salad Variations – Putting a creative twist on a familiar favorite is always a good way to sell anything new, including side dishes, and that goes double for picnic-style sides like coleslaw and potato salad. Substitute broccoli, brussels sprouts, or another sturdy vegetable for the cabbage in coleslaw, or add a distinctive flavor note such as spicy Korean barbecue sauce or refreshing pineapple. Potato salads, meanwhile, know no creative restrictions, from warm Provencale or German-style versions to recipes made with sweet potatoes or colorful fingerlings.
Vegetable Fries and Chips – Everyone loves French-fried potatoes and potato chips, and that's why the category applies itself so easily to other vegetables. Consider any of the following, with or without a complementary dipping sauce, drizzle, or spice dust:
Parsnip fries
Seared carrot coins
Fried eggplant sticks
Fried zucchini batons or slices
Tempura-fried string beans
Multicolored beet fries
Deep-fried avocado wedges
Lots of Tots – On the subject of potatoes, there are the tots, nuggets, croquettes, and other spudly shapes that can be treated like fries or baked potatoes, baked into casseroles, loaded into skillets topped with cheese or chopped bacon, crafted into poutines, and much, much more. In fact, almost any potato specialty can be reconfigured into a vehicle for shredded or mashed and formed potatoes.
Hot Stuff – The growing popularity of spicy and intense flavors has found its way to side dishes, adding value, interest, and a bit of global intrigue to the side of the plate. Many of these items, found on menus across the country, would also work as small plates or appetizers, or even a vegan/vegetarian main:
Harissa and Maple Roasted Carrots
Sweet and Spicy Green Beans
Kimchi Brussels Sprouts
Rosemary Smashed Potatoes with Calabrian Chile
Fried Cauliflower with Ras al Hanout and Feta
Frites with Korean Chili Spice and Garlic Aioli
Oyster Mushrooms with Pickled Jalapeño
Spicy Braised Swiss Chard
IDEAS TO GET YOU STARTED
DID YOU KNOW? 
Warm potato salads are trending, like Hot Tarragon Potato Salad.
Tots and other potato-based forms are a natural for "top-it-yourself" food bars and action stations—in catering, food courts, employee cafeterias, and college and university dining.
The basic formula for potato pancakes in this recipe can be used in a variety of ways.
Recast popular poutine with another fried vegetable.
IDEAS TO GET YOU STARTED
DID YOU KNOW?
Many of these side dish recipes can be served family size, especially when treated to a presentation upgrade such as an attractive serving platter or rustic gratin dish.  
Kale is still popular, especially when treated to a signature prep like this Alfredo-sauced version.
Try Stouffer's ready-to-menu classics, including creamed spinach, macaroni and cheese, and scalloped potatoes.
New to cooking with grains? This handy guide is a good place to start learning about cooking techniques and times.