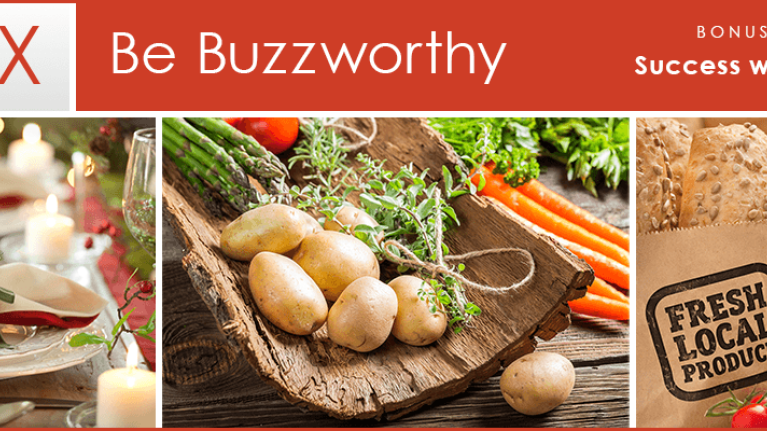 Focus LTOs and Specials on Seasonality
April 1, 2016
FOURTH IN A SERIES: Seasonality and LTO/Daily Specials go hand in hand. Use what's fresh to create an exciting Limited-Time Offer or Daily Special and Create a Commotion. We have ideas to get you started.
It's no secret that consumers are interested in menu selections that are seasonal and fresh. That's why it makes sense to create menu specials and LTOs that speak to the season, both in terms of the weather and with an eye to the calendar for holidays, school schedules, tax time, sporting events, and so on.
McCormick and Schmick's, a group of 56 seafood-intensive restaurants headquartered in Houston, builds its entire menu selection around seasonality. The core menu (PDF) is based on fresh seafood in season, supplemented by separate seasonal menus that also highlight locally grown produce, and daily lunch and dinner specials that are specific to each location. In this way, the company continually engages customers and keeps its menus exciting.
It's also more cost-effective to design recipes around the seasons—when ingredients are at their seasonal peak, they are also typically at their best price. Making use of seasonality ensures you're creating items for your menu from ingredients that are at their freshest and most flavorful, as well as readily available.
Get Started: Maggi® has a number of products that can be used to ramp up flavor, including the iconic Maggi Seasoning and new Maggi Spicy Seasoning.
Seasonal specials create buzz and promotability, precisely because their time is fleeting. For instance, spring is a great time to offer lighter, healthier foods that will shake customers out of their winter doldrums. Summer can be given over to the pleasures of fresh local produce at the height of its appeal, like corn and heirloom tomatoes.
Even though it specializes in just one menu category—salads—the Just Salad chain creates special menus for each season, including winter salads that highlight sturdy ingredients such as rustic grains and hearty cauliflower. In summer, the specials become more whimsical, for example with the Beach Bound (romaine and red cabbage, grilled shrimp, cucumbers, tomatoes, corn, red onion, basil, and Lemon Basil Vinaigrette) and Backyard BBQ (romaine topped with BBQ chicken, black-eyed peas, tomatoes, corn, celery, and crunchy onions with buttermilk ranch).
Promoting Local Sourcing
Seasonal menu specials can be used to promote the kind of local sourcing that builds loyalty. Bad Daddy's Burger Bar added a number of August specials built around local items like sweet corn and fresh peaches, as well as local artisan cheeses. These included a unique Sweet Corn Grilled Cheese sandwich and a Peach Cobbler milkshake. The local-sourcing strategy helps to differentiate Bad Daddy's units located in different parts of the country.
Catering menus are often particularly aligned to the seasons and what's available. Heirloom LA, a high-profile company that offers off-premise custom catering as well as the on-premise Salon facility and a food truck, changes its menu completely every month to highlight such specials as Farmer's Market salads and sides, and even seasonally appropriate variations on its signature Lasagna Cupcakes.
At Ram Restaurant & Brewery, with locations in five Western and Midwestern states, a recent LTO program was positioned as an extensive Taste of Fall, featuring such autumnal menu specialties as a Pale Ale Pork Flat Iron Sandwich, Blackened Chicken Mac & Cheese, and a Granny Smith Apple Fritter, made to order with apple cider and served warm with salted caramel and vanilla ice cream.
Get Started: It's easy to tailor macaroni and cheese to seasonal inspirations when you start with Stouffer's® Macaroni and Cheese Made with Whole Grains. Just add ingredients like springtime peas and asparagus or wintry sautéed mushrooms and onions to create a seasonal special.
Seasonal timing creates other advantages to developing a festive LTO and specials strategy, especially in the case of holidays. These include not only the traditional winter holidays such as Thanksgiving, Christmas, and New Year's Eve, but also busy occasions such as Mother's Day and Valentine's Day. Special days like Mardi Gras, St. Patrick's Day, Cinco de Mayo, the Fourth of July, and Halloween are also fair game for menu specials and promotions.
At Duke University in Durham, NC, Duke Dining has celebrated an ongoing schedule of food-related holidays with items like a Build-Your-Own grilled cheese sandwich for National Grilled Cheese Sandwich Day (April 12); fried chicken, barbecue, and hush puppies for Picnic Day (April 23); and soft pretzel buffets with dipping sauces like honey mustard, cheese, Nutella, peanut sauce, chili, and cinnamon/sugar for National Pretzel Day (April 26). Other events are more serious in nature, such as a September Farmers Market Special Lunch promotion to benefit Nourish International.
Get Started: Nestlé Professional has a number of dips and sauces that can be used to add interest to pretzels—or anything else for that matter. These include Chef-mate ¡Que Bueno! White Queso Sauce and White Cheese Sauce; and Stouffer's Alfredo Sauce, Alfredo Parmigiana Sauce, and Spinach Artichoke Dip.
Sports promotions are another avenue for menu creativity. This includes the obvious ones like football game nights, baseball's World Series, and March Madness, as well as events that have local or demographic appeal, such as high school soccer games, tennis or winter sports. Special post-game menus for Little Leaguers and their families or takeout picnic lunches for a local 10K can also work.
Try these shareable, event-friendly recipes for items like Stuffed Potato Skins, Roasted Garlic Hummus, and Beer and Chorizo Queso Dip for your next sports promotion.