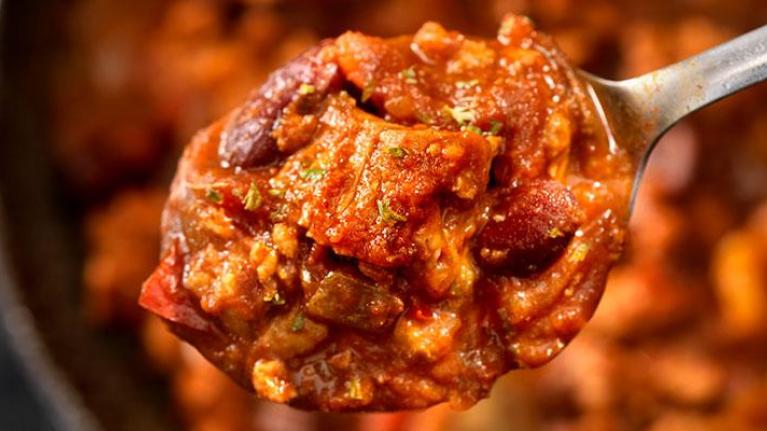 Go Beyond Chili Basics and Thrill Customers
March 1, 2019
Just about everyone loves chili, so learn how to menu it. We have the lowdown on chili variations that will thrill your customers.
There's more to the story of chili's versatility than "with beans" or "without." Though Texans will debate to their last breath the superiority of chili con carne (meat only; no beans) versus the rest of the country's version made with beans, chili is a perennial customer favorite that has lots of menu applications.
Strictly speaking, chili is about the chiles. Thought to have originated as a quick and nourishing meal for cowboys on the Texas-Mexico range, chili has evolved into a multitasking workhorse specialty that can be used as everything from a burger topping to a vegan entrée. There are also interesting regional variations and other chili-based specialties with their own cult followings.

 
Cincinnati Chili
This unusual spiced meat sauce (ground beef cooked in stock with tomato paste and seasoned with cinnamon, nutmeg, allspice, clove, cumin, chili powder, bay leaf, and in some cases unsweetened dark chocolate) is traditionally served over spaghetti in a customer-specified "way" system:



 
Two-way: Spaghetti topped with chili (a.k.a. "chili spaghetti")
Three-way: Spaghetti, chili, and cheese
Four-way onion: Spaghetti, chili, onions, and cheese
Four-way bean: Spaghetti, chili, beans, and cheese
Five-way: Spaghetti, chili, beans, onions, and cheese


 

Plant-Based Variations

Beans make chili a natural for vegetarian and vegan entrées; the bold flavors of chile peppers, spices like cumin, and onion and garlic add depth and interest. There are also a number of other ways to boost the appeal and signature value of a meatless chili recipe, by adding:





 

Corn kernels
Multiple bean varieties
Colorful peppers
Roasted winter root vegetables or sautéed mushrooms
Toppings like scallions, sliced jalapeños, cheese, and sour cream (vegan varieties can be substituted)


 

Frito Pie

This retro chili specialty is experiencing a nostalgia-fueled comeback. Inspired by migas, chilaquiles, and other Tex-Mex recipes developed to utilize leftover tortillas, Frito Pie features the actual snack chips. More of a casserole than an actual pie, the basic dish is chili, chips, chopped onions, and cheese, but you can:




 
Serve the "pie" in an opened single-serve Frito bag
Substitute other branded snack chips, including flavored varieties
Add salsa, refried beans, sour cream, and other toppings
Turn it into breakfast with the addition of scrambled eggs
Serve Frito pie over plain or Mexican-style seasoned rice


 

White Chili

As the name suggests, this chili variation is made with chicken or turkey, white beans, and green or Hatch chiles, and contains no tomato. Considered a slightly more elegant, soup-like alternative to the traditional bowl of red, white chili is often garnished with avocado and scallions. Some alternatives to consider:





 
Substitute chickpeas for the beans
Omit the poultry for a vegetarian version
Experiment with chicken/turkey in cubed, ground, and sausage form
Menu as a hearty whole-meal soup with the same garnishes as for posole (chopped onions, fresh cilantro, sliced or julienned radishes, sliced or pickled chile peppers, shredded cheese, and crispy tortilla chips)


 

Chili as an Ingredient

Chili is a great pre-prep item that's not only good for cross-utilization—for instance, to repurpose meat trim, assorted beans, or seasonal vegetables—but also can be added to other recipes to create a variety of different menu items. Use chili:






 
As a topping for a burger or hot dog
In an omelet, eggs Benedict, or baked egg casserole
For Sloppy Joes
In Chili Cheese Fries
As part of a daily soup rotation
As a filling for empanadas, twice-baked potatoes, or quesadillas
Source: Datassential SNAP! Chili (2018)


The information provided is based on a general industry overview, and is not specific to your business operation. Each business is unique and decisions related to your business should be made after consultation with appropriate experts.
TOP IT UP
Another way to add value and signature appeal to chili is with toppings, which can be menued as a customizable option, either a la carte or included in the price. Unique selections such hominy or corn nuts, cubed avocado or roasted vegetables, sliced sausage or pulled pork, signature chips such as chickpea or beet, or even mole-style chocolate shavings.