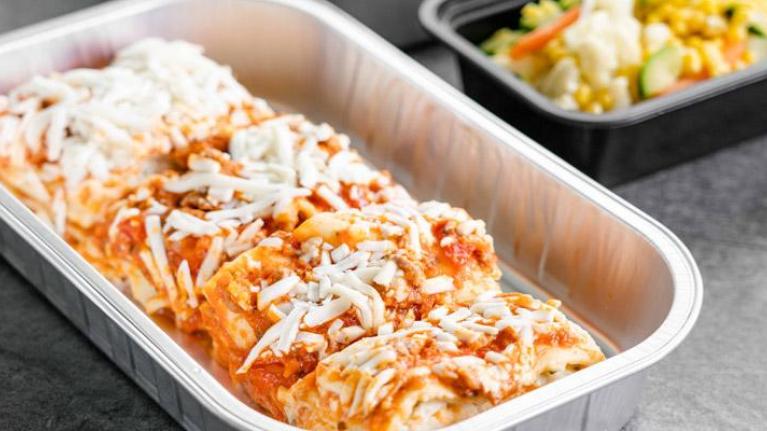 Grab New Sales with Enhanced Grab-and-Go
October 19, 2020
Pivot from traditional foodservice models to enhanced off-premise offerings to build business and survive the current climate. We have lots of suggestions.
Offering fully prepped meals, meal kits, and groceries to customers represents a valuable way to replace the loss of traditional cooked-to-order items.
All over the country, in every segment, foodservice sales have been lagging. Between lockdowns, compulsory closures, social distancing protocols, and consumer unease, many operators are looking for ways to build sales and cut costs.
Pivoting from traditional sales to more innovative, cross-functional off-premise models can help take up the slack. For example:
The employee cafeteria at a company located in a suburban office park has been repurposed to sell Desktop Picnic Lunches for pre-order and pickup to its own workers and others in the complex 
A popular pan-Asian restaurant in a residential urban neighborhood is selling hard-to-source specialty groceries like premarinated bulgogi meat, sushi rice, and ready-to-use sauces through a new online channel
A small independent pizza chain has added frozen take-and-bake pizzas to its lineup of takeout offerings
The foodservice department at a large hospital is selling frozen casseroles like lasagna and other large-format food items that busy employees and visitors can take home and share with their families
Pre-bottled craft cocktails can be purchased at a trendy bar and small-plates venue, along with an enhanced selection of appetizers and nibbles to go with them
Staples like milk, eggs, and bread have been added to the reach-ins at a gourmet prepared-foods shop and café
A restaurant with mandated limited seating is packing up the prep for its most popular dishes into complete meal kits
One popular local bar and bistro has completely changed its dine-in business model—offering not only traditional delivery and takeout options, but also supplying a local grocery store with its most popular dishes for takeout
In the Pacific Northwest, a small dinnerhouse chain specializing in seafood added retail cases to sell its premium fish and shellfish direct to customers, including prepared items like chowder and crab cakes
Cheese and charcuterie boxes for two, filled with an upscale selection of meats and cheeses, crackers, and a few extra goodies like mustard and olives have become a new best seller at a restaurant that made its name on such items for dine-in
A farm-to-table favorite offers prepaid CSA (community-sourced agriculture) boxes from its suppliers, including farm-raised produce, meats, cheeses, and eggs
This is grab-and-go to the nth degree, offering prepared-ahead menu items and ready-to-use retail products to customers who are equally hungry for something new. This concept not only builds sales and loyalty, it also helps stabilize staffing needs, maximize efficiencies, and lend a hand to suppliers who may also be struggling.
Note that these ideas are also very much in keeping with each establishment's original menu concept and brand promise. Meal kits and other finish-at-home offerings are key to existing menu favorites, while groceries are an extension of the operators' own inventory.
The information provided is based on a general industry overview, and is not specific to your business operation. Each business is unique and decisions related to your business should be made after consultation with appropriate experts.
GET STARTED
Operators can double down on foods that perform best for off-premise consumption. Datassential reveals that consumer perception of foods that either "travel very well" or "travel well" include:
Cookies/bars/brownies (86% of consumers)
Pizza (83%)
Fried rice (82%)
Club sandwich (81%)
Fried chicken (79%)
Garlic bread (78%)
Burgers (78%)
Wings (77%)
Flatbread (77%)
Rotisserie Chicken (76%)
Source: Datassential Foodservice @ Home Keynote 2017
TRY THIS
Hot Pockets® are well-suited to grab-and-go programs, and are available in a variety of different formulations that are perfect for on-the-run breakfast, lunch, and snacks. Popular favorites include Sausage, Egg & Cheese; Chicken Quesadilla; and Pepperoni Pizza Stuffed Sandwich.