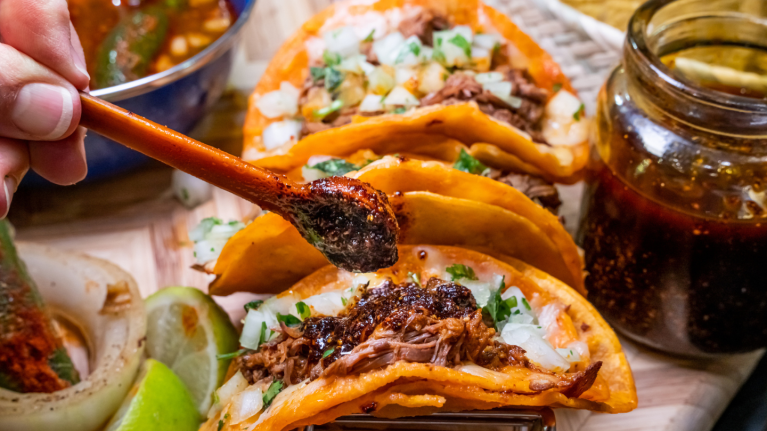 Offer Finger Foods and Snacks for Self-Service Catering Success
February 1, 2018
Snacking occasions are outnumbering traditional meals. Discover how versatile finger foods fit cocktail parties, working sessions, and more. They're self-service, too!
Catering has long been associated with appetizers, hors d'oeuvres, and finger foods, from cheese plates to stuffed mushrooms. Now, with snacking occasions outnumbering traditional meals, according to Datassential—and the very definition of what snacks are evolving—it stands to reason that finger foods and small plates will be an even more important factor in catering.
The category lends itself particularly well to self-service catering. Platters and trays of finger foods can be assembled ahead of time by the food service operator, packed up securely, and picked up by a customer to be set up and served anywhere from a business meeting to a cocktail party.
For more tips on finger foods, see below.
Finger foods by their nature lend themselves to creativity, yet are easy to eat while mingling or working at a conference table. They lend themselves to easy portion control for the guest. They can also be cross-utilized into and out of a dine-in menu, or even a bar menu.
Meatballs
Empanadas, dumplings, and dim sum
Sliders and mini sandwiches (or wedges of a larger sandwich like a hero)
Marinated and pickled vegetables
Dips and spreads with crackers and other dunkables
Cheese and charcuterie plates
Crudité and dips
Pizza and flatbreads
Sushi
Skewers and satays
Bruschetta, crostini, and toasts
Individual sweets and dessert items
Like all food service offerings, good catering has a point of view. It reflects the operation's philosophy and approach to food, as well as its menu. In addition to pleasing the customer who orders it, catered items can be the best kind of word-of-mouth advertising to even guests who may be unfamiliar with your offerings. Successful catering means putting your best food forward.
Catered offerings should reflect the core dine-in or takeout menu, both for operational simplicity and to send a unified brand message to guests and potential patrons. Catered foods need not be an exact replica of dine-in offerings, but they should be complementary.
For example, if braised beef short ribs are a specialty of the house, repurpose that tender, flavorful meat in a slider sandwich or savory hand pie for catering. If farm-fresh seasonal produce is a thing, that approach can be reflected in beautiful farmers market selections of raw and cooked vegetable crudite with a selection of different dips. Signature items, like Triple Chocolate Brownies, can be featured on a self-service catering menu.
Standards can be elevated. Traditional hummus can be made with edamame instead of chickpeas, then flavored with za'atar spice and served with marinated olives and Indian-style naan bed. A simple nosh like chips and dip becomes truly special when it's housemade Kennebec potato chips served in different versions: BBQ spice and local cheddar dip; truffle salt and goat milk Ranch dip; fresh clam dip.
Healthy options are also welcome, especially for business-related events. Chilled shrimp is evergreen, but a more creative option might take the form of savory yogurt parfaits, filled with shredded carrots, roasted sunflower seeds, broccoli slaw, or tomato, balsamic, and basil with crisp pita chips for dipping.
Source: Datassential Keynote Report, Snacking 2017
GET STARTED
To see how versatile hummus is, check out these recipes for Pumpkin Hummus, Jalapeño Hummus, and Roasted Garlic Hummus
Deviled eggs are another staple of the finger food repertoire
Tap into the popularity of salumi, cheese, and charcuterie by offering meat and cheese plates for self-service catering—use existing inventory, accessorized with fruit, crackers, bread, pickles and olives, mustards, and/or other condiments
DID YOU KNOW?
Many Minor's® products are Ready to Flavor, meaning that they are safe to use for both hot and cold applications without the added step of cooking
The Deli and Bakery segment has become a force to be reckoned with in off-premised food sales, including takeout and self-service catering. Learn more about the segment here