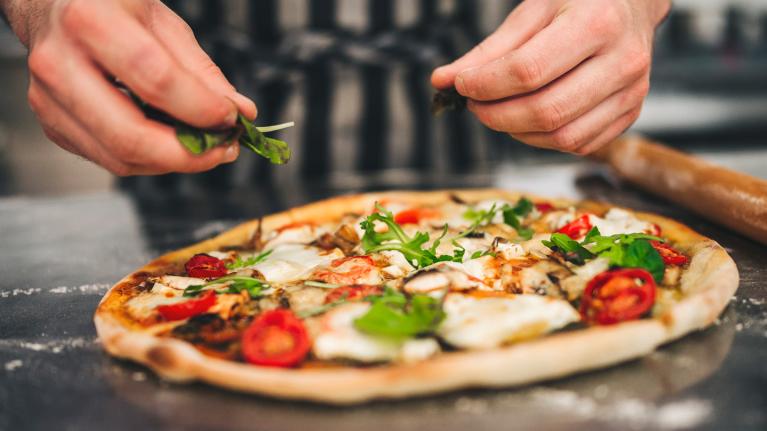 Menu Pro Tips: 12 Ways to Make Pizza Toppings Do Double Duty
November 1, 2022
Everybody loves pizza, and the toppings are the star of the show. Save money, reduce prep time, and prevent waste by turning pizza toppings into menu multitaskers.
Make every pizza ingredient count. Get inspired by a dozen new and creative ways to integrate pizza toppings into your menu.
Sandwiches. Pizza toppings like pepperoni, salami, meatballs, plant-based proteins, vegetables, and any sauce of your choice (tomato, pesto, alfredo) make unique and delicious hot or cold sandwiches.
Soups. On a cold fall or winter day, offer guests pepperoni and sausage pizza soup, topped with melted mozzarella cheese, and served alongside a piping-hot breadstick.
Salad. Whether it's meat and veggies grabbed from the pizza line and tossed onto a traditional leafy green salad, or a meat-lover's delight of cubed Italian cold cuts mixed with cold pasta salad and olive oil, pizza toppings work great in a salad.
Pasta. Turn ordinary spaghetti or chicken alfredo into something exciting when you add roasted garlic, meatballs, mushrooms, onions, green peppers, bacon, prosciutto, and more.
Calzones and Strombolis. Give them a pizza they can take on the go when you roll favorite pizza toppings up into a calzone or stromboli and serve it alongside a fun dipping sauce. Feature a vegetarian option using plant-based chicken, beef, or sausage, too.
Frittata. Pizza isn't just for lunch and dinner. Incorporate fun pizza toppings like sliced potatoes, ham, and onions into a frittata and you've got a unique breakfast and brunch item to serve with mimosas and Bloody Marys.
Nachos. This is a culinary mashup anyone will get behind. Top pizza nachos with melted mozzarella and cheddar cheese, pizza sauce, bacon, pepperoni, pepperoncinis, onions, bell peppers, and olives.
Pizza Bowl. If you have customers watching their carbs, pizza bowls are a perfect way to satisfy a pizza craving. Fill a bowl with cheese, sauce, and a variety of pizza toppings. Bake until melted and cooked through.
Pizza Dip. A great appetizer or late-night snack, pizza dip is a simple mixture of cream cheese, mozzarella, cheddar, tomato sauce, and pizza toppings of your choosing. Serve it with tortilla chips or crunchy bread.
Quesadilla. Great for kids or anyone who loves a handheld meal or snack, pizza toppings work perfectly inside a toasty quesadilla. Pick any cheese and melt it inside a big tortilla with vegetables and/or savory meats before pairing it with chips, salsa, and guacamole. Olé!
Gourmet Mac and Cheese. Invite guests to get creative with your macaroni and cheese by offering the option to transform their favorite pizza into a bowl of pizza mac and cheese.
Build-Your-Own Bloody Mary Bar. Draw a Sunday morning crowd and inspire social media chatter with a build-your-own Bloody Mary bar, complete with slices of cooked bacon, skewers of pepperoni, olives, jalapeños, onions, and more.
5 More Ways to Use Pizza Dough
Have some leftover pizza dough and space on the "specials" menu? Try these.
Garlic knots

Pepperoni rolls

Cinnamon rolls

Breadsticks (savory or sweet)

Mini calzones (savory or sweet)
Points to Ponder
Sustainable practices, such as creative use of existing ingredients can help reduce the impact of food waste coming from restaurants, which currently amounts to about 18% of food waste in the United States

More than half of Americans (55%) say they consider a restaurant's food-waste reduction efforts to be an important factor when choosing where to dine
Source: National Restaurant Association: 86 Food Waste, March 2021
The information provided is based on a general industry overview, and is not specific to your business operation. Each business is unique and decisions related to your business should be made after consultation with appropriate experts.