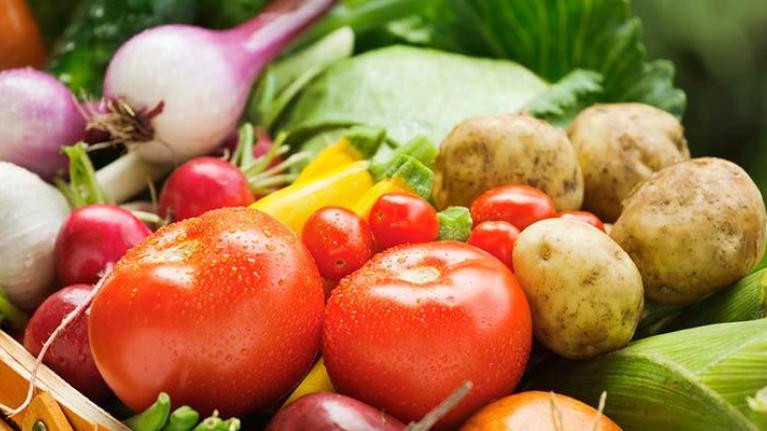 Serve What's in Season
March 12, 2015
Fresh fruits and vegetables are still leading food trends. Learn how to profit from their popularity by promoting seasonal produce. We have insights and recipes for you.
Summer is the time when all lovers of fresh fruits and vegetables are happiest—cooks and customers alike.
And serving lots of produce has become more important than ever. According to the NPD Group, "fresh" exerts a powerful attraction on consumers, particularly on the influential Millennial demographic. During the decade between 2003-2013, in fact, consumption of fresh produce as well as proteins grew by 20%. "Fresh" says healthy, higher in quality, and more flavorful. It also connects closely with the trend to cook-to-order service, where customers enjoy food that's freshly prepared for them.
Fruits and vegetables are also a harbinger of seasonality, a trend that is sweeping through all segments of the food service industry. From the farm-sourcing promises of chains like Chipotle and Burgerville to onsite gardens at colleges and hospitals, produce has become not just a menu ingredient but also a marketing statement.
And it's not just that consumers are more aware and demanding of fresh fruits and vegetables, and that kitchens have become more interested in preparing them. Produce is also getting easier to source, whether because of more advanced shipping techniques or because of more local efforts to pair farmers with food service kitchens. In many cases, chefs are working directly with farmers to grow and supply produce to spec. This is leading to bigger and better produce selections, and even to new varieties of fruits and vegetables.
What better time to experiment than during the warmer months ahead?
Know What's in Season – Produce in season can be a lot less expensive, as well as more readily available from local sources. LocalHarvest.org is a great resource for what's in season and where you can find it locally.

Write a New Menu – Set aside beets, sweet potatoes, and other wintry vegetables and rotate in spring and summer selections like asparagus and zucchini squash; likewise, switch out apples for berries and other warm-weather fruit.

Entice with Descriptions – Play up produce with menu descriptions like fresh, crisp, and seasonal. Christen a new Farmers Market Salad menu item. And by all means, if you're getting fruits and vegetables from a local farm, call out the name, either in the description itself or elsewhere on the menu, POS, serving line, website, or other place where customers can see it.

Lighten Up – With spring and summer produce comes lighter, more refreshing kinds of menu items, like grilled proteins, soups, salads, and vegetarian items, instead of winter's hearty stews and braises.
Did You Know? Fruits and vegetables appeal to health-conscious patrons who may also be watching consumption of gluten or sodium, and Nestlé Professional offers a range of products that meet these needs, including Gluten Free and Reduced Sodium. In particular, try gluten free bases from Minor's® and low-sodium products from Trio®.
More on the Side – Play up vegetable choices with more interesting side dishes, whether included in specific menus, offered à la carte, or as part of an enhanced "choose two sides" program. You'll build sales as well as appreciation.
Add More Specials – Follow the seasons of various fruits and vegetables through the warm-weather months with more daily or weekly specials, including not just entrées but also appetizers, salads, sides, soups, and desserts. This is a great strategy for having the flexibility to adapt to availability and better seasonal pricing, while still keeping the core going.
Celebrate! – Many menu makers celebrate the arrival of key summer fruits and vegetables like strawberries, tomatoes, and sweet corn with a "festival" or tasting menus featuring lots and lots of strawberry, tomato, or corn specialties. You can also tap into local events, which are common in agricultural areas.
Embrace the Savory Side – Fruits are more versatile than you think, not just in desserts but also in soups, entrées and salads. Try adding berries to a salad, or roasting nectarines and using them as an accompaniment to pork or chicken. And of course fruits are a natural for distinctive soups.
Boost Utilization – Some operators are leery of fresh produce because of waste. Fruits, in particular, are fragile things that can go from underripe to overripe in just a few days. But juices, smoothies, and desserts like pies are the perfect solution for imperfect fruit, while soups, sauces, casseroles, pizza, and pasta are a great vehicle for a bumper crop of any veggie.
Expand the Definition of Salads – Lettuce and cucumbers, sure, but kale, tatsoi, fennel, celery ... all are appropriate for salads. And who says you even have to have lettuce and other "salad" vegetables in a salad—why not a marinated cucumber or radish salad, or chilled roasted vegetables?
Try This: Pizza, pasta, and risotto are great vehicles for seasonal produce, and when you start with products like Stouffer's® Macaroni and Cheese made with Whole Grains, most of the work's already done for you.