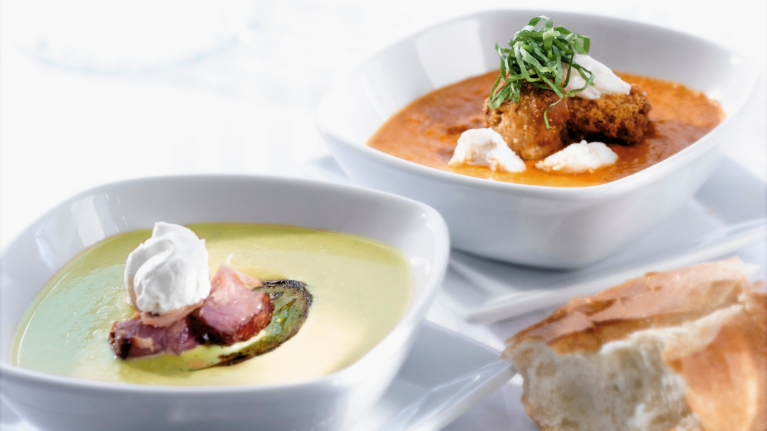 Soup Sales for All Seasons
April 1, 2015
Soup is always popular, whether it's hearty in the winter or lighter and more refreshing in the warmer months. Learn how to sell soup every month of the year.
You might be tempted to think that soup is a cold-weather specialty, but you would be wrong. In fact, soup is one of the most seasonal menu items there is.
And it's not just a matter of the hearty chowders and beef barley soup of winter versus gazpacho and chilled cucumber soup in summer. People enjoy soup of all kinds year-round, but lighter-bodied selections like noodle soups, brothy vegetable-based soups, and many ethnic soups from warm-weather climates are appropriate no matter what the weather.
Did You Know? According to Technomic's 2014 Left Side of the Menu: Soup & Salad consumer trend report, 46% of consumers say they visit certain restaurants specifically because they enjoy the soup.
And there's more:
Soup is a wonderful vehicle for fruits and vegetables in season, from winter root vegetables to height-of-summer corn and tomatoes

Soup is highly adaptable to the needs of vegetarian and vegan diners

Soup can be paired with a salad, sandwich, or hearty garnish that will give it a seasonal twist

A soup du jour can be tailored to short-term weather spikes, such as a few rainy or chilly days in June or a sudden March hot spell

Daily soup selections are also perfect for holidays, special events, and other seasonal occasions

Smaller portions of soup can fit into seasonal menus, including tasting menus and specials
Try This: Pair soup with a Hot Pockets® for an interesting alternative to a soup-and-sandwich combo.
Soups are also inspiring for the kitchen—in many operations, making the soup of the day is a plum assignment. Adding a twist to recipes from the global repertoire of soups is just one way to keep the soup selection interesting. Soliciting ideas from co-workers and customers—particularly in college/university or employee/dining facilities—is another way to add variety and honor traditions. Lots of people grow up with a soup that's a family favorite, and they'll be happy to share the recipe.
The University of Buffalo's Crossroads Culinary Center--one of more than two dozen dining options on-campus—offers a new Marché-style servery with seven different international options, including Brazilian churrascaria (grilled skewered meats) and an international soup and noodle bar station with a rotating array of specialties, such as Chinese noodle soup with a choice of proteins, broths, and vegetables.
Build Takeout Sales
Soup is highly portable, whether for desktop dining or as a nourishing but healthy meal to take home for the whole family. Get your fair share by investing in:
A variety of soups, including a seasonal special, a vegetarian or vegan item, and a favorite like chicken rice

Sturdy containers in various sizes, from single portions to quart or even half-gallon, family-style portions, plus, disposable spoons and big napkins

Signage or even a dedicated soup station or window

Printed menus featuring the daily rotation

Interesting bread that can be offered alongside, such as a wedge of cornbread or hot garlic French 

Using Twitter, Facebook, or Instagram to reach out to customers about your featured soup

Soup catering, using a self-service bar with garnishes and accompaniments, like soup specialist Zoup does
Try This: Offer soup-to-go at a price that's slightly lower than the dine-in version (which can help reduce demand for tables during the busy lunch rush).
Healthy Liquid Options
Soup has a healthy image that can be further leveraged with the recipes and ingredients you use, including:
Gluten free options

Vegetarian and vegan choices

Healthy grains, such as farro and barley

Greens, including kale and spinach

Lean proteins, such as poultry, shrimp, and egg drop

Smaller portions paired with a salad

Healthy-image ethnic soups such as Asian and Mediterranean
Get Started: Bases and other products from Minor's®, including flavor concentrates and sauces, are gluten free—and perfect for creating delicious soups.