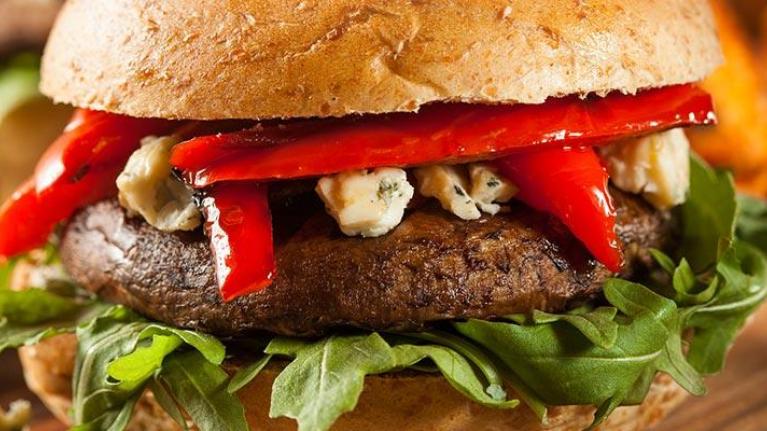 Step Up Your Burger Game!
September 14, 2015
Satisfy the eternal demand for burgers—but set yourself apart from the crowd—with customization. Innovative toppings, "inside-out" burgers, and other hot trends that can help your burger sales sizzle.
Burgers have been around on menus forever—and demand for them just keeps growing. According to the NPD Group, sales of burgers rose 3% in 2014, even as beef prices rose and other segments—such as sandwiches and chicken—took a hit.
Meanwhile, the competition keeps growing, from upgraded offerings from chains like Jack in the Box and Hard Rock to "better burger" chains like Five Guys and Shake Shack to chef-driven burger concepts by such culinary stars as Bobby Flay and Tony Maws. Meanwhile, new burger specialists just keep on opening.
What started as a utilization for lower-grade beef in the 18th century in the German city of that name, the Hamburg steak has evolved into an all-American phenomenon. How do you set your burgers apart from the pack, and make sure you get your fair share of the profits?
Did You Know? According to the new Datassential Burger Report, in any given week three out of every four Americans eats a burger.
Currying Flavor
A burger's not just a ground beef sandwich: It's the sum total of the patty, the bread, the toppings, and the condiments, and each part represents an opportunity to add flavor. Deconstruct your burger and build cohesive flavor into every component, and you'll be well on the way to a signature.
Start with the patty itself, adding a rub, herbs, chopped cooked bacon, or a spicy condiment.  
Get Started: Nestlé Professional makes it easy to add flavor at every step. Try mixing Maggi® Seasoning into the grind to boost the umami quotient, or add a spicy kick with a Minor's® Latin flavor concentrate.
Upgrade Those Toppings
Toppings and condiments still represent one of the easiest ways to differentiate a burger with flavor and texture. Try one of these:
Premium cheese, such as feta or blue-veined

Kimchi or coleslaw

Better lettuce, such as arugula

A sweet element, such as chutney or fruit butter

Caramelized onions or roasted garlic

Olive salad

A fried egg

Salty prosciutto or smoky applewood bacon
Try This: Minor's Honey Citrus Pepper RTU Sauce adds a sweet and spicy kick to candied bacon, or try mixing Roasted Garlic Flavor Concentrate into sautéed onions. Or top a burger with Stouffer's® gluten free Spinach Artichoke or Queso Cheese dip.
Build Your Own Burger
Customization is hot all over, especially when it comes to burgers. Take a page from B&B, where the Custom Burger program allows devotees to mix-and-match among seven different patties, a dozen cheeses, numerous toppings (there are 25 possibilities), more than a dozen sauces, and seven buns (including lettuce wrap and gluten free)—thousands of possible combinations in all.
Here's an Idea: Add pick-your-own sauce options to your burger selection—it's easy when you start with products from Nestlé Professional. Stouffer's offers rich, gluten free Alfredo and Alfredo Parmigiana. Make a comforting specialty with Trio® Southern Country Gravy or an Au Jus dip. And Minor's goes from old-school to elegant via Teriyaki RTU Sauce and Hollandaise.
Join the Patty Melt Parade
Reminiscent of '50s diners and lunchrooms, the grilled patty melt (traditionally consisting of a hamburger patty and Cheddar or Swiss cheese between two slices of rye or sourdough) has staged a comeback.
Like burgers, patty melts are easy to signaturize, by adding toppings like sautéed peppers and onions, swapping in a turkey burger instead of beef, or splashing on a flavor sauce (horseradish mayo, anyone?).
Get Started: Flavorful cheeses put a different spin on a patty melt—or any burger for that matter. Try Chef-mate® ¡Que Bueno! White Queso or Jalapeño Cheese Sauce.
Stuff It
Sometimes called inside-out burgers because cheese and other traditional topping ingredients are folded inside the burger, stuffed burgers offer a surprising burst of flavor and a neater approach to this handheld food; some stuffed burger proponents believe the stuffing also helps keep the meat itself more moist and juicy. The 5-8 Club in Minneapolis claims to have invented the sandwich, which it serves as the Juicy Lucy.
Try This: For a really special premium burger, stuff the center with Stouffer's Macaroni and Cheese made with Whole Grains.
About that Beef . . .
In a word, the trend is quality. Order a burger at any gastropub or bar and grill and chances are it'll have been custom blended with several different meats, such as short rib and brisket, to add flavor, texture, and a distinctive mouthfeel. Never frozen, handcrafted, and ground in house are other earmarks of the quality meat trend.
Fast-growing Elevation Burger positions around above and beyond ingredients, including 100% organic, grass-fed, free-range beef for its burgers, among other menu attributes. Some operators take great care to buy locally raised meat, and in some upscale nose-to-tail establishments, the burger meat will be just one piece of the utilization of a whole animal or large primal cut.
There's also no telling what else you'll find in a burger these days besides beef, including lamb, pork, turkey, and combinations thereof.
Eat Your Veggies Burger
The other big news on the burger front is a new wave of high-quality or housemade veggie burgers for a more inclusive approach to dieters, vegetarians, and vegans, and proving that "meatless" doesn't mean "tasteless". These meatless alternatives might range from a whole portobello mushroom cap to the housemade blend of quinoa, chickpeas, corn, and mushrooms topped with aged cheddar and served on a pretzel roll at Crabtree's Kittle House in Chappaqua, NY.