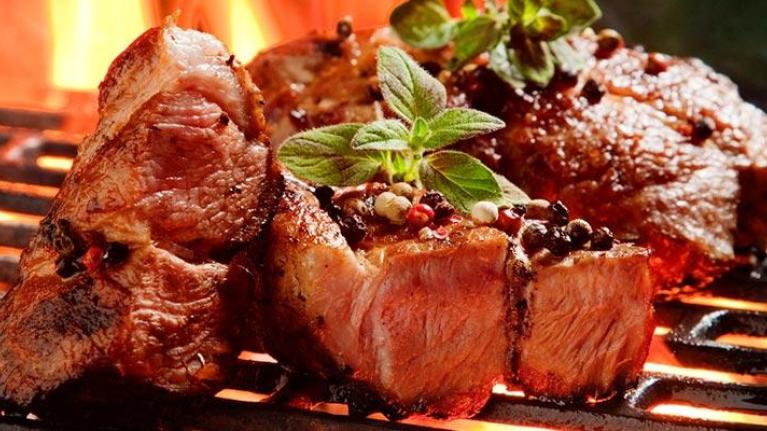 Top-Quality Foods Shine with Simple Techniques
November 13, 2016
Display the taste and quality of your fresh, seasonal ingredients by using simple grilling, roasting, and smoking methods. Let the foods speak for themselves.
Today's focus on ingredients, especially those that are seasonal, local, or traditionally made, has brought renewed interest in simpler cooking techniques and presentation styles, which let those ingredients speak for themselves. Grilling, smoking, and roasting are the most straightforward methods for cooking proteins as well as other ingredients. Add in the element of a wood- or charcoal-fueled cooking source, and you've got a menu concept.
Lo Spiedo ("The Spit") in Philadelphia promises fresh food using the most elemental cooking method—a wood fire—centered on a six-foot rotisserie for chickens, whole fish, smoked brisket, and more, as well as housemade pasta and desserts, and salads and vegetable side dishes that follow the seasons.
Hot off the Grill
There's something elementally satisfying about grilled meats, whether it's a juicy steak or a healthy fish filet. Grilled foods emphasize the inherent flavor of the product being highlighted, and because they cook relatively quickly, characteristics like quality and technique are important.
A wet or dry marinade can add flavor and aid in caramelization; so can a baste or glaze that's added during the cooking process. As with roasts, most meats should be allowed to rest for a few minutes after they come off the grill, to allow the juices to redistribute. Steaks in particular can "bleed out" their juiciness if they're served—and cut—immediately.
Nor is the grill restricted to center-of-plate items. Grilling ingredients like onions or zucchini before using them in recipes adds complexity to the finished dish, as well as an enticing menu copy point.
Tip: Flavorful sauces are tailor-made for adding interest to grilled foods, from classics like Béarnaise for a steak or salmon to a light, contemporary vinaigrette served with chicken or fish. Or try a flavored butter, infused with chopped herbs, miso, or a Minor's® flavor concentrate, such as Herb de Provence or Red Chile Adobo, added as the food comes off the grill.
High Heat: Searing and Charring
As the demand for more flavorful food heats up, many chefs are experimenting with searing and charring to add bold flavor during the cooking process through caramelization. Although this can certainly be done on a wood- or charcoal-fired grill, similar effects can be achieved using a flat-top, broiler, salamander, or even a good cast-iron pan—the point is to develop flavor on the surface of the food, as well as the satisfying texture of a crust. It's a quick process, achieved over high heat.
These techniques are becoming increasingly popular with vegetables, whose natural sugars caramelize quickly over any form of direct heat. In fact, recipes like Seared Cauliflower Steak, Barbecued Carrots, and Charred Broccoli are transforming these workaday vegetables into signature menu items that appeal to both carnivores and meat avoiders.
And ingredients that are treated to these flavorful cooking techniques can also play well with bolder seasonings and accompaniments, like chilis, citrus and vinegar, onions, anchovies, capers, and more.
Did You Know? Minor's RTU sauces are perfect for adding flavor to all kinds of grilled and seared foods, with flavors that range from traditional teriyaki to complex Honey Citrus Pepper.
Long and Low
There's an art to techniques like roasting, braising, smoking, and barbecuing, which emphasize long, low-temperature cooking to tenderize tougher cuts of meat that are left after all the premium pieces—filet mignon and sirloin, rack of lamb, pork tenderloin—have been removed.
In addition to being less expensive, offcuts like shanks, ribs, brisket, and shoulder are also more flavorful, and they take on even more flavor when they're marinated or spice-rubbed, brined, braised in tasty liquid, or roasted slowly with vegetables, herbs, and other seasonings. This is the kind of cooking that many people are talking about when they speak of authenticity, and it's a quality that customers really crave.
Roasted, braised, and barbecued foods are also easy on the operational side, as they can be cooked ahead and held or finished to order, taking pressure off à la minute stations like the grill and the pantry.
Get Started: Foods that are cooked low and slow have the time for flavor to be added in layers throughout the cooking process, from products like Minor's Gluten Free Bases and Maggi® Seasoning to sauces such as Trio® Low Sodium Brown Gravy and Au Jus.
Baked-in Goodness
The word casserole may sound a little boring, but think of all the delicious foods that are, technically speaking, a casserole, from lasagna and macaroni and cheese to shepherd's pie and enchiladas. Like braised dishes, casseroles are almost always made ahead, which not only makes them more flavorful but also makes them easy to serve since they can be held in steam pans or finished to order in individual gratin dishes, such as a pot pie.
In many ways, casseroles are similar to stews and braises. Many include long-cooked meats and other ingredients simmered in stock or another liquid, except that they are almost always finished in the oven, which creates a rich, tempting crust that can be enhanced with the addition of white sauce, cheese, or breadcrumbs.
Casseroles also lend themselves very well to vegetarian or even vegan dishes, since the cooking process adds complexity, along with counterpoints of flavor and texture.
Get Started: Moisten and enrich casseroles by binding or topping with a product such as Trio White Sauce & Cream Style Soup Mix, Chef-mate® cheese sauce, or Stouffer's® Alfredo sauce