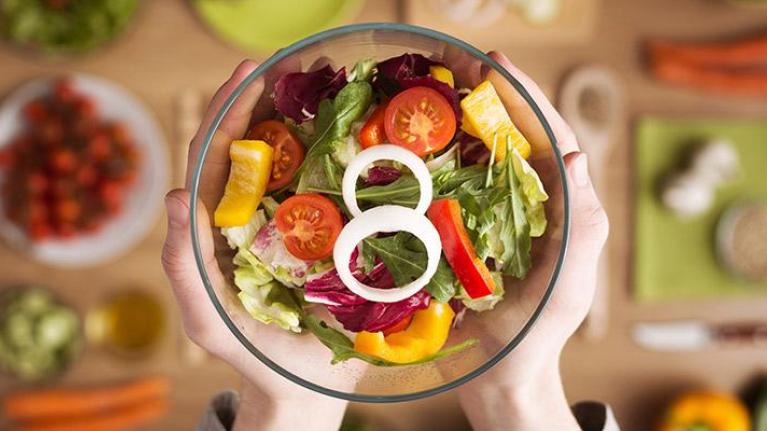 How to Dress Up Your Salads
April 11, 2016
Salads please a wide range of patrons—including the health-conscious, vegans, and vegetarians. Learn to increase your appeal with salad lovers by using on-trend ingredients and presentations.
Like sandwiches, salads have entered a whole new era of creativity and value. Also like sandwiches, a well-crafted salad is greater than the sum of its parts—offering a mix of flavors, textures, and sometimes even temperatures in a single, craveable bite.
The salad has the advantage of its traditional appeal to both the health-conscious and to women diners, and the concept is also flexible enough to answer the demands of vegan and vegetarian diners as well as those who are avoiding gluten and other trigger foods.
In fact, there's absolutely every reason to step up the salad selection.
Ingredient Alert
Beyond lettuce, tomato, and cucumbers there's a whole new world of trending salad ingredients that can be used to set selections apart:
Grains, including sturdy options like wheat berries, spelt, barley, quinoa, and specialty rice (brown, wild, basmati, etc.)

Nuts and seeds: Nuts, such as walnuts and cashews in particular, can be treated to a sweet or spicy glaze, which also boosts the texture quotient

Interesting greens, from tender Bibb to hearty escarole to bitter radicchio, as well as lettuce stand-ins like kale and cabbage

Sweet elements such as fresh or dried fruit, or honey-spiked dressing

Crunchy, flavor-forward new vegetables: fennel, specialty radishes (for instance, watermelon radish or French breakfast radishes), kohlrabi, hakurei turnips

Distinctive croutons: cornbread, pita crisps, tortilla strips
Try This: Farmers Market Grilled Peach & Fig Salad has it all, including salty prosciutto, crunchy spiced nuts, and sweet seasonal fruit.
Salad Bar 2.0
Between heritage brands like Ruby Tuesday's upgrading their salad bars and the tossed-to-order salad specialty chains like Sweetgreen, the reinvented salad bar is definitely a thing. DIY salads offer the ultimate in customization, value, fresh appeal, and the ability to build repeat business to a new generation of experience-seeking diners. Well-outfitted salad bars allow guests to tailor a meal, appetizer, or side dish to their individual tastes and dietary concerns, including the desire for healthier options and vegetarian/vegan selections. Then they can come back the next day and build a completely different salad.
According to the recent Technomic "Left Side of the Menu: Soup & Salad" report, salad bars and other BYO (build your own) salad concepts are a differentiator that appeals especially to those earning $50,000 or more a year. In addition, 51% of consumers surveyed agreed with the statement "I would like more restaurants to offer a salad bar so I can create my own salad," and 46% concurred that "I usually prefer to build my own salad rather than order a menued one." In both cases, this was particularly true for heavy salad users.
Dress for Success
Just as salad ingredients have multiplied, so have dressing options. While traditional favorites like Italian, Ranch, French, and Blue Cheese continue to hold sway, specialty dressings are increasing in popularity.
Offering at least one signature housemade dressing is an excellent way to set a salad program apart. In addition, many vinaigrette-style dressings can be cross-utilized as marinades, and creamy dressings serve double-duty as a dip for all kinds of dunkables.
Did You Know? Minor's® line of Ready to Flavor products—including bases, flavor concentrates, and sauces—are safe to use in both hot and cold applications, without the added step of cooking. That makes them a perfect starting point for signature dressings.
Protein Power
With more salads serving as a main course, it makes sense to incorporate protein into salad selections, either included in the mix or offered as an add-on. According to Technomic, "High in Protein" is a driver of both purchase intent and willingness to buy more for 33% of respondents in the Soup & Salad study, outshining every other attribute including low-calorie and low-fat callouts.
In addition to ever-popular grilled chicken, try one of more of the following:
Spicy or crispy fried chicken

Marinated steak

Grilled or smoked salmon

Shrimp or scallops

Seitan, tofu

Crab or lobster

Tuna, fresh or canned

Eggs (hard boiled, runny poached, egg salad or even deviled eggs)

Bacon or prosciutto

Specialty cured meats and/or cheeses
Here's a Tip: Even a classic like chicken salad can be elevated into a signature with ingredients like lemon, fresh oregano, olives and sundried tomatoes.
The Hot List
Must-have salads for your menu:
Iceberg Wedge (topped with blue cheese, diced tomato, and bacon)

Kale Caesar

Beet Salad (often with goat cheese or feta)

Fennel and Orange

Frisee Lardon (a French bistro classic of curly lettuce topped with bacon lardons and a runny poached egg, which mixes into the dressing when cut into)

Panzanella (bread salad)