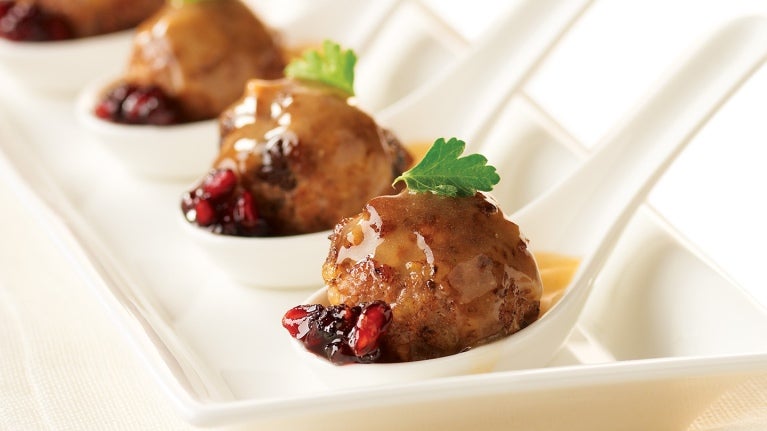 30 Ways to Win with Meatballs
August 1, 2023
Meatballs are a foodservice classic: Providing a versatile, tasty, and low-cost option. Discover more ways to serve them.
Versatility of form and flavors, simplicity of preparation, and cost-friendly price points are among reasons that meatballs are hardworking menu superstars.
Many consumers are thoroughly delighted by the simple combination of meatballs, marinara sauce, and cheese. However, these delectable spheres of ground and mixed ingredients, typically made with meat but not always, can also be enjoyed in various other delightful forms, offering more opportunities to benefit from their universally likable nature.
According to market research firm Datassential, nearly one-third of restaurant menus include meatballs, whether atop spaghetti, in a gloriously messy sandwich, set afloat in pho, dotted across pizza, hidden in lasagna, served in a mini cast-iron skillet as an appetizer, or tucked into a crispy calzone.
With customers hungry for globally diverse fare and kitchens keen on the type of convenience meatballs offer, these versatile rounds are hot-ticket items. From traditional to inspired, here are 30 creative meatball ideas: 15 types of meatballs with 2 menu ideas each to get the ball rolling.
Cumin and Garlic-Scented Mexican Albondigas (Beef Meatballs): Soup with corn, zucchini, and onions in savory ancho-chili broth; mini meatball tacos with pickled red onions, cotija cheese, and chipotle crema.
Chorizo Meatballs with Sausage and Shredded Cheddar Cheese: Breakfast hash with meatballs, fried potatoes, and poblanos; chilaquiles with meatballs, red salsa, fried corn tortillas, cilantro, and cheese (fried egg optional).
Chicken Meatballs: Buffalo-style chicken meatballs with hot sauce, blue cheese, and celery sticks; in bahn mi sandwich with pâté, pickled carrots, jalapeños, cilantro, and mayonnaise.
Classic Beef Meatballs: Italian wedding soup with tiny meatballs in chicken stock with acini di pepe pasta and fresh vegetables; spaghetti and meatballs with Sunday sauce and Parmesan cheese.
Pizza Meatballs with Beef, Italian Sausage, and Pepperoni: In submarine sandwich with roasted green peppers, onions, pepperoncini, and melted provolone cheese; on flatbread with pesto sauce, roasted red peppers, and garlic-infused Alfredo sauce.
Swedish Beef and Pork Meatballs Lightly Spiced with Allspice: Sautéed with creamy mushroom sauce served atop buttered egg noodles; pressed panini rye bread sandwich with crumbled meatballs, Jarlsberg cheese, and lingonberry-horseradish mayonnaise.
Basque-Style Albondigas with Pork and Beef, Sautéed Onions, and Smoked Paprika: Meatball tapa served in garlic-tomato sauce; mixed into paella with grilled shrimp, peas, and piquillo peppers.
Skewered Persian-Style Kofta Meatballs Made with Lamb and Veal: Chargrilled and served with grilled vegetables and flatbread; folded into pita with tomatoes, cucumber, fresh mint, and garlicky yogurt sauce.
Caviar Lentil and Quinoa Meatballs: Served with ginger-coconut curry sauce and coconut-jasmine rice; skewered and baked, served atop za'atar-spiced bulgur pilaf.
Spicy Pork Belly Meatballs: With orecchiette pasta, olive oil, rapini, garlic, and Calabrian chilies; with Thai sesame noodles, green onions, and roasted peanuts.
Duck Meatballs: Tossed with rosemary cavatelli, Cipollini onions, melted garlic and forest mushroom sauce topped with truffled goat cheese; appetizer of demi-glace-glazed miniature meatballs with dried-cherry and Port wine compote.
Beef Cheek Meatballs: Baked rigatoni arugula, tomatoes, and pecorino Romano cream; tossed in mushroom-barley soup.
Vegan "Beef" Meatballs: Grilled skewered meatball satay with spicy lemongrass sauce; calzone with marinara, cashew cheese, and balsamic-glazed onions.
Turkey and 'Nduja Meatballs: Al forno with tomato sauce, grilled eggplant, and pecorino cheese; lasagna with lightly crushed meatballs, ricotta cheese, mozzarella, and white Bolognese sauce.
Falafel-Style Chickpea Meatballs: Classic falafel plate with hummus, tahini sauce, roasted cherry tomatoes, feta cheese, and fresh mixed herbs; wrapped in warm pita with yogurt sauce.
The information provided is based on a general industry overview and is not specific to your business operation. Each business is unique, and decisions related to your business should be made after consultation with appropriate experts.