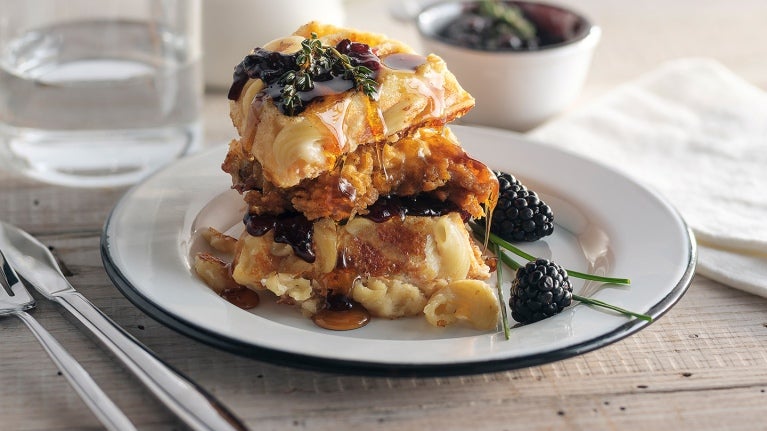 Multitasking Foods Save Money, Time, Space
May 1, 2023
Prepared food products should do double duty in your kitchen. Learn how to make them work harder for you. It'll save time, money, and pantry space.
It's a sound business practice to operate with the core belief that no prepared food product brought in house should have just one use. Corned beef hash has a lot more muscle to it than as a breakfast staple topped with eggs. Shaped into a patty and griddled, it's a terrific base for eggs Benedict. Built into a toasted English muffin or brioche bun and further tricked out with toppings, that same crisped-up patty is rock solid as a breakfast burger. Encased in phyllo or egg roll wrappers, the unbeatable mix of spiced meat, potatoes, and onions gets new life with a crispy exterior and playful dipping sauce, either cheese-based for richness or spiced-up honey-mustard for a flavorful kick. And why not use it in soup, quiche, or dip, either as a daily special or menu mainstay?
There are many operational upsides to paring down inventory, getting maximum mileage from each item that populates pantry, walk-in, and freezer. Overly long menus don't make sense when tight labor and food costs hang in the balance. Creative eyes turned toward the inventory list will find benefits to paring down food orders and doubling or tripling up on key SKUs that add endless culinary opportunities. Along with cost, food spoilage and waste are trimmed, ordering and inventory are simplified, and storage space requirements shrink.
Eyeballing on-hand staples quickly opens options for cleverly disguised cross-utilization. For example:
Fried chicken breasts that go solo as an entrée can be elevated with parmesan cheese and marinara sauce for the perennially popular chicken parm; sliced for salads; stacked into sandwiches; and used to crown waffles. Grilled boneless chicken and rotisserie chicken can easily be transformed into many strong-selling uses

The menu appeal of chili never wanes—cups and bowls sure sellers. It's equally grand as a topping for burgers, chili cheese dogs, French fries, tots, or baked potatoes; layered into Tex-Mex lasagna, corn tortillas swapped in for pasta; and as the eye-opening basis for breakfast and lunch bowls with wheat berries, a poached egg, shredded cheddar, avocado, and salsa

Cheese sauce has all sorts of culinary personas along with an agreeable nature quick to accept flavor enhancements and added ingredients. Sure, drape it over vegetables, but then add it to quesadillas, omelets, nachos, or pasta dishes; stir it into soup and ramen. Create dips such as chili-cheese, buffalo, and cheesy crab. Baked pasta dishes and casseroles, too, benefit from its creamy enrichment. Depending on the end goal, condiments such as dry or prepared mustard, Worcestershire, hot sauce, spices, fresh or dried herbs, and aromatics are easy adds

Both bartenders and cooks should be encouraged to borrow inspiration and product from coffee and tea stations. Coffee, both instant and brewed, brings deep flavor nuances to hot and iced cocktails, cakes, pastries, sauces, frappes, and dessert toppings. Flavored tea, too, is game to move into the main kitchen for use in smoothies, breakfast and fruit bowls, tarts, pastries, and pies
The information provided is based on a general industry overview and is not specific to your business operation. Each business is unique, and decisions related to your business should be made after consultation with appropriate experts.