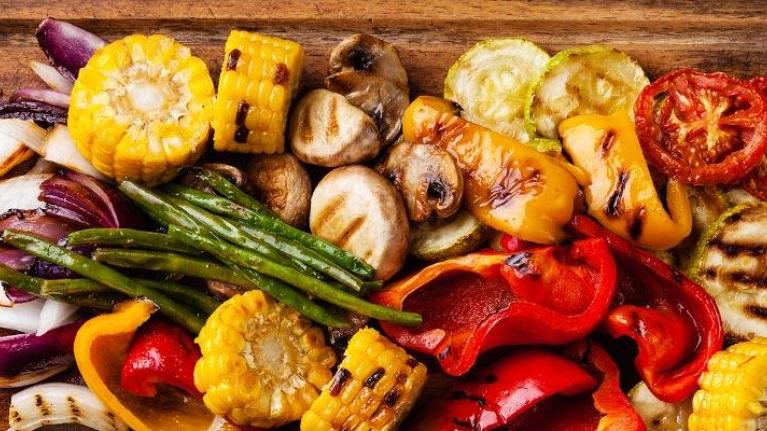 30 Ways to Showcase Fresh Produce on Your Menu
March 31, 2016
Fresh and seasonal are key concepts in modern cooking. The ideal ingredient for healthy, flavorful dishes is fresh produce. Discover how fresh fruits and veggies can propel your profits year-round.
Nothing says healthy and seasonal like fresh produce—and healthy and seasonal are two attributes that today's customers want from their food.
Fruits and vegetables are, by their very nature, healthy: low in fat, sodium, and calories; high in vitamins and other nutrients; beloved by carnivores and vegetarians alike. And many chefs are truly inspired by produce, in a way that few other ingredient categories can boast.
Fruits and vegetables are also one of the last truly seasonal foods—sure you can get a tomato trucked in from Florida in the winter or an apple in the middle of August, but as far as produce goes, these ingredients are still at their peak when they're in season locally. They're also less expensive, and more in tune with customer's eating patterns: hearty root vegetables and bright citrus in winter; refreshing salads and juicy stone fruits when the weather gets warmer. Cooking with the seasons is very much driven by fresh produce.
Adding Produce to Menu Items
Fresh fruits and vegetables can be used to bring seasonality to familiar foods, creating new signature items with healthy, flavorful appeal.
Fall and winter
Tuck poached or roasted apple or pear slices into grilled cheese sandwiches.

Top pizza with butternut squash, cheddar cheese, and caramelized, balsamic-glazed mushrooms and onions.

Serve plain grilled chicken or steaks with sautéed mixed mushrooms.

Bake Brie cheese with a topping of pomegranate molasses and seeds.

Add citrus segments or seedless grapes to salads and straightforward vegetables, like steamed green beans.

Create a Sriracha- or chile-infused applesauce garnish for pork.

Roast a medley of root vegetables—sweet potatoes, parsnips, rutabagas, carrots—as an à la carte side dish.

Pan-sear Brussels sprouts leaves to create crispy texture, or prepare this hearty White Cheddar and Brussels Sprout Quinotto, which doubles as a meatless main.

Combine Stouffer's® Yams & Apples with chard, cranberries, and chestnuts for a comforting yet festive side dish.

This Creamy Alfredo Kale recipe makes good use of a popular wintertime green.
Get Started: Nestlé Professional has a number of products that can be used to bring spicy heat to winter produce, including Maggi® Spicy Seasoning, Minor's® Chipotle Flavor Concentrate, and Minor's Ancho Flavor Concentrate.
Spring
Serve an appetizer or small plate of asparagus topped with a poached egg and Parmesan curls.

Create a potato salad using whole, first-of-the-season new potatoes.

Menu a classic strawberry-rhubarb pie.

Signature main course salads are welcome with the first warm weather—try this Arugula, Spinach, and Prosciutto Salad with Honey-Mango Dressing.

English peas can be combined with fresh mint or sautéed with pea tendrils for an upscale accompaniment to lamb, poultry, or fish.

Vegetable sprouts of all kinds—radish, bean, alfalfa, and even broccoli—add delicate flavor and texture to sandwiches and salads.

Sauté or roast radishes with their leaves for a peppery and unusual side dish.

Pineapples are at their best in spring; roast, glaze, and serve with ice cream for a simple but flavorful dessert, or blend into a savory Pineapple Chipotle Salsa.

Baby spinach is delicious in a salad or lightly sautéed.

A Vegetable Casserole can be made with almost any kind of in-season vegetable.
Summer
Menu a simple Caprese-style salad of sliced ripe tomatoes, mozzarella, and basil.

Add corn to risottos, pasta, fritters, and more.

Celebrate berry season with fresh berries alone or in dessert, including this Berry Caramel Crepes with Flavored Mascarpone.

Roast stone fruits like peaches, nectarines, and cherries to serve as an accompaniment to grilled meats, or create a chile-spiked fruit salsa for fish.

Serve fresh-squeezed lemon- and limeade, as-is, or mixed with other beverages.

Chilled vegetable soups, like this Crab and Avocado Soup, are perfect for warm-weather menus.

Roast or grill corn on the cob and roll in mayonnaise, cotija cheese, and chili for a street food inspired snack or small plate.

Menu a salad of assorted colorful beets (red, yellow, striped Chioggia) topped with goat cheese.

Julienne and sauté a blend of green and yellow summer squash.

Slaw variations like Broccoli Pineapple Slaw are a welcome warm-weather salad alternative.