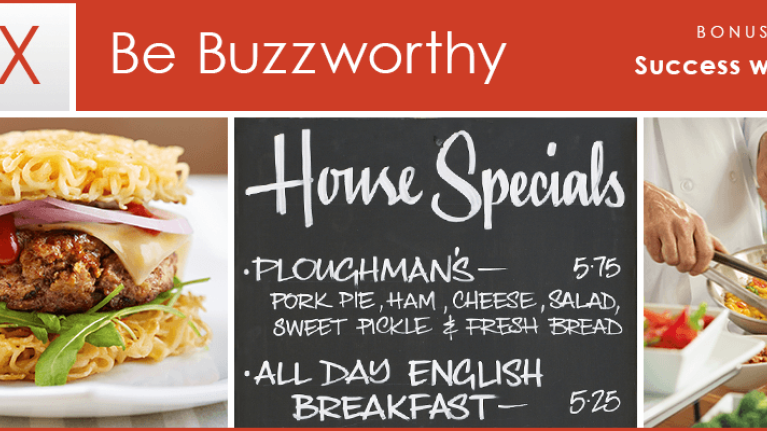 Learn Why LTOs and Specials Succeed
January 1, 2016
FIRST IN A SERIES: Limited-Time Offers and Daily Specials are surging in importance, letting operators try new ideas and keeping customer interest high. Learn successful recent promotions.
In 2014, Wendy's mounted one of its most successful menu promotions ever, a pitmaster-style BBQ Pulled Pork line comprised of a sandwich, cheeseburger, and cheese fries. The LTO (limited-time offer) got the full-court promotional press, including a social media campaign to make barbecue the National Dish of America. The strategy created a sensation with Wendy's Millennial target market, and helped solidify the Ohio-based burger chain as a fan favorite in the segment. 
This past fall, the company did it again, adding in an attention-getting interactive video series called Crack the Masters, as in Pitmasters, leveraging the signature pulled pork into multiple proven menu items and creating another successful barbecue run that attracted both new and existing customers to their local Wendy's.
Did You Know? Maggi® Seasoning is an integral part of many barbecue sauce and marinade recipes. 
In the high-stakes world of the major brands, menu specials and LTOs have become a key strategy in keeping sales growing. They represent a stellar opportunity for operators to bring in new customers, entice regulars to visit more often, engage staff, and create lots and lots of buzz, especially the all-important social media kind. Operationally, the good ones also take advantage of seasonal ingredients and local trends, effectively cross-utilize products, and serve as a kind of paid test market for future core menu items. 
But other types of operations can take a page from the chains.
Kid-friendly pizza chain Chuck E. Cheese's is using its first-time LTO program to help promote excitement around an overall menu and concept overhaul designed to attract Millennial parents. The Mac-Cheesy macaroni and cheese pizza, running for three months in late 2015, headlines a new menu that includes a build-your-own pizza option and more sophisticated choices, like a Cali Alfredo pie topped with spinach, Alfredo sauce, sausage, mushrooms, and chicken.
Get Started: Stouffer's® offers a number of popular products that can be leveraged to create special menu items, including Macaroni and Cheese and Macaroni and Cheese Made with Whole Grains, as well as Alfredo Sauce and Alfredo Parmigiana Sauce.
At the College of New Rochelle, in New York, CulinArt uses a complete series of theme promotions and food trend menu specials to keep the dining program exciting for students and staff. For instance, Chinatown Chow includes daily specials such as Char Sui Roast Pork, Udon Noodles with Cabbage, and Soy-braised Chinese Eggplant. Macaroni Monday features a build-your-own Mac & Cheese Bar, and pop-up concepts like sizzling salads are also on the menu.
Get Started: Take advantage of global culinary trends with a little help from Minor's full line of Asian, Italian, and Latin sauces and flavor concentrates.
It's not just on-trend flavors that can infuse a little innovation into an LTO—some operators are using unusual serving methods to add a creative touch to the dining experience. Bonefish Grill's recent IN + ON Bar Menu featured small plates with an interactive theme: On the Bun Dim Sum Style Sliders which consumers stuff themselves, or In the Dough Doughnuts, served with miniature squeeze bottles of sea salt caramel and chocolate sauce which guests inject into the donuts. The wood-grilled fish specialist also uses nightly specials that highlight seasonal ingredients (for example Swordfish & Pumpkin ravioli), as well as rotating specials such as the signature Bang Bang Shrimp appetizer priced at $6 on Bang Wednesday. 
Did You Know? Libby's® 100% Pure Pumpkin is a seasonal pleasure for pie, but it can also be used year-round for a variety of different menu specialties.
Fast-casual burger chain Johnny Rockets got its customers involved from the get-go when it invited the public to sample and vote on the prospects for a new International Burgers limited-time menu promotion—including names and prices. The crowd singled out three: an Irish Pub Burger (with cheddar pub cheese, caramelized onions, grilled mushrooms, Dijon mayonnaise, tomato, and spring greens on a butter toasted pretzel bun); Korean BBQ Burger (provolone cheese, sweet and spicy Korean BBQ sauce, and lettuce and tomato on an artisan bun); and the Mexican Chipotle Guacamole Chicken sandwich (pepper Jack melted on a grilled chicken breast topped with handmade guacamole, spicy chipotle ranch sauce, tomato, and spring greens, on a wheat bun).   
Get Started: Cheese is a component of many of the most appealing menu specials. Look to Chef-mate® cheese and queso sauces and Trio® Cheese Sauce when designing yours.