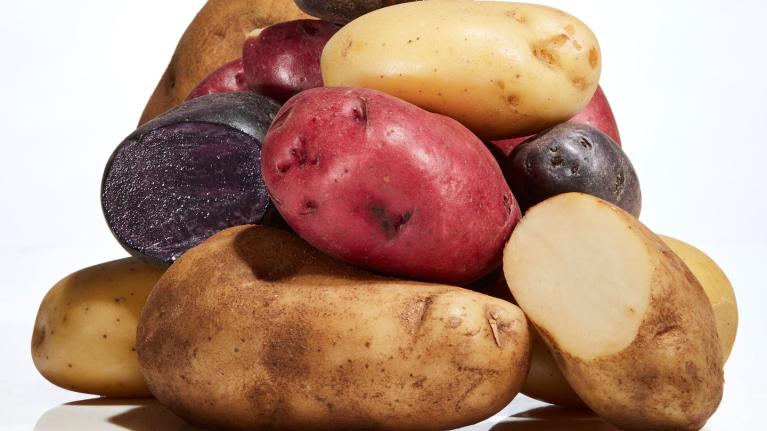 Menu Pro Tips: Potatoes
July 6, 2022
One potato, two potatoes, three potatoes, more! With menu applications across all dayparts and high consumer acceptance, potatoes have star-power status that never wanes.
Russet potatoes are the most consumed potato variety in the United States, with 55% saying it's their favorite kind.
Source: Statista
The country's most popular vegetable, potatoes practically sell themselves on menus, their appeal widespread, versatility unmatched, and food cost a dream. From russets to reds, fingerlings, Yukons, butterballs and beyond, we've dug up tips, ideas, and applications.
Sliced, Diced, Fried, and Scalloped: How They're Used
40% Frozen, including fries, tots, and prepared dishes such as scalloped potatoes
25% Fresh, baked leads the pack but roasted, gratins, and galettes are among other uses
23% Chips, as in 'can you really eat just one?'
8% Dehydrated for mashed side dish, shepherd's pie, and more
3% Refrigerated, including diced and shredded for hash browns
1% Other, including canned
Source: National Potato Council
Hot Potatoes
In its reading of trends in the foodservice world, Datassential SNAP! data show that potatoes hold strong with timeless appeal. A scan of menus shows that whether chefs take bold flavor cues from ethnic and global cuisines, elevate preparations with inspired twists, or present classics in pure form, potatoes continue to have superpower menu strength.
- Spiced lamb samosa with lamb confit, potatoes, and garam masala, served with green herb and yogurt chutney
- Javanese oxtail soup simmered with carrots, potatoes, and aromatic condiments
- Charred octopus with potato salad, black truffle mole, and wild radish
- Crisp cooked beef fat potato with garlic aioli and farm broccoli
- Gumbo z'herbes with potato salad, ham hock, andouille, and oysters
- Brined fried chicken with smoked mashed potatoes, braised collards, and honey-spiced gravy
This Spud's for You
Hundreds of varieties of potatoes exist, all categorized into three types: starchy, waxy, and all-purpose. Characteristics of each determine best picks for recipes.
Starchy potatoes are high starch low moisture, their texture when cooked light and fluffy as in the perfect baked potato. Overworked, they have a tendency to become gluey, a cautionary tale for mashed potatoes. Other uses include French fries, hash browns, and latkes. Russet Burbanks are the most common.
Waxy potatoes have more moisture, less starch, their flesh holding together quite well after cooking. This structural integrity makes them great for potato salads, soups, gratins, and galettes. New potatoes, both red and white, are waxy.
All-purpose potatoes combine the traits of waxy and starchy, holding a middle ground that makes them highly useful across many applications. Gold potatoes are most common.
Loaded Mac & Cheese Potato
The information provided is based on a general industry overview, and is not specific to your business operation. Each business is unique and decisions related to your business should be made after consultation with appropriate experts.