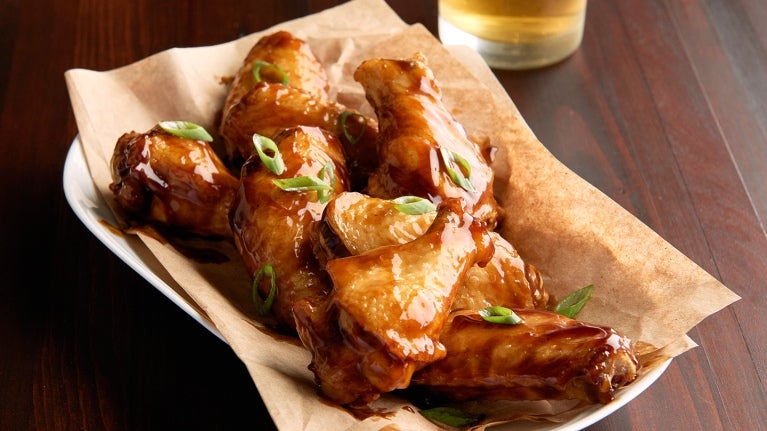 Easy and Irresistible Appetizers
October 2, 2023
Appetizers and small plates are patron-pleasing and easy on the kitchen. Learn more ways to serve them.
A "simply prepared" appetizer, small plate, or shareable doesn't automatically default to something that's short on taste, style, presentation, or pizzazz.
Timeless classics such as herb-marinated mixed olives, burrata cheese with fresh basil and olive oil, and the simple elegance of classic shrimp cocktail take almost no time to prepare but have remained menu favorites.
With a little advance planning and a carefully built menu, you can put on a great show without adding undue labor strain to the kitchen during the high heat of rush hours. Here are game plans, smart ideas, and great menu items that fall under the low-effort, high-impact banner:  
Soups, hot or chilled, require little more than quick ladling and an appropriate garnish, perhaps fresh herbs, a float of croutons, or drizzle of flavored oil

In its 2023 trends report, the National Restaurant Association (NRA) called out charcuterie plates as big players on restaurant menus. Although they masquerade as complex and time-consuming, these arrangements of cured meats, sausages,

pâtés

, cheese, and condiments are surprisingly straightforward. Key components can be prepped in advance, perhaps even plated depending on the selections, final touches added at service. Pro tip for low-waste kitchens: condiments such as pickled vegetables and chutneys can be made from trims

Focus on simplicity of form. Impact doesn't get much higher than a platter of shucked oysters on shaved ice with a simple mignonette and fresh lemon wedges or chilled bowl of ceviche of which little more than a lettuce-lined bowl is needed

The NRA's '23 trends report also placed comfort food pretty high on the hot list. Pigs in a blanket, hot and cold dips such as hummus or spinach and artichoke, bacon-wrapped stuffed dates, and cheese balls all deliver ease along with requisite comfort

Deep-fried items get golden-brown and beautiful quickly, often done so with the push of a pre-programmed fryer button. Readying them for service should be quick so they stay crisp. A ramekin of sauce added to the calamari, onion rings, coconut shrimp, or egg rolls does the trick

Ceviche and tartare—either meat, seafood, or beet-based, prepared pre-shift and refrigerated, are quick to plate and serve

Chicken wings continue to fly high with customers; according to food-industry research firm

Datassential

, they appear on 42.6% of appetizer menus. They also fill the order for "easy," either as standard sauced versions or more-inventive riffs that borrow from the ethnic pantry, say Korean spiced served with a toss of sliced scallions and side of gochujang aioli

Chips and salsa—nothing more needs to be said!
Easy appetizers seen on menus:
Focaccia with ricotta, honey, and black truffle

Chicken liver mousse with saucisson sec, warm baguette, pickled vegetables, and Dijon mustard

 

Green bean "fries" with cucumber-wasabi ranch dressing

Bread + a taste of 3 with seeded rye and sourdough with butter and sea salt; smoked fish dip; and pimiento cheese

Beef-fat frites with thick-cut potatoes fried in rendered beef tallow served with garlic aioli

Dynamite shrimp tempura battered, fried, and served with sriracha aioli

Lobster bisque with sherry and fresh chives

=

Layered butter biscuits with honey butter
The information provided is based on a general industry overview and is not specific to your business operation. Each business is unique, and decisions related to your business should be made after consultation with appropriate experts.