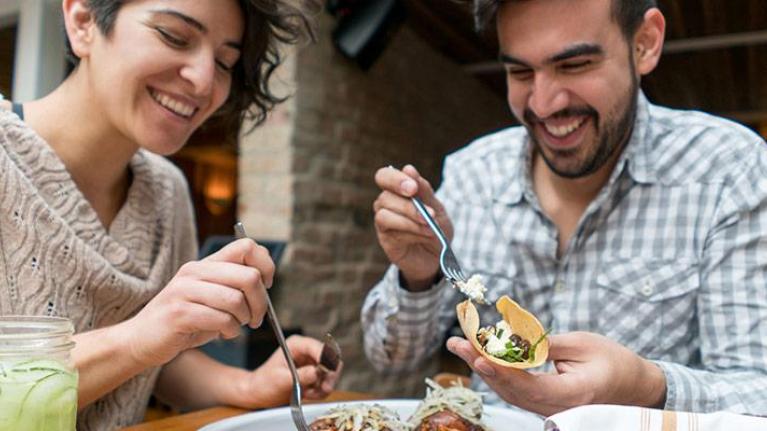 Make Sharable Your New Mantra
March 1, 2017
The new key to appetizers is shareability. Learn how this concept can affect your operation and put patrons in the party zone, ready to order more. 
Call them appetizers, call them snacks, call them small plates, call them finger foods. Small, savory, shareable bites have become one of the most robust categories on food service menus.
According to the Technomic "Starters, Small Plates & Sides Consumer Trend Report 2015," this so-called Left Side of the Menu (LSM, including starters and small plates) is undergoing a number of key developments:
Interesting starters and small plates encourage customers to share
Engaging appetizers and small-plate formats will appeal for social meals
LSM premiumization will increase incremental sales
Consumers will demand more innovative starters and small plates
That gives food service operators lots of fertile ground for developing their own distinctive offerings. "Handheld foods and snacks continue to provide versatility and profit opportunities for all dayparts and menu types," says Brian Dragos, Minor's® corporate executive chef, who shares several pointers for maximizing the category:
Remove any mention of appetizers; use the description "shareables" instead.
People usually come to a restaurant because they are hungry. Have servers approach tables with a welcoming statement such as, "Welcome to Brian's, could I get you some of our new Korean BBQ Wings or Pad Thai Shrimp? They're awesome to share and you'll have something to taste while you look at the menu."
Make shareables flavorful, quick to prepare, and pretty to look at!
Customers want bold flavors, whether in traditional items or in traditional items with a new twist, like Korean tacos or sushi burritos.
Think of street food as the best route to inspire and market snacks—they offer the kind of salty, spicy, crispy, hot, crunchy, and sour flavor experiences that customers crave.
Positioned as such, almost any menu item can be merchandised to share, from old favorites such as nachos, mozzarella sticks, or chicken wings to a bubbling hot gratin dish full of macaroni and cheese, accompanied by four forks. 
51 Fun Ideas for Finger Foods:

 

Dips and Dunkables

Hummus and pita
Clam dip and chips
Spice mixtures such as dukkah with crudites
Spinach-artichoke dip with baguette

Bread-Based Specialties

Crostini and bruschetta with toppings
Flatbreads
Pizza
Bread with a spread, such as biscuits and pimento cheese

Specialty Fries and Chips

Poutine
Frites with dipping sauces
Colorful housemade beet and zucchini chips
Potato "tots" with toppings

Samplers

Assorted fried vegetables
Meat-and-cheese plates
Combo plate of best-selling appetizers

Shellfish By the Piece

Shrimp
Oysters and clams
Crab claws

Sliders and Other Minis

Burger variations
Pulled pork
Mini grilled cheese

Vegetable Specialties

Whole steamed artichoke with sauce
Stuffed mushrooms
Housemade pickles
Avocado fries with crema dipping sauce

 

Savory Bites

Bite-size crab cakes
Cocktail meatballs
Jalapeño poppers
Bacon-wrapped pork belly or scallops
Lamb chop "lollipops"

Easy Additions

Flavored popcorn
Marinated olives
Smoked nuts
Housemade snack mix
Smoked fish
Glazed bacon strips

Retro Classics

Deviled eggs
Crab or cheese puffs
Mini hot dogs, with or without a pastry crust

Asian Inspirations

Dim sum
Egg rolls
Shrimp toast
Satays

Mexican Favorites

Taquitos
Guacamole
Street tacos
Chicharrones (fried pork skins)
Empanadas

Pub Food

Scotch eggs
Hot pretzels with cheddar cheese sauce
Sliced sausages with signature mustards
Source: Technomic Starters, Small Plates & Sides Consumer Trend Report 2015
DID YOU KNOW?
The new Snacking Action Station (PDF) from Nestlé Professional offers a wide range of flavors, proteins, sauces, toppings, and more, with portion sizes that fit the snacking trend. 
GET STARTED
Nestlé Professional offers a wide range of products that can be used to create crave-worthy shareables, including Minor's Latin and Asian sauces and flavor concentrates; Maggi® Seasoning and Spicy Seasoning; Chef-mate® cheese sauces; Trio® gravies and sauces; Stouffer's® dips and Macaroni and Cheese; and Hot Pockets.
TRY THIS
Here are some recipes to get the shareables ball rolling:
CHEF DRAGOS RECOMMENDS
Gorditas (small flour tortilla pockets filled with flavorful fillings—"My favorite is deshebrada, which is shredded beef and chiles").
Thai Garlic chicken (super thin coated fried boneless chicken tossed in Thai garlic sauce, served on a sweet vinegar cucumber salad).
Torta Adovada (mini Mexican sandwich with marinated adobo pork, cabbage, and Chihuahua cheese).