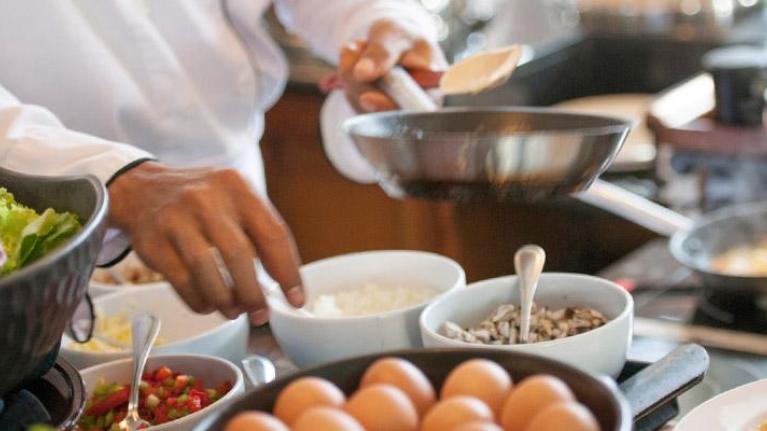 Exhibition Cooking Highlights Quality
July 1, 2016
Exhibition cooking gives your patrons a show while showcasing the quality of your cuisine. Learn how putting your cooking on display can turbocharge your sales.
Go ahead, be a showoff. Exhibition cooking is one of the best ways there is to send a message of quality and freshness to guests. It's also a great strategy for highlighting customizable options, as patrons can watch their order being made right in front of them.
At Yale University in New Haven, CT, exhibition cooking of all kinds has been incorporated into many different platforms throughout the extensive dining program. "There's big allure to watching your food being made," says Ron DeSantis, CMC, director of culinary excellence. "You just can't get fresher than food that's made just at that moment, just for you. And guests are able to feel like they're part of the action when they can interact with the cooks. It adds an extra measure of hospitality."
DeSantis adds that there are operational benefits, as well, because people will wait a little longer for food that's made just for them. That helps during busy meal periods, in particular.
One of the newest dining facilities at Yale is Café Med, which replaced the old full-service cafeteria located in Harkness Hall at the Yale School of Medicine. The menu there is centered on fresh, healthy Mediterranean fare, including Spicy Greek Salad, Green Chickpea Falafel, Fattoush (a bread salad made with pita), Turkish Spoon Salad, and Spanish Mezze.
Try This: Hummus is a staple in Mediterranean cuisine, but it's also mainstream enough to fit on just about any menu. Try any of these easy and distinctive recipes for Roasted Garlic Hummus, Jalapeño Hummus, or Pumpkin Hummus.
Much of Cafe Med's menu is customizable: Customers pick a base of either grains, greens, or pitas, then add a protein (including spicy meatballs, Moroccan chicken, or falafel) and a "flavor explosion" such as spicy feta cheese, charred eggplant, hummus, or haydari (a Turkish yogurt dip). According to DeSantis, cooks are trained to never turn their backs on the customer. "They make eye contact, and they engage with the guests, who can see what's being made and how it's being made. The whole experience is very transparent."
At Boston University, students can enjoy such specialized displays as fresh pasta-making, tandoor oven cooking, and a circular "Mongolian grill" for the production of stir-fries, quesadillas, and grilled cheese. A new display Wok Station at the Fresh Food Co. (the name of all three residential dining facilities) at Warren Towers features three high-temperature professional wok burners where team members prepare authentic full meals (entrées, salads, soups, and desserts) from China, Korea, Japan, Malaysia, Singapore, Thailand, and Vietnam.
Get Started: The flavors of Asia are within reach with products from Maggi® and Minor's®, including Maggi Thai Style Red Curry Paste, Maggi Spicy Seasoning, and Minor's Teriyaki RTU Sauce, General Tso's RTU Sauce, and Sweet & Sour Sauce RTU.
Of course it's relatively easy to showcase exhibition cooking when a facility and open kitchen are being designed from scratch, but that's not the only way to capture the excitement of cooking "onstage."
That's where action stations come in, individual cooking setups dedicated to certain menu items or a platform of associated foods, such as an omelet station or sauté station where cooked pasta can be finished with a variety of different sauces. Equipped with individual induction cooktops or other safe, portable cookers, there's no end to the kind of hot menu items that can be prepared exhibition-style; cold foods such as salads and sandwiches are even easier to toss or assemble in front of guests.
Did You Know? The Nestlé Professional Action Stations program includes modules for Breakfast, Dessert, International Soup and Noodle dishes, Salad, Snacking, Street Food, and Wellness. Each includes recipes, setup guides, merchandising, and support materials.
Action stations have become increasingly popular for catering and banquets, especially on-premise, allowing customers to craft unique experiences for guests and attendees. At the Wyndham Grand Orlando Resort Bonnet Creek, wow-inducing action stations for breaks and events have helped drive enviable 40% rebooking rates. Some of the innovative concepts include a Hong Kong station for dumplings, satay, and moo shu; a banana break featuring warm banana bread topped with ice cream made right at the station with a liquid nitrogen setup; and a sous vide Eggs Benedict Bar.
Mobile carts are another effective way to add an exhibition element to the dining room. At Gunshow, a luxury restaurant in Atlanta, all cocktails are made at a cart that is wheeled tableside; there is no separate bar. Many of the small plates served at San Francisco's State Bird Provisions are finished and served on rolling carts similar to the kind used in Chinese dim sum restaurants. A cart or gueridon can be used tableside to toss salads (Caesar is a classic), slice and plate meats, serve mashed potatoes, or macaroni and cheese with a selection of toppings, garnish desserts, and make specialties like Irish coffee or zabaglione (a warm Italian-style custard, often served over berries).
Get Started: Nestlé branded Dessert Ingredients are perfect for making delicious desserts, exhibition-style or not, topped with items like Butterfinger® Chunks, Nestlé® Crunch® Candy Pieces, or Nestlé® Toll House® Semi-Sweet Morsels.