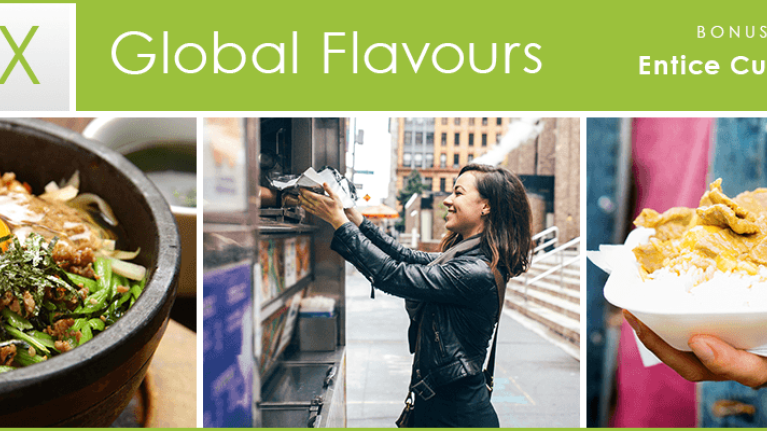 Global Street Food Comes to Main Street
August 24, 2016
THIRD IN A SERIES: The fare that started on the streets of other nations has American consumers asking for more. Learn how tasty, small-plate street food concepts can translate to your operation.
Anywhere in the world that you find markets and other public gathering spots, from Southeast Asian night bazaars to state and county fairs, you'll find street food: delicious little snacks that are meant for eating on the fly. Vietnamese banh mi sandwiches, Indian chaat, Mexican antojitos, and all-American hot dogs and soft pretzels: This is food for a fast-paced lifestyle: economical, tasty, and fun.
No wonder a growing number of creative chefs and menumakers are taking their inspiration from global street fare, offering interesting, affordable alternatives to more traditional American fast food concepts like a burger or a slice of pizza. These tried-and-true foods aren't going away, mind you; they're just being joined by international favorites like dosas (a kind of crepe that's a specialty of South India), fish tacos, and piadina (a rustic Italian flatbread sandwich).
Many regions of the world have vibrant street food cultures, in fact, including Mexico and Latin America, the Mediterranean, India, Southeast Asia, Japan, and China—not to mention the corner carts and fairground specialties of the United States. Increasingly, these cultures are being translated into everything from appetizers and small plates at full-service restaurants to dedicated fast-casual outlets, catering stations, and even actual mobile trucks.
Did You Know? The Nestlé Professional collection of Action Stations includes a Street Food (PDF) module that features such specialties as noodle bowls, arepas, Cuban and flatbread sandwiches, stir fry, and queso fundido.
At Street Food 360º in Portsmouth, NH, the menu (PDF) trots the globe, from Mexican-style cemita sandwiches, Korean bibimbap, empanadas, and steamed dumplings to Thai ribs, South American yuca fries, Gobi 65 (Indian-spiced cauliflower), and falafel. It all amounts to an education in international street food without needing a passport.
Luna, located in culturally diverse Ithaca, NY (home to Cornell University), serves a quick-service menu "inspired by street vendors, carts, and trucks from across the country and the globe." The various fries may be familiar, but ingredients like sweet potatoes, short ribs and pulled pork are cross-utilized into all manner of tacos, arepas, sandwiches, and more.
Street snacks also translate remarkably well to small plates and bar food menus, whether the inspiration is traditional (Mediterranean meze, Spanish tapas, or Italian antipasti) or more of a global tour. Here are some items to consider:
Arancini (Italian-style rice balls)

Chinese dim sum such as shrimp dumplings or pork bao

Japanese sushi rolls

Latin American ceviche

Panelle, panisse, and other Sicilian chickpea specialties

Mediterranean dips, including hummus, tzatziki, feta, and roasted eggplant

Stuffed grape leaves

Quesadillas, tacos, and gorditas

Falafel

Empanadas and other savory turnovers
Get Started: Nestlé Professional offers a variety of products that support ethnic and street food trends, including Maggi® Thai Style Red Curry and Green Curry pastes; Chef-mate® ¡Que Bueno!® White Queso; Stouffer's® Alfredo and Alfredo Parmigiana sauces; and Minor's® Latin and Asian flavor concentrates and sauces.
Street food is also perfectly suited to limited-menu concepts as well—an acknowledgment that most of these specialties are prepared by vendors who sell only one thing, but they do it very, very well. And in fact, the new generation of post-Chipotle, fast-casual restaurants relies heavily on global street food for inspiration, offering patron-friendly freshness and customization with a distinctive twist.
The DIY menu at the Indian-inspired Tava translates the flavours of the subcontinent to familiar platforms like salad, rice bowls and "burroti" wraps. Falafill takes a scratch-made, chef-driven approach to the ubiquitous chickpea fritter and other Mediterranean staples. With sushi and Korean-style bibimbap making the jump to fast casual chaindom, can the street food of these countries be far behind?
Not surprisingly, street food is also becoming a way of life in noncommercial locations like employee cafeterias (especially within companies with a large proportion of ethnic workers) and colleges and universities. Among the 40 different options at Microsoft's onsite dining operations in Redmond, WA, is Street Eats, featuring a rotating selection of global street foods such as banh mi sandwiches and satay. The University of Washington plays host to a fleet of food trucks including vehicles offering tacos and tortas and Hawaiian-style specialties. And the promotional activities provided to clients by Sodexo includes the Street Food Fest "curbside cuisine" challenge.